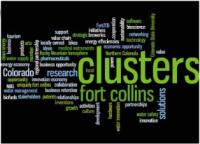 The City of Fort Collins Economic Health Office this spring awarded $184,100 in grants supporting a variety of programs that assist the City's industry cluster strategic objectives.
The City received more than $424,285 in funding requests. Award winners will use the grants to obtain additional grants or to sponsor events and programs.
The Economic Health Office collects mid-year and end of year reports from each organization to monitor the progress of each of these grant recipients. City staffers work directly with clusters to support their initiatives and foster collaboration among cluster organizations.
As part of its Strategic Plan, the City's Economic Health Office works to support innovation and assist with the retention and expansion of businesses in the community.