Small business corner - Shakes Alive! Food for Life
Nick Mohr and his brother Jordan opened their first Fort Collins business in October in the Westpark building in Campus West – a Shakes Alive! Food for Life smoothie restaurant that they call a healthy alternative in the fast casual dining world.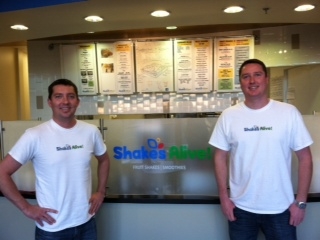 Shakes Alive!, at 1335 W. Elizabeth St. in the former Golden Spoon location next to Fuzzy's Tacos, offers smoothies, lunch sandwiches and salads, and hot breakfast bagel sandwiches served all day. The restaurant employs 10 people in Fort Collins; it's an extension of the family's Estes Park franchise, which they've owned for five years.
As a relatively new franchisor, Nick Mohr often has questions about how to make his businesses successful. So, like many other business owners, he picks up his phone to text his mentor on a regular basis.
The guy on the other end of the phone? Jimmy John Liautaud. Yes, that Jimmy John.
"We grew up really close to Jimmy John who owns the Jimmy John's franchise," said Nick Mohr. "I watched him do his thing and knew from college that I wanted to franchise something."
John's advice to Mohr? "If you don't how hard it really is to run multiple stores, you're going to sell it to the wrong people," Mohr said. "If we open multiple stores, and work 80 days in a row, really get a feel for how hard it is, we'll know what we need to do.
"We hope to perfect our systems by the end of 2014 and begin selling franchises shortly after, using our Fort Collins location as a franchise model/flagship store for potential franchisees to visit and become excited to invest in SA."
Nick, who is 33, and Jordan, who is 30, grew up in Champaign, Ill., but attended Illinois State University in Normal where they got their bachelor's degrees in business and economics. They purposely chose Fort Collins – and Campus West – because of proximity to Colorado State University and because they say they know what students want.
"We don't preach health, but we are a lot healthier than some of our alternatives. We offer fat-free, dairy-free, sugar free – we kind of cater to everyone."
For those really concerned about nutrition, Mohr is proud of the fact that his business offers a nutritional guide in the restaurant and online.
Shakes Alive! is open 8 a.m. to 9 p.m. daily. For more information, go to http://www.shakesalive.com/.