Social Sustainability
We allocate federal Housing and Urban Development (HUD) and local City of Fort Collins funding to housing and human service agencies to meet the needs of low and moderate income citizens; and implement policies promoting and supporting self-sufficiency for low-income citizens. To the right you will find links providing information about our staff team, programs, resources, and current news.
Hot Topics
Homeless Shelter Monthly Data
Our community has two primary homeless shelter providers—Catholic Charities and Fort Collins Rescue Mission. The City works closely with them, particularly for overflow shelter during the cold winter months. Read a monthly report of the use of both shelters here.
Land Bank Property Going to Council February 16
The City of Fort Collins is working with the Fort Collins Housing Authority to build an affordable housing development on a City Land Bank property on West Horsetooth Road. On February 16 City Council is expected consider an agreement to convey the Land Bank property to the Housing Authority and discuss a code change regarding Land Bank policy.
The City selected the Housing Authority after issuing a request for proposals to develop the parcel located on West Horsetooth Road. This is the first Land Bank Program parcel to be offered for development. With the need for affordable housing at an all-time high, activating this asset from the Land Bank Program will produce needed housing units.
For more information, see the following documents:
Competitive Funds Available in 2016 for Housing and Human Services
The City of Fort Collins announces its Spring 2016 Competitive Process for distributing funding to affordable housing and human services proposals. Nearly $1.5 million dollars is available for allocation to successful applicants.
Read more about the Competitive Process.
Read the full Public Notice in English and Spanish.
2015 Human Relations Awards
The City of Fort Collins Human Relations Commission honored recipients of the 2015 Human Relations Award at a ceremony on Tuesday, December 1. Recipients were chosen for their promotion of acceptance and diversity in Fort Collins.
Also on December 1, Mayor Wade Troxell declared December 10 International Human Rights Day in Fort Collins.
To find out who received the award, read the full press release.
View photos from the event here.
View the award ceremony video here.
Mayor Wade Troxell has signed onto the 2015 Mayors Challenge to End Veteran Homelessness, a federal initiative calling for mayors to commit to ending veteran homelessness in their cities.Troxell is one of 681 mayors and 854 leaders nationwide to commit to the challenge. Learn more here.
Public Review Draft Available for Federal Funds Performance
Each year, the City of Fort Collins needs to report to the U.S. Department of Housing and Urban Development on whether it followed through on what it proposed to do with federal funds for affordable housing, human services, and community development programs and projects. The document is called the Consolidated Annual Performance Evaluation Report (CAPER). Read the draft public review copy here. Read the full public notice here. The Public Review period ends on December 29, 2015.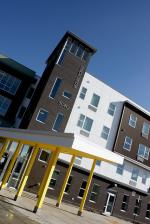 The final draft of the 2015-2019 Affordable Housing Strategic Plan is now available. The City invites your comments and questions. Feel free to leave comments here or email the project managers directly: Sue Beck-Ferkiss or Clay Frickey .
This matter will be considered by City Council on October 6, 2015.
The Affordable Housing Strategic Plan is updated every five years to reflect more current community needs and to create an action plan to address housing priorities. Needs identified in the plan will drive City funding decisions and inform housing-related policy decisions.
Learn more about the Plan by viewing slides from the presentation at the most recent public outreach events here.
Social Sustainability Strategic Plan
Social Sustainability has completed a strategic plan that will guide future program, policy and funding decisions. The plan is available here. Outreach has included public review, presentations to boards and commissions, and a Superboard meeting. Submit your comments about the plan to Social Sustainability by emailing .
City consultants have prepared a Housing Affordability Policy Study, which explores creative solutions and tools that would create housing opportunities for all. Consultants are Denver-based Economic & Planning Systems Inc.
Contact Sue Beck-Ferkiss, Social Sustainability Specialist, , 970-221-6753 for more info.
Social Sustainability Gaps Analysis
The City of Fort Collins commissioned the Gaps Analysis as part of its initiative to build a cohesive, coordinated approach to community sustainability across City departments. This report will help support the Social Sustainability Strategic Plan development by providing a quantitative and qualitative assessment of supportive service gaps in the community. It is intended to provide a summary of current trends in the Fort Collins community, related to various components of social sustainability, including housing, homelessness, poverty, health, wellness, education, diversity, and the needs of special populations. The report also highlights many different programs and initiatives of the City of Fort Collins and other local organizations working to address these trends and community needs. Read the full report here.
Social Sustainability
Physical Address: 321 Maple Street | Fort Collins, CO 80521
Mailing Address: PO Box 580 | Fort Collins, CO 80522-0580
Phone: 970-221-6734
Email: