Every-Other-Week Curbside Recycling Collection Provided by Haulers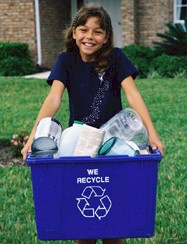 Recycling at the Curb
Residential recycling in Fort Collins is collected by your trash hauler. The City of Fort Collins requires haulers to provide unlimited recycling services for each single-family and two-family residential trash customer as part of their basic trash collection service.
Ask your hauler for a large recycling cart, and be prepared to switch to every-other-week recycling.
How Do I Get Service Started?
The following haulers provide residential curbside trash and recycling service in the City of Fort Collins. Prices and types of recycling containers will vary. Call for more information or to begin service.
Gallegos Sanitation, Inc. (970-484-5556)
Ram Waste Systems, Inc. (970-226-3396)
Waste Management (970-482-6319)
The curbside recycling program is designed to help you lower your cost of trash disposal. Just sort your recyclable materials according to your trash hauler's guidelines, and set out your bin(s) provided by your hauler by 7 a.m. on your regular trash collection day. Please don't set your recyclables out in inclement weather; wait and set them out the following week.

What Can I Recycle at the Curb?

Download and print our one page Recycling Guidelines (PDF) poster for a quick reference on what can be recycled at the curb in Fort Collins.
All residential trash and recycling haulers in Fort Collins provide single-stream recycling, and are required by the City of Fort Collins to collect the following items:
Containers
Clean #1-#7 plastic bottles, tubs and containers (no plastic bags, pesticide or motor oil containers, Styrofoam, microwavable trays or containers larger than 2.5 gallons); click here (PDF) for complete list of acceptable plastics.
Glass bottles and jars of any color (please avoid breaking glass; remove and recycle metal lids)
Aluminum cans (don't crush or flatten cans)
Aluminum foil (clean only, please flatten)
Steel (tin) cans
Metal jar lids (please remove from glass containers.)
Metal bottle caps
Empty aerosol cans (no caps)
Paper Milk Cartons and Juice Boxes including shelf-stable cartons such as soup and soy milk cartons and refrigerated cartons such as cream and juice cartons. Plastic spout in carton is okay. NO foil juice pouches, plastic lids or straws.
Paper
Office paper (including computer, copier and plain fax paper; pastel colored paper; please, NO neon or other bright paper)
Newspapers and newspaper inserts (NO PLASTIC BAGS)
Magazines and catalogs
Opened mail (please open your mail to remove any promotional stickers, credit cards, membership cards, or other non-paper items)
Cardboard and paperboard
Corrugated cardboard (packing boxes and pizza boxes)
Brown paper grocery bags
Paperboard (cereal boxes, clothing boxes, egg cartons)
Fort Collins haulers have agreed on uniform preparation guidelines for cardboard to ensure the materials can be efficiently collected.
Cardboard should not exceed 2' x 2' in size (oversized pieces must be cut down)
Items must be placed inside the recycle bin (additional bins available by calling your hauler), or in a box equal to or smaller in size than the bin itself
Boxes must be broken down along the folds (please do not smash them flat)
Remove all materials, packaging, and other items from inside the boxes
Pizza boxes are allowed as long as all food particles are removed
Missed pick-ups? Call your hauler.
Tips for curbside recycling:
Be sure to put your materials out by 7am on your regular trash day.
Please prepare materials correctly and only include items accepted through our program. Including additional materials jeopardizes recycling markets and makes processing more costly.
Many items not collected at the curb can be taken to Drop-off Centers.
With unpredictable winds, weigh papers down with a rock.
Step on it! Please flatten plastic gallon jugs and plastic bottles 1 liter or larger. This increases truck capacity, and helps prevent glass breakage.
Please avoid breaking glass! Glass shards are difficult to sort by color, and even more difficult to market.
Commercial Haulers & Recyclers
The following is a listing of licensed commercial trash haulers & recycling companies in Fort Collins, Ault & Loveland:
Clean Air Compost (970) 224-4732; residential pick-up service of food waste and other compostable materials - Fort Collins
Eco Thrift (970-484-4224; computers and e-waste) -- Fort Collins
Gallegos Sanitation, Inc. (970-484-5556) -- Fort Collins
Hageman Earth Cycle (970-221-7173; yard waste) -- Fort Collins
National Recycling Inc (970-493-7478) -- Fort Collins
Professional Document Management (970-493-2455; paper & cardboard) -- Fort Collins
Waste Management of Northern Colorado (970-674-2500) -- Ault
Waste-Not Recycling (970-669-9912) -- Loveland
More Information: