Recycling
Check out this easy-to-use Holiday Recycling Guide for tips on curbside recycling, cooking oil, where to recycle your Christmas tree and how to generally reduce your waste at the holidays! Happy shopping!
City Council Repeals Bag Ordinance, Approves Road to Zero Waste Resolution
The City Council on Tuesday repealed the disposable bags ordinance and simultaneously reiterated the City's commitment to reuse and recycling by accelerating zero-waste goals in a new Zero Waste Resolution.
Council voted to repeal an ordinance that would have required all Fort Collins retailers to begin charging 5 cents per disposable bag as of April 2014.
"We heard our citizens and responded – the disposable bags ordinance is not the way to go," said Bruce Hendee, Chief Sustainability Officer. "However, our community has told us that they want us to continue to find innovative ways to increase recycling and environmental sustainability, especially with the Larimer County Landfill filling up. Tonight, we accelerated that road to zero waste by suggesting staff explore some key techniques."
The resolution adopted Tuesday directs staff to take a number of specific, short-term steps:
Expand community-wide awareness of measures to prevent waste from being created
Construct a new Community Recycling Center in 2015, subject to funding approval, for a one-stop recycling facility that also accepts a variety of hard-to-recycle materials such as electronic waste and certain household hazardous wastes
Explore a universal recycling ordinance that would improve access to curbside recycling and organics collection for residents and businesses
The City reported the community diverted more than half of its waste in 2013 through recycling, reuse and composting, but next steps will be more difficult and require a major shift away from outmoded ways of managing waste, said Susie Gordon, City Senior Environmental Planner.
"We will need to think hard about how we can prevent waste from being generated in the first place, look even more closely at finding ways of improving our recycling and organics composting that are convenient for people, and possibly explore further prohibitions on types of materials that really shouldn't be going into the waste stream," Gordon said.
In December 2013, the Fort Collins City Council adopted 11 new waste reduction goals after an extensive nine-month Road to Zero Waste planning process. More information on the Road to Zero Waste is available at http://www.fcgov.com/zerowaste/.
Congratulations Fort Collins! Residents, businesses and a Fort Collins Utilities soils recovery project helped increase the City's diversion rate – the amount recycled or composted compared with total waste generated – to 64.6 percent in 2013, up from 58.7 percent in 2012.
How much trash is that per person? Based on the 2013 population of 151,300 residents, Fort Collins generated 4.85 pounds of trash or landfill-bound material per capita per day. In 2012, per capita trash measured 5.12 pounds per day.
Read the full report and more about a City-led Soils Recovery Project that significantly reduced the amount of municipal debris going to the landfill.
Zero Waste Plan Approved by City Council
What's the future of waste reduction and recycling in Fort Collins? At the end of 2013, City Council approved new goals to get the City to zero waste by 2030. Interested in learning more about the Zero Waste plan? Visit Zero Waste Fort Collins or read our press release for more information.
Start Recycling at Your Business or Apartment Complex
Curbside Recycling Made Easy
Nearly everything can be reused or recycled, but do you know what you can and can't place in your recycling bin? We've made it easy to become a recycling expert! Check out our easy-to-follow Recycling Guidelines Poster.
Keep Cardboard from the Landfill
The City of Fort Collins recently adopted a regulation to prohibit corrugated cardboard boxes/packaging from disposal in the landfill. This affects all commercial, industrial, and residential generators. Learn more about the ordinance and what it means to Fort Collins residents. Why is this an important issue to tackle? Even though cardboard is easy to recycle, much of it continues to end up in our landfill. You can also read our article on the cardboard ban or view our informative brochure.
Glass Recycling Reduces Waste
You already know that all of the paper, metal, and plastic you place in your curbside recycle bin is made into new paper, metal and plastic. But did you know that glass is unique? It's the only material placed in our single-stream recycling that goes toward a "beneficial secondary use". Learn more about glass recycling.
You probably think paper is paper, right? Not if it's shredded paper. Unlike office paper, shredded paper can't go in your curbside bin. However, shredded paper can be taken to the City's Recycling Drop-off site at 1702 Riverside Avenue, and placed in the mixed paper bin (#4).
Here's our advice. Before shredding paper, decide if there are just a few lines of information you want to keep protected. Tear off the information you consider confidential and shred it. The larger pieces of the paper can go into your curbside bin, and the shredded pieces taken to the City's Drop-off. Or, find a local business that can shred and recycle your documents for a fee.
Streets Crushing Operations Site
Doing a little foundation work? Reconstructing your driveway? Or, maybe you're just tidying up the yard of old cement chunks. If so, the City has a concrete recycling program that's free and open to the public. Recycled concrete is used as road-base for our city streets. Accepted materials include: concrete chunks (small, clean chunks), clean fill dirt, pit run (clean direct and rock mixture), and bricks. Not accepted: rebar or wire mesh, wood, other contaminants or excessive dirt, or asphalt. Learn more>>
If you're like us, your recycling bin is larger and fills up much faster than your trash bin. Thanks to community members, the City is able to divert significant amounts of recyclable goods from ending up in the landfill. But have you ever wondered where all of that recycling goes after it leaves the curb?
Tri-102.5 FM morning radio show host Paul Wozniak did, so he made the trip to Waste Management's recycling facility in Denver to see how the company sorts and processes Fort Collins' recycling. Check out Wozniak's tour in this YouTube video!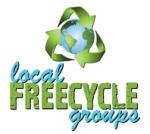 Think Globally, Reuse Locally
BigBelly Solar Trash & Recycling Compacting Units
Check out this nifty video on the solar compacting trash and recycling bins around Fort Collins. Learn how these new "Solar Bellies" located around town are helping us all recycle bottles, cans, and paper away from home.
Recycle More & "Right Size" Your Trash
Did you know that by "right sizing" your trash, you could save money? This ongoing option is available to Fort Collins citizens living in single-family homes. The "Pay-As-You Throw" (PAYT) trash ordinance enables you to call your trash hauler and request a bigger recycling cart. Call your hauler today and order your bin. Haulers are required to deliver upgraded recycling bins (64-gallon or 96-gallon) to customers who request them. The less you throw away, the less you pay!
Here are two resources to help you stay current on PAYT: Volume-Based Rates and Amended PAYT Ordinance (PDF).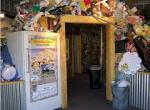 The Garbage Garage Education Center
The Larimer County "Garbage Garage" center features educational and interactive displays about the problems associated with an overabundance of trash. "Patty Packrat" directs visitors, starting with the Mountain of Trash and from there you can choose from a variety of exits into areas depicting various methods of handling waste: reducing, reusing and recycling or landfilling. Then enter the kitchen/garage area to learn what household hazardous wastes are and how to safely handle them. The Garbage Garage is located at the Larimer County Landfill, 5887 S. Taft Hill Rd. For more information, visit Larimer County Landfill or call 970-498-5772.