Natural Areas
Current Features
City of Fort Collins Welcomes Endangered Black-footed Ferrets Home
The City of Fort Collins Natural Areas Department, Fort Collins Utilities and several partners reintroduced endangered black-footed ferrets to Soapstone Prairie Natural Area and Meadow Springs Ranch in early September. See a 3 minute video about the release >>> Photos are posted on the City's Flickr account, click the link at the very bottom of this page. Learn more >>>
Free Upcoming Activities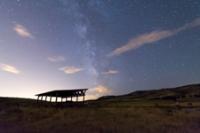 Hike to a Homestead, Saturday, September 20, 9:00 a.m.-2:00 p.m., Soapstone Prairie Natural Area- We apologize, but this program is CANCELLED.
Folsom Hunter's Field Guide Sunday, Sept. 21, 10-11 a.m., Soapstone Prairie Natural Area, meet at the north parking lot. Discover the preparations needed 11,000 years ago to face the challenges of climate and predators, and find out plants you might have eaten with bison steak. ½ mile on paved trail, easy. Free, REGISTRATION REQUIRED at naturetracker.fcgov.com.
Foothills Day Hike, Monday, September 22, 8:30 a.m. We apologize but this activity is canceled.
Astronomy at Bobcat Ridge: Morning and Evening "Stars", Friday, September 26, 6:30-9:30 p.m., Bobcat Ridge Natural Area, meet at the picnic shelter, 1/8 mile from the parking lot. Two bright morning or evening stars are actually planets—learn why we see Venus and Mercury only at these times and where to look for them in the sky at a brief program, followed by viewing with telescopes provided by the Northern Colorado Astronomical Society. Please arrive on time—the gate closes shortly after the program begins and parking is not allowed on the road outside the gate. Free, REGISTRATION REQUIRED at naturetracker.fcgov.com.
NoCo Nature Festival, Saturday, September 27, 7 a.m.-3 p.m., Nix Farm, 1745 Hoffman Mill Road. Come spread your wings and branch out with a new festival that celebrates the unique nature of Northern Colorado. The Birding Fair is getting a new name, a new location and a whole lot more pizzazz! Everyone is invited to a free day of fun and learning for the entire family that includes live animals, interactive activities, live music, food, vendors, presentations, giveaways, a nature costume contest and more! Free parking and shuttle provided. Learn more at http://www.larimer.org/naturalresources/nature_festival.htm or contact Heather Young at (970) 619-4489 or hyoung@larimer.org.
See more upcoming events at https://naturetracker.fcgov.com/Calendar
Help Preserve Open Spaces
Larimer County's Help Preserve Open Spaces sales tax funds approximately 38% of the Natural Areas Department's operations. It expires in 2018. The renewal of the tax was referred to the November ballot by the Larimer County Commissioners on July 29, 2014. Learn more >>>

This unique symposium brings together world renowned
archeologists, for the first time, to share their knowledge about this National Historic Landmark and its significance. Keynote speaker is Dr. Ed Wilmsen, author of publications summarizing the findings of the Smithsonian excavation in the 1930s. Other featured experts:Dr. Jason LaBelle, Dr. Fredrick Sallet, Dr. Margaret Jodry, Dr. Dennis Stanford. Sponsored by the Natural Areas Department and the Fort Collins Museum of Discovery. Registration is $175. Space is limited. Learn more >>>
The Natural Areas Master Plan sets the direction for the next ten years of natural areas. Learn more about the plan here. The Final Draft Natural Areas Master Plan will be considered by City Council for adoption on October 7. A Final Draft Executive Summary has also been prepared.
Soapstone Then and Now: A Special Series of Events 2014
Eighty years ago, scientists from the Smithsonian Institution arrived at what is now Soapstone Prairie and validated one of the most amazing discoveries of the time. Their research provided proof that people lived in this area at least 11,000 years ago and possibly longer. In 2014, you are invited to celebrate the importance of Soapstone Prairie Natural Area to people of the past, as well as the significance of this unique site today and into the future.
Folsom Hunter's Guide, Sunday, September 21, 10-11 a.m., Soapstone Prairie Natural Area, meet at the north parking lot. Learn about the legacies of ancient predators and grazers and what the well-prepared Soapstone dweller used to garnish her bison steak. 1/2 mile on paved trail, easy. Free, no registration required, but you can get a reminder and updates at naturetracker.fcgov.com .
Natural Areas
Physical Address: 1745 Hoffman Mill Road, Fort Collins, CO 80524
Mailing Address: PO Box 580, Ft. Collins, CO 80522-0580
Phone: (970) 416-2815
Fax: (970) 416-2211
Email: naturalareas@fcgov.com
Normal Business Hours: 8 a.m.-5 p.m. Monday-Friday
Directions: From Lemay (the part of Lemay between Riverside and Mulberry), turn east onto Poudre River Drive. Follow Poudre River Drive as it curves, changes names to Hoffman Mill Road and eventually dead-ends at Nix Natural Area and the Natural Areas Department's offices.