NOTICE:
This newsletter was originally sent on Dec 15, 2009.

2009 Winter Bike to Work Day Breakfast Stations

~
Winter Bike to Work Day
- 12/16 -
View List
of the 2009 Winter Bike to Work Day breakfast station sponsors and locations
(View Map)
Breakfast will be served at ten stations throughout Fort Collins tomorrow from 7:00am - 9:30am. Weather will be sunny, with a high of 50 degrees and a low of 30 with a 100% chance of some serious fun. It will feel like summer compared to the last several days! Enjoy the ride & fill up on breakfast goodness. Thanks for riding.
Winter Riding Quick Tips:
1. Ride in the same direction of traffic.
2. Ride with bright, reflective clothing and bike lights at night
3. Always wear a helmet
4. Be careful of low-angle sun during the winter months as motorists may not be able to see you
5. Cross perpendicularly at railroad tracks - the tracks can be extremely slippery when wet.
6. Obey the rules of the road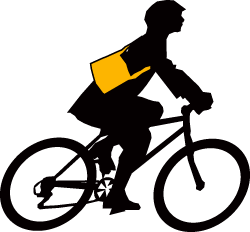 To Unsubscribe to Momentum E-News - please reply to this e-news letter or send an e-mail to
FC Bikes