Safe Routes to School is a national program seeking to increase the number of students and parents safely walking and bicycling to school. Whether through bicycle and pedestrian education classes, improved sidewalks and bike lanes, or enforcing school zone speed limits, our community is working together to make walking and bicycling to school a viable choice for students and parents!
Hot Topics
Kids' Safer Journey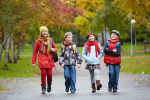 New Research Shows SRTS Increases Bicycling and Walking
A September 2014 research study published in the Journal of the American Planning Association confirms that Safe Routes to School programs are effective at increasing rates of walking and bicycling to and from school. The study analyzed travel data from 801 schools in Washington, D.C.; Florida; Oregon; and Texas collected between 2007 and 2012, and found that each year of SRTS education and encouragement programming resulted in a 5 percent increase in walking and bicycling rates — adding up to 25 percent after five years. Click here for an in-depth analysis.
As the Safe Routes program continues to develop in Fort Collins, a school rotation schedule is being implemented to ensure all students in the community have equal access to the program at critical stages of their academic and physical development. The linked schedule is where the program is headed, starting in 2015.
Goodbye, Congressman Oberstar
Safe Routes to School supporters nationwide are mourning the passing of 79-year-old Congressman James Oberstar (D-MN), on Saturday, May 3. Congressman Oberstar served in Congress for 36 years, and as chairman and ranking member of the powerful Transportation and Infrastructure Committee for many years, he played a critical role in authorizing a national Safe Routes to School program. In her blog post, Safe Routes to School National Partnership founder Deb Hubsmith reflects on the life and legacy of Congressman Oberstar and the impact his work has on kids and families each and every day across the nation.
May 7 Is National Bike to School Day
The date for the third annual National Bike to School Day has been set -- mark your calendars for May 7, and start gearing up to ride.
Last year, Bike to School events took place throughout the month of May and, of course, on National Bike to School Day. More than 1,700 schools in all 50 states plus the District of Columbia participated.
National Bike to School Day is celebrated in coordination with the League of American Bicyclists' National Bike Month. The event builds on the popularity of International Walk to School Day, which is celebrated across the country -- and the world -- each October. Many communities and schools have been holding spring walk and bicycle to school events for years.
Check your school's website for information about bike-related events during the month of May and particularly during the week of National Bike to School Day. If you are organizing bike-related activities for your school, please be sure to register your event on the national website.
Great Accomplishments in 2013
In 2013, the Safe Routes to School program reached nearly 14,000 local schoolchildren and 2,000 adults with education and encouragement programming. In addition, many sidewalk and road improvements were made, creating a safer environment for Fort Collins families who choose to walk or bike to school. Check out the complete annual report or this handy one page of highlights!
When a Kid Owns the Road
Read an inspirational story about a 4-year-old biking the streets of Brooklyn before the start of the New York City Marathon. Click here for story.
Seeking Leaders of Walking School Buses and Bike Trains!
One way to get more kids walking and biking to school is for parents and community volunteers to lead groups of schoolchildren safely to and from school. Walking school buses and bike trains work the same way as a school bus -- an adult leader has a list of kids to pick up on the way to school, culminating with a group arriving at school safely on foot or by bike.
We need community volunteers like you to help lead walking school buses and bike trains to elementary and middle schools in Fort Collins. If you would like to get involved, please email Nancy Nichols, Safe Routes to School coordinator, at or call 970.416.2357.
Safe Routes to School National Partnership Webinar
City Awarded $337,603 to Help Kids Safely Bike and Walk to School
Tavelli Elementary students will soon have a new $244,903 multi-use path and crosswalk. In addition, all K-8 students will benefit from a $22,700 grant to provide education and encouragement activities in local schools. These grants were awarded to Fort Collins and leverage $70,000 in matching funds from Poudre School District. Find out more and check out the ideas for the new path.
New CDOT Safe Routes Curriculum
The Colorado Department of Transportation's Safe Routes to School Program recently released a new curriculum for use by Safe Routes trainers and K–8 teachers. The curriculum includes lessons on pedestrian and bicycle safety and also biking- and walking-related lessons for core K-8 classes (math, science, history, language arts, etc.). The goal is to get kids thinking about the benefits of walking and bicycling throughout the entire school day. These lesson plans were created to align specifically with the State of Colorado's standards for education for core K-8 classes and were reviewed by the Colorado Department of Education. View and download the curriculum, or check out the video.
Junior Bike Mechanics -- Never Too Young to Fix Bikes
Kids love to get their hands dirty and to help fix things, including their bikes. Get them involved when they're young, and they'll be hooked on bike mechanics for life. Read more.
Become a Fort Collins Smart Bicyclist!
Cycling in the Fort Collins area can be very rewarding, but it's important to know the basics of city riding: bicycles are part of traffic, follow traffic laws, ride safely, bike lanes/paths etiquette and more. Also, learn how to avoid common crashes »