NOTICE:
This newsletter was originally sent on Dec 10, 2009.

2009 Winter Bike to Work Day Breakfast Stations


Quick Tip: Warmer temperatures are melting the latest round of snowfall. Be sure to get fenders for your bicycle and stay dry!
Road conditions will be very wet and sloppy these next couple of weeks.


~ Bike Lunch Talk - Event Recap - Winter Bicycling - 12/9 - The Winter Bicycling Tips & Techniques power point presentation from yesterday's Bike Lunch Talk is posted online. Special thanks to Ryan Scalva of the Cycologist Bike Shop for preparing the presentation and to Brad Brown from Full Cycle for assisting the discussion.

~
Winter Bike to Work Day
- 12/16 -
View List
of the 2009 Winter Bike to Work Day breakfast station sponsors and locations
(View Map)
Breakfast will be served at eleven atations throughout Fort Collins next Wednesday from 7:00am - 9:30am. Weather will be sunny, with a high of 40 degrees and a low of 20 with a 100% chance of some serious fun. It will feel like summer compared to the last several days! Enjoy the ride & fill up on breakfast goodness.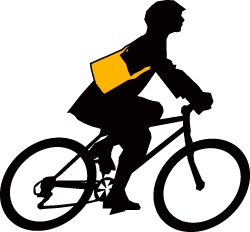 To Unsubscribe to Momentum E-News - please reply to this e-news letter or send an e-mail to
FC Bikes