NOTICE:
This newsletter was originally sent on Dec 7, 2009.

Learn How to Ride Out the Winter at Wednesday's Bike Lunch Talk

~ Bike Lunch Talk - Winter Bicycling - 12/9 -12:00pm -1:00pm - Home State Bank (303 E. Mountain Ave.) Join us while we explore the topic of winter bicycling. Learn from the professionals about how to bike safely during the winter and check out the gear that makes winter riding comfortable. Giveaways included! Presented by the Cycologist, Lee's Cyclery, and Full Cycle.

~
Bike Movie Tonight at Catalyst Coffee!
- 7:00pm - The
Overland Mountain Bike Club
is hosting a Winter Movie Presentation Series and tonight they are presenting
KLUNKERZ.
It's free and there will be bike prizes for those who show. Catalyst is at the NW corner of Horsetooth Rd.and Shields St.
~
Light Up The Night! - Event Recap
- Several hundred more Fort Collins residents will be riding with lights at night thanks to
FC Bikes
,
The Cycologist
, and the
Overland Mountain Bike Club
. Friday's event promoted safe bicycling and the First Friday Gallery Walk. Thanks to
Summit Studios
and the
Gallery Underground
for hosting the event.
~
10 Breakfast Stations
have been created for this year's Winter bike to Work Day on December 16th. FC Bikes will be releasing all Winter Bike to Work day details and sponsors this Wednesday.
~
Bikes for Tykes - Lee's Cyclery and Phoenix Cycles are looking for donations of bicycles (new or near new), and a cadre of volunteers that can help make them safe and presentable. Volunteers should have shop experience in bike maintenance. Please help by joining us in donating your time, energy and a new bike. Lee's contact person on this project is Colin, at the south Lee's Cyclery store. Call Colin at 970-226-6006 or e-mail him for more details. All bike maintenance and beautification needs to be completed by December 10th.
Winter Riding Quick Tips:
1. Ride in the same direction of traffic.
2. Ride with bright, reflective clothing and bike lights at night
3. Always wear a helmet
4. Be careful of low-angle sun during the winter months as motorists may not be able to see you
5. Cross perpendicularly at railroad tracks - the tracks can be extremely slippery when wet.
6. Obey the rules of the road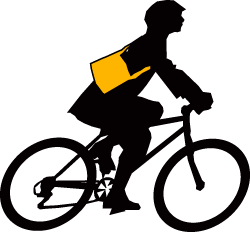 To Unsubscribe to Momentum E-News - please reply to this e-news letter or send an e-mail to
FC Bikes