NOTICE:
This newsletter was originally sent on Dec 3, 2009.

Bike Light Giveaway Tomorrow Night!

December 4th - Light up the Night! - 6:00pm - 8:00pm. Be Seen! Increase your safety by riding with lights and refective clothing at night. Visit the FC Bikes table in Old Town Square above the Gallery Underground (109 Linden Street / Old Town Square) during First Friday Art Walk and pick-up your free bike light set. Co-sponsored by Overland Mountain Bike Club & The Cycologist.

Winter Riding Quick Tips:
1. Ride in the same direction of traffic.
2. Ride with bright, reflective clothing and bike lights at night
3. Always wear a helmet
4. Be careful of low-angle sun during the winter months as motorists may not be able to see you
5. Cross perpendicularly at railroad tracks - the tracks can be extremely slippery when wet.
6. Obey the rules of the road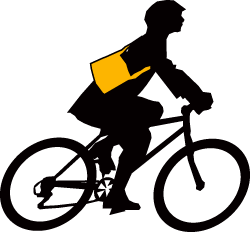 To Unsubscribe to Momentum E-News - please reply to this e-news letter or send an e-mail to
FC Bikes