NOTICE:
This newsletter was originally sent on Nov 20, 2009.

Tomorrow (Wednesday) is Winter Bike to Work Day. Show your support for year-round cycling and visit one of our 17 breakfast stations provided by 49 of our much appreciated business sponsors!
~ Wednesday 12/14 - Winter Bike to Work Day – 7:00am - 9:30am - Just like Summer Bike to Work Day, but cooler! Our fifth annual Winter Bike to Work Day is a community effort and it wouldn't be possible without our sponsor's commitment to bicycling in Fort Collins. Click here for a map of the breakfast stations!

Bike Winter Resources
~ Report Bicycle Hazards – Help keep our City's bike lanes and trails clear of snow, ice and debris by reporting bike hazards. fcgov.com/bicycling/adopt.php or call 221-6614. Also, watch for clumps of fallen leaves on the trails and bike lanes. They can create slippery conditions!

~ Bicycle Snow Removal Routes – The Streets Department has created a bike route snow removal map for cyclists. Plan your snow day route accordingly: We Know Snow

~ Bicycle Safety Resources - fcgov.com/bicycling/trafficsafety.php Get signed up for the January Traffic Skills 101 class!

Top Ten Bike Winter Tips:

1. Be careful of low angle sun during winter as cars may not be able to see you.
Wear bright, visible clothing

When riding at night, ride with front and rear lights.

Always wear your helmet. You may need to change the sizing pads in your helmet or remove them entirely to fit your winter headgear. Some hats are made specifically to fit under helmets. Try taping over the vents in your helmet if your head gets too cold.

Take extreme caution of slick train tracks during wet, winter weather. Slow your speed and cross at a 90 degree angle (straight across).

Wide tires with widely separated knobs work best on snow. Studded tires improve traction on ice. Use low pressure: start with 15-20 psi and experiment for yourself.

Try to pedal smoothly and relax your upper body, especially on ice and soft snow. When the bike starts going sideways, make small corrections rather than over steering and weaving down the road.

Cycling generates a lot of heat so clothes that are warm and comfortable have to control the buildup of heat and moisture as well as insulate and protect from wind.

If you're riding in a headwind or falling snow you'll find eye protection very helpful.

Store your bicycle indoors to protect it from the elements.

Plus, you'll find that a warm saddle is more enjoyable to ride on in the morning.
At first, people thought we were crazy for hosting a Winter Bike to Work Day, but it has quickly become one of our community's favorite cycling events! Once you give it a go, you will realize how easy and fun it is to ride in the winter. And Bike Winter has grown, incorporating several new events to encourage more bicyclists to ride during the winter months. Please join us – be seen, be heard and sustain your cycling freedom throughout the year!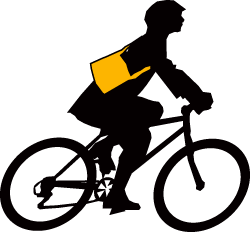 To Unsubscribe to Momentum E-News - please reply to this e-news letter or send an e-mail to
FC Bikes