NOTICE:
This newsletter was originally sent on Nov 16, 2009.

Tuesday is November's Bike Lunch Talk

~ The November Bike Lunch Talk
is tomorrow at Home State Bank (303 E. Mountain) in the basement. 12:00pm - 1:00pm. Join us for a brown bag lunch and learn about the City's recent study regarding bicycle accident data. The City's Traffic Engineer, Joe Olson, will present his findings and share valuable information regarding bicycle/motorist accidents. This information may surprise you!
~
Winter Bike to Work Day is December 16th!
More information on
Bike Winter Fort Collins
campaign coming soon....
~
Great Job to Chain Reaction!
- The Fort Collins Lego Robotics Team, which consists seven, local junior students, took 4th place at the Robotics Competition on Saturday. The competition requires each team to pick a topic in their community and come up with possible solutions and improvements. They worked with City's FC Bikes & Safe Routes to School program after choosing 'Bicycle Safety' as the topic of their presentation. They are now qualified to move on to the State tournament on Dec 12th. Good luck Chain Reaction!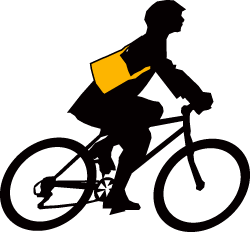 To Unsubscribe to Momentum E-News - please reply to this e-news letter or send an e-mail to
FC Bikes