NOTICE:
This newsletter was originally sent on Nov 5, 2009.
Community Bike Talk
Bike Fort Collins invites the public
Fort Collins, CO – Bike Fort Collins, a local non-profit cycling advocacy group invites the public to its Fall Community Bike Talk, November 12, 2009. This free event will be held at Become Fit, 1611 S. College (College Ave. and Prospect, upstairs from el Monte restaurant), Fort Collins, CO, from 6:30 – 8:30 PM. Appetizers and beverages will be available.
Come learn what Bike Fort Collins is doing to improve cycling safety in Fort Collins. Bike Talks (open forums) enable Bike Fort Collins to understand the needs of the cycling public. Featured topic of discussion will be an analysis of the bicycle accident survey recently featured in the Coloradoan. The non-bicycling community is encouraged to attend and give input. Results from previous Bike Talks include the Community Cycling School; Share the Road signs along major streets; and the installation of more bike racks in the downtown area.
About Bike Fort Collins
Bike Fort Collins is a Fort Collins 501(c)(3) non-profit advocacy organization that advocates for the safe and enjoyable bicycling in Fort Collins. Bike Fort Collins embraces a broad range of bicycle-related activities centered on sharing the benefits of a strong cycling community.

Such activities include the operation of the Fort Collins Bike Library, the development of a "Museum Without Walls," for restored antique bicycles, a Community Cycling School, and a dismount zone safety study. Bike Fort Collins believes that the bicycle is a sensible mode of transportation for pleasure rides with the family or short trips to the grocery store; daily commutes to work, and longer multi-day camping trips.

More information on Bike Fort Collins can be found at www.bikefortcollins.org
###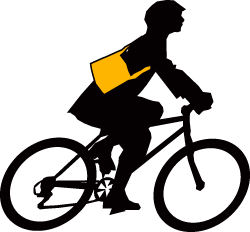 To Unsubscribe to Momentum E-News - please reply to this e-news letter or send an e-mail to
FC Bikes