FC Bikes
is adopting
Bicycle Colorado's
new
3-2-1 Courtesy Code.
By following these simple guidelines, members of the bicycling community seek to create goodwill and positive sharing of the road with motorists.
Safety is the ultimate goal.

~
Women's Bike Fit Clinic
- Tonight! at Full Cycle Bike Shop (230 S. College) - 6:00pm bike ride, followed by clinic at 7:00pm. Attendees need to bring a yoga mat or large beach towel. This class is FREE for ANY woman who wants to attend. You can sign up at the shop register or RSVP to
Tanja
~
Bike n' Jazz -
next Friday, August 7th - Gardens on Spring Creek 6:30pm - 8:30pm - Come enjoy the jazzy sounds of the Montgomery Jazz Group at the Gardens on Spring Creek (2145 Center Ave) . This event was initially planned for Bike Week, but was rained out. Let's redo it and enjoy the ambiance of the Gardens. Make it a family picnic!
~ 3rd Annual Pedal Festival - Saturday, August 8th in Old Town Square from 4:00pm - 8:00pm. Live music, Bike decorating Contest, & meet Olympic Gold Medalist Tyler Hamilton! This year's collaboration will benefit Multiple Sclerosis research and a project named Accelerated Cure through an effort organized by the Tyler Hamilton Foundation: MSGlobal. Contact Laura for more info!
~ The
6 Day Races
at the CSU Oval
continue each Sunday through August 16th. the
Fort Collins Velodrome Association
is hosting three more 6-day race series on the CSU Oval. There are categories for fixed-gear and freewheeling bicycles, so come on down and try it out! Sundays: 3:00pm - 7:00pm. Presented by Associates in Family Medicine.
~ Transportation Town Hall Meeting
- Monday, August 17th from 6:30pm - 8:00pm at New Belgium Brewery,
Featuring US
Representative
Betsy Markey and
other elected officials including Rep. Kefalas and Rep. Fischer
.
Come share your thoughts on transportation with your Representatives!
For more information or to RSVP, contact
Sophie Glass
~
The Fort Collins Cycling Festival
is underway again this year August 28th and 29th! This year's cycling festival will include an Old Town Cruiser Bike Tour and Concert on the 28th (meet in Old Town Square at 5:30pm). The festival also hosts an ACA road ride,
Rist Canyon Hill Climb
and the
Citizens Ride de Rist!
Get more info >>
~
Autumn Bike to School Day
- September 2nd - All Poudre Schools! FC Bikes and the Safe Routes to School program are teaming up once again to plan and promote Bike to School Day! The Spring Bike to School day had 15 schools particpate including elementary and junior high. Get your school
signed up
~
Senior Resource Services
presents
Cycle for Seniors
- Sunday, Sept. 13th at the Poudre River Learning Center - This event is a intergenerational joyride where you can bicycle, blade, run or walk along the Poudre River Trail. To learn more and register for the event,
go here >>
NEWS YOU CAN USE
~
Safety Education Reaching Thousands of Bicyclists
- Bicycle Colorado Safety Signs
As part of Bicycle Colorado's education outreach efforts to bicyclists, they created a
series of educational signs
that illustrate and reinforce safe bicycling behaviors. Area bicycle events will be displaying the signs for participants to see and learn. In addition to reinforcing safe and courteous behaviors among bicyclists, the signs also create awareness of our education efforts to bicyclists. Bicycle Colorado encourages all roadway users - motorists and bicyclists - to follow the rules of the road and to behave in a responsible and courteous manner.
~ Poudre River Trail renovation at Kingfisher Point Natural Area is underway.
The 2,000 foot long asphalt section of trail located west of Timberline Road will be replaced with new, 10 foot wide colored concrete. The project should be completed by late August, weather permitting. A detour will be provided for trail users. Please follow the detour, so that the contractor can safely and efficiently complete the necessary work. If construction allows, the existing asphalt trail will remain in place and be open to the pubic on the weekends only.
~ Closures and Detours
- Remington Street will be closed July 27-31 from Lake Street to Elizabeth. Bikes will be detoured to Lake-Peterson-Elizabeth. This is for northbound/southbound travel. The underpass between Pitkin and Lake will have special dismount placards for bikes which will detour them on the sidewalk on College Avenue. Their detour is Lake-College-Pitkin. This is for eastbound/westbound travel. COFC Streets will be milling and paving Remington (Pitkin to Elizabeth) Vogel Concrete will be doing repairs on Remington (Pitkin to Lake)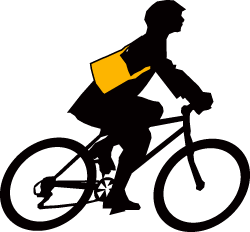 To Unsubscribe to Momentum E-News - please reply to this e-news letter or send an e-mail to
FC Bikes