FC B.I.K.E. Camp (Bikes Improve Kids Experiences)

Beginner session is full! (6/22-6/27)

.

Intermediate session (7/6-7/11) is filling up fast. Sign up now with the

6/22 - Monday

Sunset Cruiser Ride

Meet 5:30pm at The Cycologist (217 Linden St.)

Join fellow cyclists on a casual sunset cruiser ride northwest along the Poudre Trail to the Swing Station (Overland Rd./287) for an evening of leisurely activities in the quaint town of LaPorte.

6/23 Tuesday

FC Bikies

7:00pm at New Belgium Brewing Company (500 Linden St.)

The 2009 local bike awards gala and Bicycle Friendly Community celebration. Limited availability, RSVP to Emily.

6/24 Wednesday – 2 Events!

Bike to Work Day

(6:30am-9:30am). Bike to Work Day goes green and global! Bike to Work Day has been planned to be a zero waste event and is partnering with Gallegos Sanitation Inc. and Green Logic to compost all the breakfast station waste. Global: Last year's B2WD event generated 22,500 miles and this year we plan to generate over 25,000 miles in one day! The circumference of the Earth at the equator is just under 25,000 miles. There will be Free breakfast stations throughout Fort Collins from 6:30am-9:30am. Get your workplace signed up and participate with thousands of other bicyclists. See map of the 29 breakfast station locations throughout Fort Collins.


Downtown Bike Show

Starts at 6:30pm, judging at 8:00pm at the Bean Cycle (144 N. College)

Enter your very own bicycle and win fabulous prizes.

6/25 Thursday

Bike to Skate Night

Meet 5:00pm at Brave New Wheel (105 E. Myrtle)

Group ride to Rollerland (324 S. Link) for private party from 6:00pm – 8:00pm.

All ages welcome!

6/26 Friday

Bike n' Jazz

6:30pm - 8:30pm - The Gardens on Spring Creek (2145 Center Ave.)

Free event featuring live jazz by the Bob Montgomery Jazz Quintet amid the peaceful gardens on Spring Creek.

6/27 Saturday - 2 Events!

Bike Prom Night "Bicycling Under the Stars"

8:00pm till curfew at the Sunset Event Center (242 Linden Street)

This fun bash will feature local DJs spinning tunes all night, all the dancing you can handle, ample bike parking, raffle prizes, photo booth, and crowning of Bike Prom King & Queen. Get tickets at any local bike shop (over 21 only).





BMX at Epic

BMX Track 2pm to 4pm


Epic BMX would like to offer a free bike clinic to kids of all ages or even parents who would like to participate . Bring your child to the newly remodeled Epic BMX track. This clinic will focus on basic skills of learning how to maneuver around a BMX track safely. We will focus on safely aspects like the importance of wearing a bike helmet as well as wearing long sleeves and long pants while riding the track. Contact Epic BMX for more info or call 412-3726





6/28 Sunday - 2 Events!


FC Bike Quest

Meet 8:30am at Lee's Cyclery (202 W. Laurel)

FC Bikes is seeking 10-15 teams of 5 bicyclists each to embark upon a treasure hunt throughout Fort Collins. Bike Teams are provided fun clues they must solve in order to complete the hunt and win fantastic prizes. This event will require your team to ride your bike A LOT!


Visit Rootles to register your team.




Lory State Park Trails Day

Meet 8:30am at Lory State Park


Come out and join Overland Mountain Bike Club and Diamond Peaks Mountain
Bike Patrol on Sunday 8:30am to work on the trails at
Lory State Park. Register at Overland Mountain Bike Club




Special note: The 24th Annual Great West-Life Bike MS, Colorado's Ride 2009 will also be held June 27-28, with a goal of raising over $3 million! More than 3,000 cyclists, 600 volunteers, and countless supporters will enjoy majestic Colorado scenery while riding from Front Range Community College in Westminster to Colorado State University in Fort Collins. Registration is sold out, but this event will bring thousands of bicyclists into Fort Collins, so please be on the lookout!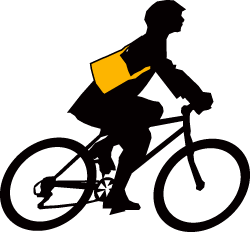 To Unsubscribe to Momentum E-News - please reply to this e-news letter or send an e-mail to
FC Bikes