NOTICE:
This newsletter was originally sent on Mar 20, 2009.

New Downtown Bike Racks Provide Balance of Function and Form
The City of Fort Collins' Transportation Planning Dept is pleased to present the 'On Street' Bike Parking Project for downtown Fort Collins. Over a year has gone into the planning for these bicycle facilities which will further demonstrate our City's commitment to supporting all modes of transportation.
Today, the City is installing five on-street bike parking racks throughout the downtown area which will accomplish the following project objectives:
Adds more overall bicycle parking in the downtown, specifically near businesses that attract a high level of customer/client bicyclists;

Mitigates sidewalk congestion and encourages improved pedestrian flow by eliminating obstacles on the sidewalk;

Encourages bicyclists to use access the downtown by riding on the streets rather than sidewalks;

Creates a new urban design element that reflects the bicycle culture of the community;

Demonstrates a creative solution achieved through a public-private partnership
Determined bike rack installation locations:
La Luz Mexican Restaurant (Walnut St.);

Cafe Ardour (Linden St.);

The Rio Grande Mexican Restaurant. (Mountain Ave.);

Trailhead Tavern (Mountain Ave);

Muggs Coffee Shop (Olive St.).
This is a joint project with New Belgium Brewing Company who has provided the funding for the fabrication and installation of the bike racks.

Bruce Hendee & Associates (BHA Designs) designed the bike racks in conjunction with M&R Fabricators, both local Fort Collins businesses.
FC Bikes encourages you to ride your bike to downtown to shop and eat and to try out the new bike racks.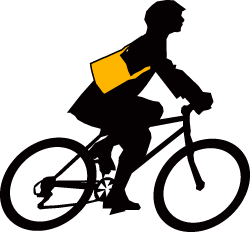 Back to FCBikes »