"Those who wish to control their own lives and move beyond existence as mere clients and consumers- those people ride a bike."
- Wolfgang Sachs, For the Love of the Automobile
FC Bikes News

~ Sign up today! to volunteer for the Tour de Fat on the morning of Sept. 6th. You ride through town and think to yourself, "what a great bicycling City!" Now is your chance to give back to the bicycling community in a fun, positive way. Volunteer now with Bike Fort Collins to assist with the largest bike parade on the planet. It's only a couple hours for you, but thousand of dollars for Bike Fort Collins.

~Pedal to the Point - The Pedal to the Point fundraiser ride for Turning Point grew 110% this year. Great job to Nathan Scott for organizing a wonderful event and thanks to all who participated or volunteered!
~ New! Traffic light bicycle actuation detectors installed. The City of Fort Collins Traffic Operations Dept. has installed loop detectors for bicyclists at the new intersection redevelopment at Taft Rd. and Laporte Rd. Loop detectors are also to be installed on Center Ave. at Prospect Rd. Please welcome the City's new Traffic Engineer, Joe Olson. Joe hails from Longmont, CO and has an extensive knowledge of traffic design and facilities to accomodate bicyclists. FC Bikes is pleased to be working with Joe and Traffic Operations to create better biking in FC.

~ Fort Collins Velodrome Association - Check out Olympic Cycling Also, if you are interested in taking a private bus trip to Colorado Springs for the Collegiate Track Nat'l, please contact Tim Anderson. This trip to root on CSU Rams Cycling should be a hoot!

~ Construction on Poudre Trail- Don't Forget, Parks Planning will be replacing more of the asphalt on the Poudre Trail between Lemay Avenue and Timberline Road during the month of August. Detours will be in place on area streets or on the existing asphalt trail as the new concrete trail is installed. Trail users are encouraged to use the detours. The project is being financed by Natural Areas funds. For information on the project please contact Craig L. Foreman by phone at 221-6618 or by e-mail at cforeman@fcgov.com
~
COexist

Campaign

- FC Bikes partnered with local art photographer,

Summit Studios

, to create an education campaign for Fort Collins motorists and bicyclists. Summit Studios' unique and surreal artistic approach provided the perfect medium for disseminating bicyclist and motorist messages in an educational, yet entertaining manner.
Check out the end products and video.

~
Bicycling in Downtown Fort Collins -
The City of Fort Collins and local stakeholders are working to make bicycling safer for bicyclists and pedestrians in the downtown area.
Bicycling on the sidewalks in the downtown area is prohibited
. Police officers will ticket bicyclists and skateboarders for riding in the dismount zone. Cost of the ticket is $50.00.
Click here
for information on the dismount zone as well as a map of recommended routes through downtown.
~

Check out

this article on the Democratic National Convention bike share program. Bikes Belong and Humana are teaming up to create a weeklong bike share (1000 bikes) for convention visitors and participants. Denver plans to create a legacy bike share program following the DNC. Bike share programs and bike library programs are popping up throughout the U.S.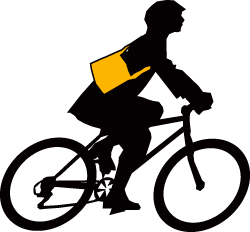 Back to FCBikes »