"The Endless Ride"
The farm dog runs beside me as I pedal on my way
Redwings chirp above my head, I guess to what they say
Three thousand mile a summer, I'm riding all I can
The sun shines down upon me, it has made my body tan
If I can just keep riding, thru wind and rain and sun
I might return to that special place, where I think that I begun
~Harley Kilby

FC Bikes News

~ Bikers Down - The Fort Collins Bicycling Community mourns the loss of Rebecca Allen. Rebecca's committment to bicycling and a sustainable living style was and still is an inspiration to us all. New Belgium Brewing Company will be holding a special "Bike In" movie for Rebecca at the end of the movie series this year. More details on this event to follow. Fort Collins also lost another avid bicyclist this summer. Forrest "Woody" Hesselbarth passed away on July 2, 2008 after a long, heroic battle with cancer. Woody had a passion for better bicycling in Fort Collins and was very communicative with City staff and officials at bringing more attention to bicycling throughout Fort Collins. We will miss you and remember you always Rebecca and Woody.

~ Bike Trail Work - The City of Fort Collins will be replacing more of the asphalt on the Poudre Trail between Lemay Avenue and Timberline Road during the month of August. Detours will be in place on area streets or on the existing asphalt trail as the new concrete trail is installed. Trail users are encouraged to use the detours. Use of the detours will allow the contractor to work safely and efficiently. The project is being financed by Natural Areas funds. For information on the project please contact Craig L. Foreman by phone at 221-6618 or by e-mail at cforeman@fcgov.com

~Pedal to the Point - Sunday, August 10th at 7:00am. Start/Finish: Waverly School (10431 N. County Rd. Waverly, CO) Ride with the folks from Turning Point and support family and youth development. 24, 52, and 72 mile rides for all ages and abilities. www.active.com or call Nathan 970.567.6459 for more details.

~Bike Commuter of the Year goes to Doug Swartz. Doug commutes to work by bike virtually every single day of the year. Even on days when the weather isn't great, Doug shows up with his winter biking gear and doesn't seem at all phased by the inclimate weather. Not only does Doug bike to work, he bikes everywhere he needs to go, and has served as a real inspiration to his collegues to take up biking. He is the Bike Week co-rep for the City of Fort Collins Utilities Dept. and is constantly emailing updates, posting posters everywhere and reminding people about Bike Week but also that we should bike beyond bike week. Congrats to Doug!

~The

2008 Bike Week

was a tremendous success. Big thanks to all FC Bicyclists who took part in the celebrations.

Bike to Work Day

involved over 4500 bicyclists who generated 22,500 miles on their bikes in one day. You know, the circumference of the Earth at the equator is nearly 25,000 miles. Our goal next year is to bike around the globe.

Bike to Work Wednesdays

promotions will be kicking off in September. Stay tuned for more events , giveaways, and resources for FC bicycle commuters.
~
COexist

Campaign

- FC Bikes partnered with local art photographer,

Summit Studios

, to create an education campaign for Fort Collins motorists and bicyclists. Summit Studios' unique and surreal artistic approach provided the perfect medium for disseminating bicyclist and motorist messages in an educational, yet entertaining manner.
Check out the end products and video.


~
B.I.K.E. Camp

-
was a week-long summer camp that focused on bike safety, emergency skills, bike handling, recreational riding and bike maintenance. Sponsored by Overland Sertoma, AMD, and New Belgium Brewing Company B.I.K.E Camp (Bikes Improve Kids' Experiences) changed the lives of 20 children this summer.
Click here
for the photos from Bike Camp and big thanks to Tyler Bevington, Bike Camp Counsler/Planner extraordinaire.
~

Lee's Cyclery and FC Bikes presented the "Go By Bike Challenge"

Six people in FC won Trek FX commuter bicycles in this year's Go By Bike challenge. Take a look at their blogs and read up on their commuter stories.
~
Bicycling in Downtown Fort Collins -
The City of Fort Collins and local stakeholders are working to make bicycling safer for bicyclists and pedestrians in the downtown area. Bicycling on the sidewalks in the downtown area is prohibited. Police officers will ticket bicyclists and skateboarders for riding in the dismount zone. Cost of the ticket is $50.00.
Click here
for information on the dismount zone as well as a map of recommended routes through downtown.

~
Bicycle Friendly Business
- A firm in Emeryville, CA, is now
reimbursing
its employees for bicycling to and from off-site meetings as it would have if the employees had driven. Seems like a good way to incentivize bicycling, maybe we should try it here!
~And from our friends at the

Fort Collins Velodrome Association.

Check out this great article on bicycling in the Olympics.

~

Bike Fort Collins and the Fort Collins Bike Co-op

are looking for volunteers to get involved with local projects and events. Get in touch with Rafael (Bike Co-op) or Jeff (Bike Fort Collins) if you are interested in getting involved.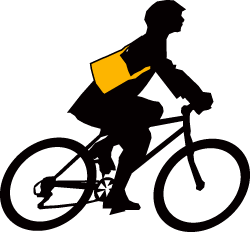 To Unsubscribe click the next link, although we would prefer if you didn't -
Unsubscribe me from this mailing list