Welcome back! Now more than ever is there this much going on bikewise in Fort Collins.
Get out and ride!



~Want to be on TV? Calling all bicyclists! Fox 31 will feature Fort Collins on the "Fox on the Block" program this Thursday (5/15) from 6:00am - 10:00am. Join FC Bikes at Spring Canyon Park at 6:40am to be interviewed by Fox 31 LIVE. Meet at the main park pavillion. Free breakfast and coffee to first 100 people.

~The USA Cycling Collegiate Nationals make big splash in Fort Collins. Congrats to CSU who took 3rd overall at last weekend's three races, and to CSU's Phil Mann who finished 1st on Sunday's downtown criterium division 1 race. With hundreds of race participants and families visiting Fort Collins from all over the states this weekend, these types of events place Fort Collins on the national bike map and help us stand out as an outstanding bicycle friendly community. Big props to CSU's Cycling Team (3rd in the USA) and to the Fort Collins Cycling Festival organizers. Great job, it only gets better!

~

Bike to School Day is Huge Success

- 15 schools participated in this year's Bike to School Day and Walk and Wheeling Wednesdays. Elementary, junior high, and high Schools all contributed to making this year's B2SD event one to be remembered and emulated for years to come. With so much energy and consideration regarding our children's transportation choices, the Fort Collins Safe Routes to School program continues to pave the way and set the example for other communities. Big thanks to all of our in school faculty cheerleaders, volunteers, and local bike shops who made it all happen.


~The

Six Day Races

at CSU Oval

started last Sunday, May 11th. Local celebrities came out to race the first lap to show support for a future Fort Collins Velodrome. There are still five more races to be had, so come on out, race, spectate, or do both amidst the ambience of CSU's historic Oval. For more details check this out.
~

Team Legacy Energy

had a great (NRC) National Racing Calender first race. With 9 professional teams and 120 starters, Fort Collins' very own Team Legacy Energy finished in 6th place. This was their first big pro race and proved they are a force in the peloton.
Read more >>
~
B.I.K.E. Camp

-
FC Bikes and the City's Recreation Dept. have collaborated on a new week-long summer camp that will focus on bike safety, emergency skills, bike handling, recreational riding and bike maintenance. B.I.K.E (Bikes Improve Kids' Experiences) Camp presented by AMD will be open to children 8-12 years old. BIKE Camp will take place June 23rd through June 28th from 8:30 AM to 12:30 PM. The BIKE Camp will be based at Lee Martinez Park with access to nearby trails and other bike-friendly areas. The cost of the camp is $50 per child. BIKE Camp registration is limited to 25 children. If you are interested in registering or learning more about BIKE Camp please contact David "DK" Kemp at 970.416.2411.
Short Track Bicycle Racing at New Belgium
, Tuesdays through the end of May.
You gotta see this!
~

Lee's Cyclery and FC Bikes present the "Go By Bike Challenge"

Four bicycles will be given away within the Fort Collins community (2 men & 2 women) while an additional 2 bikes will be given away soley to City of Fort Collins employees. A total of six Trek FX Bicycles along with commuting gear will be given away to six contestants who write an essay on why they want to switch from driving to bicycling on a daily basis. If you are reading this, you are most likely an avid commuter bicyclist, but if you know of someone who is willing to make the switch to go by bike and need a little help to get started, send them here! Go By Bike

~Why is

National Bike Month in May

while Colorado celebrates bicycling in June? The weather! Most towns in the Colorado high country are still inundated with snow and cold weather during the month of May, which is why June is Bike Month in Colorado. But, geez who needs a bike month, when Fort Collins has events going on all year round? Regardless, Fort Collins will celebrate it's bike culture during Bike Week, June 23-29th. Check it out.
~
Lory State Park Hosts Mountain Biking Spring Kickoff Event
to be held on Saturday, May 31 from 10 a.m. to 5 p.m. This event will celebrate mountain biking opportunities at the park including the Corral Center Mountain Bike Park (MBP). There will be fun and festivities for all levels of riders. From novice to advanced,
Lory
State Park
offers biking fun for the entire family.
Read More >>
~
CSU Engineering Students Take First in Human Powered Vehicle!
Read More >>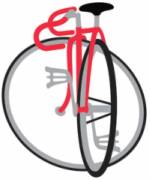 ___________________________________________________________________________________________
~
Bicycling in Downtown Fort Collins -
The City of Fort Collins and local stakeholders are working to make bicycling safer for bicyclists and pedestrians in the downtown area. Bicycling on the sidewalks in the downtown area is prohibited. Police officers will ticket bicyclists and skateboarders for riding in the dismount zone. Cost of the ticket is $75.00.
Click here
for information on the dismount zone as well as a map of recommended routes through downtown.
~
Bicyclist and Motorist Education Campaign

- FC Bikes partners with local art photographer,

Summit Studios

, to create an education campaign for Fort Collins motorists and bicyclists. Summit Studios' unique and surreal artistic approach will provide the perfect medium for disseminating bicyclist and motorist messages in an educational, yet entertaining manner. More to come soon.


~Need to burrow a bike? Have friends or family coming in town this summer Check out a bike at the FC Bike Library.
~
Fort Collins Bike Commuter of the Year 2008!
We have several entries thus far. Do you know someone in our community who is committed to making every day a Bike to Work Day? Does this person epitomize and actualize the health, environmental, social and economic benefits of bicycling? Please share his or her story with FC Bikes. Please submit your story to
DK
. Winner will win glorious prizes. Winner will be announced during Bike Week's Cruise to the Movies event at New Belgium on June 26th.
~
Take the
Two Mile Challenge
and pledge to ride your bicycle whenever traveling within a two mile radius of your home. Pledge and send to a friend.
~As always, Adopt-a-Bikeway and Report Bicycle Hazards! Help keep our bike lanes clean by notifying the Streets Dept. of debris in the bike lanes.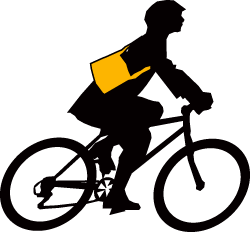 "Roll Into Spring" (March-May)
May 11th, May 18th, May 25th, Jun 1st, Jun 8th & Jun 15th - Six-Day Bike Races at CSU Oval
Consecutive Sundays, registration and warm-up from 3-5pm races events from 5-7pm.. Check out www.fcvelodrome.org for more details.
May 14th - BLT (Bike Lunch Talk) - Topic: Bike commuting 101:
Noon at Home State Bank (303 E. Mountain) Topic: Bike commuting 101: Learn from the experts on how to make the bicycle your primary and sensible mode of transportation.
Bike Week
is around the corner - June 23rd-28th. Bike to Work Day is June 25th!
Unsubscribe me from this mailing list