Mountain Avenue to Undergo Bicycle Improvements in Downtown
Mountain Avenue will undergo improvements to facilitate safe bicycling. The City's Transportation Planning Division applied for and received federal grant funding through a City-wide Energy and Efficiency Conservation Block Grant (EECBG).
Bicycle transportation improvements along Mountain Avenue will include the addition of bike lanes from Meldrum Street to Howes Street both eastbound and westbound. In order to accomplish this, the right most westbound travel lane approaching Howes will be converted to a right turn only lane.
Between Howes and Riverside/Jefferson streets, bicycle "Shared Lane Markings" will be installed. Shared Lane Markings are installed in the center of the right-most travel lane and are intended to provide notification to motorists and bicyclists that both types of vehicles share the travel lane and that bicyclists are allowed to use the full lane. It is anticipated that the use of Shared Lane Markings will also help mitigate bicycling on the sidewalk which is prohibited in Downtown Fort Collins.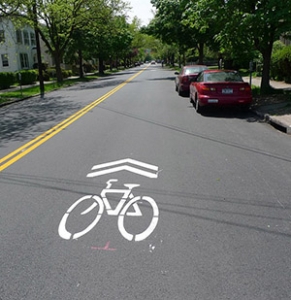 Additional improvements include the installation of traffic signal video detection equipment that is able to detect the presence of bicyclists as well as motor vehicles. Video detection will be installed at the intersections of College/Mountain and Mountain/Riverside.
This project is a cooperative effort between the City's Traffic Operations and Transportation Planning/FC Bikes Department to provide a safe bicycling infrastructure throughout Fort Collins. This project also achieves the recommendations from the 2004 Downtown Strategic Plan and 2008 Bicycle Master Plan to facilitate better east-west bicycle transportation through downtown.
The project is scheduled to begin Friday, April 29 and will be completed by the following Friday, May 6 (weather permitting). There will be lane closures, but two-way traffic will be maintained at all times.
Stay up to date on road closures, conditions, and downtown projects by visiting
fcgov.com/fctrip
or
fcgov.com/downtownimprovements
April - May Community Cycling Events:
April 30, 8:30-3:30pm
13th Annual Spring Warmup Ride (Spring Canyon Park Pavillion)
12-, 26-, 43-, and 62-mile routes. Sag support, breakfast snack and lunch provided. Proceeds benefit Health District of Northern Larimer County's Tooth Fairy Fund. Sponsored by Fort Collins Cycling Club.
April 30, 9:00am
Trail Day
The Shoreline-Foothills Trail sees thousands of users each year. Come on out and help us do some much needed work on this trail.
May 3, 6:30am-9:00pm
Mex for MS! (Castillon's Restaurant)
Mention this event at Castillon's any time on Tuesday, May 3 and they will donate 25% of your total bill to MS Global!
May 7, 9:00am
Patrollers Training Day and Picnic
If you are on the Patroller's track, this is a great way to get in a check ride, do some "in the field" first aid training, learn how to keep a bike rolling if it breaks down etc. If you aren't on the Patroller's track, it's still a great way to come out and learn some stuff that may very well keep you safe on the trail. Hope to see you there.
May 3, 10, 17, 24, 10:00am-1:00pm
Back on a Bike (Northside Azatlan Center)
This class is oriented toward senior citizens to help them get back into cycling. This four day course covers the fundamentals of safe cycling in Fort Collins and includes both classroom and hands on instruction. Cost – Free RSVP
http://www.fcgov.com/bicycling
May 5, 12, 19, 23, 10:00am-1:00pm
Intermediate Senior Social Cycling (Northside Azatlan Center)
Social group bike rides for senior citizens, includes 1-2 hour bike rides followed by lunch out (participants must provide own lunch). Cost – free. RSVP
http://www.fcgov.com/bicycling
May 7, 8:00am-4:00pm
Traffic Skills 101 (Northside Azatlan Center)
This class gives cyclists the confidence they need to ride safely and legally in traffic or on the trail. The course covers bicycle safety checks, fixing a flat, on-bike skills and crash avoidance techniques and includes a student manual. Recommended for adults and children above age fourteen, this fast-paced, nine-hour course prepares cyclists for a full understanding of vehicular cycling. Course includes classroom and hands on instruction. Ages: 15 and up - Cost is free. RSVP Lunch provided. http://www.fcgov.com/bicycling

May 7, 9:00am-12:00pm
Poudre River Trail-athon (Poudre Learning Center)
Discover the Poudre Trail on this self paced morning of fun with 9 event stations. Sponsored by Poudre River Trail Corridor.
May 14, 4:00-7:00pm
Rolling for MS, Bowl-a-Thon (Chipper's Lanes on Horsetooth)
Wacky games! Prizes! Fun!
May 15, 6:30am
Community Classic Bike Tour (McKee Medical Center)
10- 30-, 37- & 62-mile ride options. Benefits McKee Medical Foundation.
203-2519
May 15, 22, 29, June 5, 12, 19, 3:00pm -7:00pm
4th Annual 6-Day Races at the CSU Oval
Volunteers and citizen-racers welcome.
May 16, 4:30pm
Co-Pilots Tandem Rides (New World Sports, 308 Ruth St)
Free rides for low-vision/blind and other disabled individuals; volunteers and tandems needed. All ability levels. Please RSVP. Sponsored by Ensight Skills Center and New World Sports.
http://www.newworldsportsllc.com
May 22, 7:00am
3rd Annual Ram Bicycle Classic (CSU Campus)
Four rides including a 101-mile, metriccentury, half-metric-century & family cruiser ride. Post-ride party. Proceeds support CSU Global Social & Sustainable Enterprise Program. Sponsored by CSU GSSE program.
http://www.rambicycleclassic.org
May 28, 8:00am-3:00pm
Kids II Bicycle Clinic (Northside Azatlan Center)
This 7-hour class for 5th and 6th graders covers the same topics as Traffic Skills 101, including on-bike skills as well as choosing safe routes for riding. RSVP