NOTICE:
This newsletter was originally sent on Jul 21, 2010.

Tonight! Wednesday (7/21)

-
Dom Nozzi
speaks at the Rio's Agave Room (7:00pm).
Dom is an author, urban planner, and maintains a consulting practice in which he writes and speaks about street design, urban design, & quality of life. His primary skills are in urban design, bicycle planning, transportation choice, and "plain English" land development codes promoting quality of life.

Dom will discuss "Promoting More Bicycling and Improving Bicycle Safety" (effective tactics for increasing the number of bicyclists within a community while improving bicycle safety. Dom will transition from this topic to "Attentive Rather than Forgiving Street Design" (How to design streets for significant safety improvements by obligating attentiveness rather than "forgiving" inattentiveness.

Hope to see you tonight!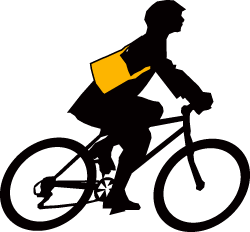 To Unsubscribe to Momentum E-News - please reply to this e-news letter or send an e-mail to
FC Bikes