NOTICE:
This newsletter was originally sent on May 13, 2010.

The 6-Day Oval Races Begin Sunday, May 16, 2010
On May 16, the Fort Collins Velodrome Association (FCVA), along with Associates in Family Medicine and the CSU Rams Cycling Team, kicks off its third-annual 6-Day Race Series on the Oval at Colorado State University. The racing takes place each Sunday for six weeks (through June 20, with rain date of June 27). There are categories for fixed-gear and freewheeling bicycles. All ages of cyclists are welcome, from tiny tots, to licensed racers, to masters.
New this year are more categories for the kids and a hand-cycle division. The prizes are the same: trophies and medals for the under-18 kids and cash for the 18+ categories. Here is the schedule for the events:
Registration and on-track warm-up - 2:45-3:45 p.m. (registration continues until 4:45 p.m. for 18+ categories) Racing for under-18 categories starts at 4 p.m. Racing for 18+ starts at 5 p.m.
Come out, bring your bike, a picnic and spend the afternoon watching or participating in some great track-style bike racing. You'll also be able to check out our new vision for the Fort Collins VeloPark: a bicycle park for everyone with a velodrome (a covered cycling track).
For more information about the VeloPark, the races and to print out a registration form, visit: www.fcvelo.org. Or call Tim Anderson at 970-484-3297.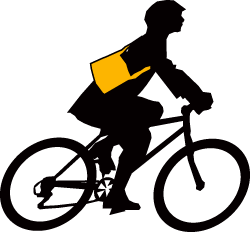 To Unsubscribe to Momentum E-News - please reply to this e-news letter or send an e-mail to
FC Bikes