Summary#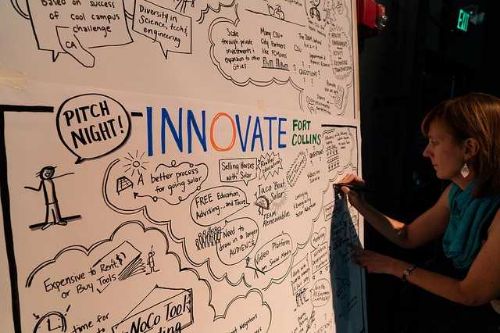 The Innovate Fort Collins Challenge (IFCC) was a City-funded grant program in 2018/2019 that included the creation of an application process, public pitch night competition with community judges, project implementation and follow up reporting. The program hosted three competitive rounds administering $436,000 to 17 pilot projects that benefited and advanced the Climate Action Plan (CAP) goals, community engagement and partnerships, City services and operations and long-term sustainability objectives. Projects primarily focused on energy, transportation, waste reduction and behavior change.
2018/2019 Project Highlights
and

Summary#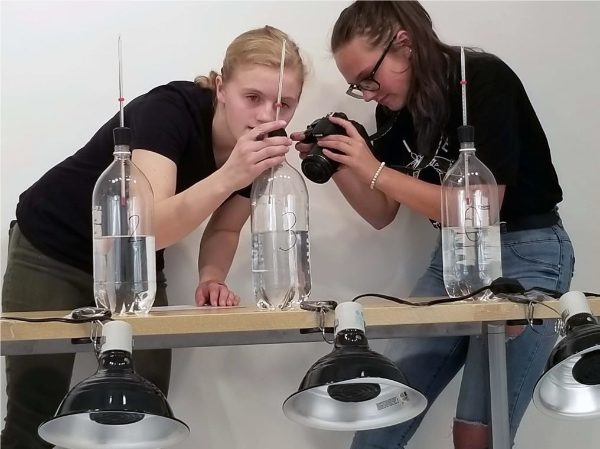 Project partners engaged a diverse group of community members and businesses across the Fort Collins region.
All projects combined reduced an estimated 5,700 Metric Tons Carbon Dioxide equivalent (MTCO2e), equivalent to approximately 650 homes' energy use in one year!
There is potential for an additional 16,000 MTCO2­e reduced over time if all the projects scale up as planned, which would contribute an additional 1% reduction from the 2005 greenhouse gas emissions baseline.
Project participants and partners leveraged 12:1 in private investment ($1.3M).
16 of 17 projects succeeded during their pilot year and many models have since scaled up, increasing their positive impacts over time.
Total greenhouse gas reductions (GHG) for the 2019 project pilot year was approximately 609 MTCO2e.
There is potential for GHG reductions of approximately 14,594 MTCO2e across projects if all actions were to be completed.
A significant private investment was achieved through this grant program leveraging over $1,297,310 from Fort Collins community members, local businesses, non-profits and others.
All projects had triple bottom line benefits to the Fort Collins community and region.
Many of the projects focused on increasing impact through education, awareness, skill building and behavior change. While these type of projects can produce less direct GHG reductions, this focus moves Fort Collins and the region toward the needed change for embracing sustainable lifestyles, encouraging job and industry growth, and the infrastructure and investments needed to reduce our GHG emissions and transition to become a more sustainable community.
Total IFCC 2019 Project Awards: $110,000
Total Leveraged Dollars: $1,308,310
12:1 ratio per City dollar invested
The 2018/2019 competition winners were:#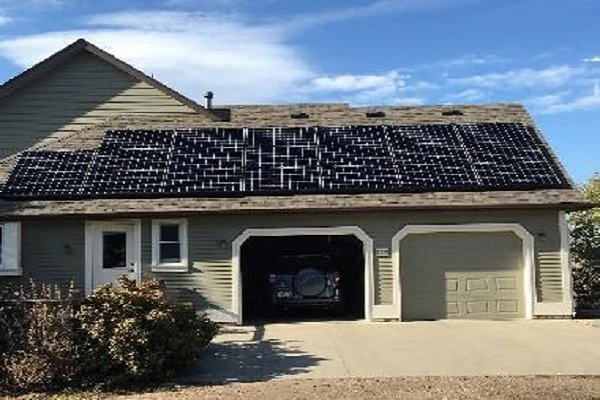 Solar United Neighbors
IFCC Award: $30,000
Leveraged Dollars: $990,570 in private investments, $29,100 in additional grants
$10,000 from other partners = $1,029,670
Year 1 pilot period reductions: 540 mtco2e
Solar United Neighbors (SUN) was awarded $30,000 to support hiring a program director and launch Colorado's first solar co-op. The funding provided critical support to the launch, which included educating and recruiting residents interested in installing solar installations for their homes. The group buying power allowed the solar co-op participants secure a price approximately 25% below the state average. The Fort Collins co-op helped facilitate 48 local installations, totaling 396 kW of solar capacity and nearly $1 million in local energy investment.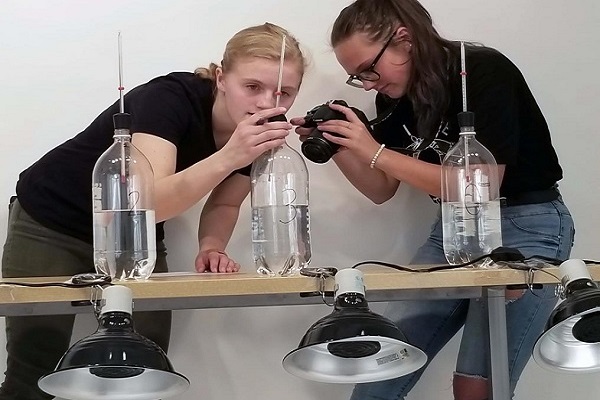 MISSion Innovation by Pretty Brainy
IFCC Award: $10,000
Leveraged Dollars: $31,850 cash, $101,600 in kind donations = $143,455
Pilot Period Reductions: 0 MtCO2e
Potential Reductions: 13,130 MTCO2e
Pretty Brainy was awarded $10,000 to develop and support the MISSion Innovation project, which sought to develop interest, participation and relevant projects with young women innovators and problem solvers to address climate change. This project hosted a 24-hour innovation marathon for climate action and the building of a scalable mobile application to encourage sustainable behavior change. This project successfully engaged 375 individuals, 12 partners and collaborators.
Eco Tool Library by Eco Thrift
IFCC Award: $25,000
Leveraged Dollars: $0
Pilot Period Reductions: 9 mtco2e
The Eco Tool Library (ETL) project received $25,000 and was developed to meet community demand and ambition to reduce consumer waste and increase community resilience through knowledge and tool sharing. As a direct result of the IFCC funds received, the ETL has transitioned from concept to reality, including a built-out storage and office space, an extensive, diverse and rapidly growing inventory of more than 400 tools, and an active and growing membership base. One of the goals of the ETL is to inspire the Fort Collins community to be more collaborative as we aim for greater sustainability in our resource utilization. Individual members have used tools to work on homes, both large and small, vehicles, meet HOA landscaping requirements, and build amazing DIY projects.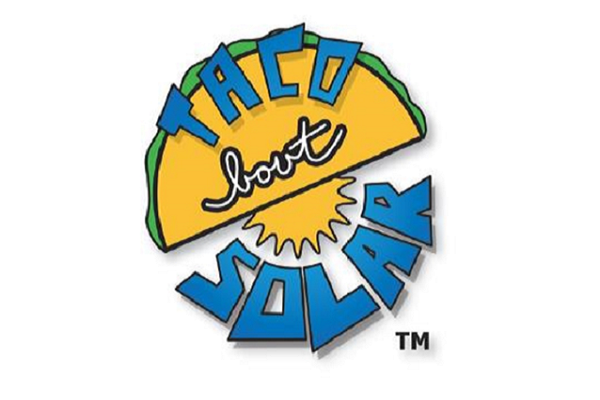 Taco 'Bout Solar
IFCC Award: $8,000
Leveraged Dollars: $11,087 in kind donations
Pilot Period Reductions: 0 mtco2e
Potential Reductions: TBD
The Taco 'Bout Solar project by Renewablue provided neutral, third-party solar education to Fort Collins residents and the real estate community. The main purpose of this project was to create a non-biased resource for homeowners that are considering solar PV and provide them a road map with clear and concrete steps. This roadmap is to assist them in making a good decision on whether solar PV was right for their situation. Another large success is was the Realtor training. The appetite from local Realtors to learn more about solar was huge. Since those trainings, additional solar training classes for Realtors have been developed to meet that demand. This is a great indication that our community is shifting toward a better understanding of the total value of solar in our market.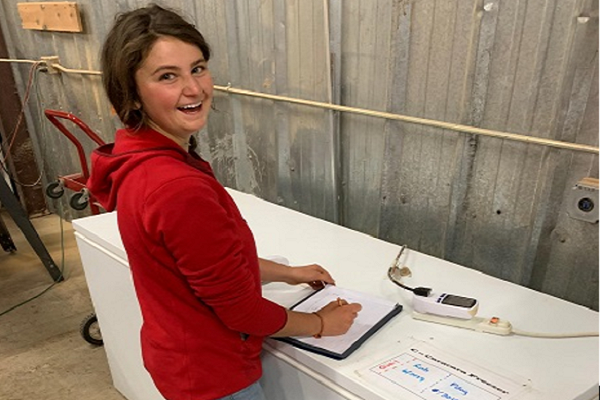 She's in Power by C3E
IFCC Award: $37,000
Leveraged Dollars: $38,000 cash, $86,185 in kind donations = $124,185
Pilot Period Reductions: 0 mtco2e
Projected Reductions through 2020: 13,130 mtco2e*
*Based on 10 full projects implementation
Colorado Clean Energy Cluster Education and Empowerment (C3E) was awarded $37,000 to establish a new component to their She's in Power initiative (SiP) to pilot hands-on, project-based mentorship. Individuals from the clean energy industry were paired with women who will shape the clean energy economy's future. Mentor (Energizer) and mentee (Sparks) teams launched their own Power Projects, each with the goal of measurably reducing greenhouse gases emissions in Fort Collins. Ten distinct projects were developed by 12 Sparks (women high-school aged and older) and 11 Energizers (men and women in the clean energy industry). These projects focused opportunities to increase energy efficiency and renewable energy.
Total GHG reductions for the 2018 project year were about 4,500 Metric Tons (MT) CO2e

This is equivalent to taking 959 passenger vehicles off the road for one year, or removing 541 homes' energy use from the electric grid for one year!
Estimated impacts for 2018-2020 are up to 12,300 MT CO2e

In 2020, the 2018 projects will have an approximate .2% contribution toward the year's goal of 20% GHG reduction below 2005 baseline levels

This is comparable to other small-scale City initiatives such as the solar power purchasing program or building energy scoring

All projects contributed to savings
All projects experienced varied levels of success--none failed during the pilot year!
All projects resulted in triple bottom line benefits to the Fort Collins area

Total IFCC 2018 Project Cost: $275,000

Total Leveraged Project Dollars: $65,636
2017/2018 Competition Winners#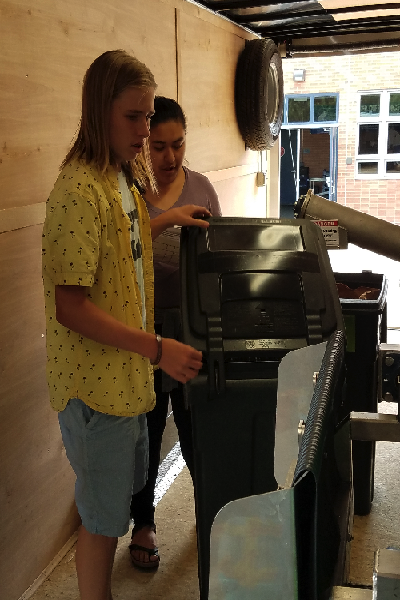 Poudre School District Composting Project
Poudre School District was awarded $40,000 to purchase a compost unit they could host at a local middle school. This type of equipment was new to the U.S. and would allow the school to process food waste from lunches and help meet the District's goal of a 60% waste diversion by 2020.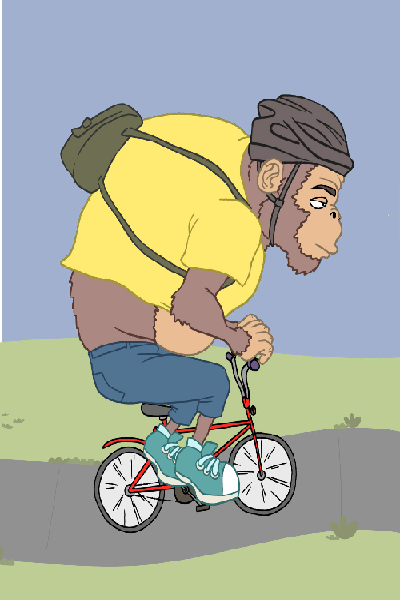 CSU Online Transportation Education Module
CSU proposed developing an online education module for incoming freshman that would provide an engaging platform to educate students on local active transportation options and safe cycling practices. The module would be designed based on best practices for behavior change and included a research component to study the impact of the project.
Insecticycle Composting Project
Insecticycle is a recycling start up business that focused on developing and implementing process improvements for food waste and other organic waste materials. This project focused on growing a laboratory scale processing system using black soldier fly larvae into a pilot scale system capable of demonstrating impact of a new and revolutionary process.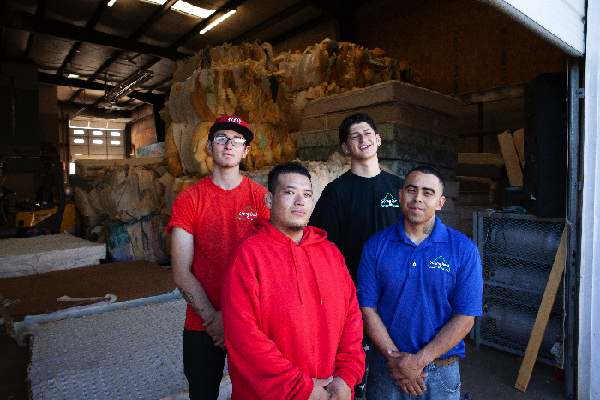 Spring Back Colorado Mattress Recycling Project
This non-profit organization uses a redemptive employment model, which trains and supports men that are re-entering the workforce after struggling with barriers to sustainable living, such as unemployment, homelessness, previous incarceration, or addiction. Spring Back collects and recycles mattress sets, recycling 95% of this material for other useful products.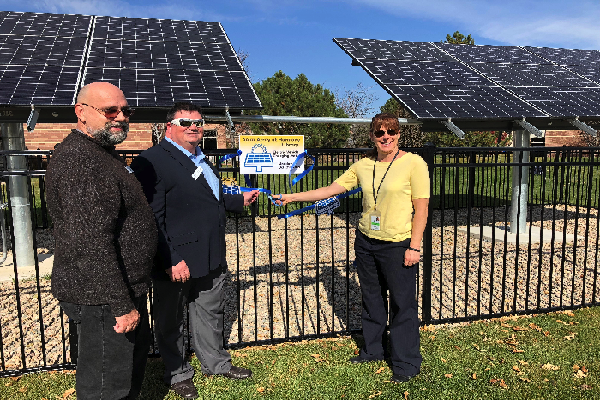 Front Range Community College Solar Learning Project
This project funded the installment by students of a new solar array and two electric vehicle chargers at the Harmony Library. This phase of the project is complete, but the College has additional phases planned that include working with a local non-profit, Pretty Brainy, to provide solar learning workshops with middle- and high-school students.
Innovation Summit Held February 12, 2018#
The City of Fort Collins held an Innovation Summit Monday February 12, 2018, to brainstorm challenges and opportunities associated with achieving the community's Climate Action Plan Goals. Areas of focus were energy, transportation, waste reduction and behavior change. The workshop was facilitated by Dr. Roger Firestien of the International Center for Studies in Creativity at SUNY Buffalo.