What is the City's Commitment to Climate Action?
In March of 2015 our City Council unanimously adopted the following accelerated climate action goals for our community:
20 percent below 2005 levels by 2020
80 percent below 2005 levels by 2030
Carbon neutral by 2050
Our community plays an important role in implementing our Climate Action Plan and we are excited to collaboratively take action for the health of our community, environment and economy.
Climate Action Plan Dashboard
Tracking key sources of greenhouse gas emissions, the Fort Collins Climate Action Plan Dashboard provides a snapshot of the community's progress toward our climate action goals.
Community Stories
Upcoming Events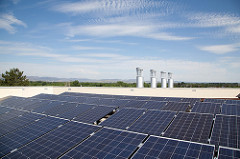 Innovate Fort Collins Challenge Pitch Night
On August 3rd the City of Fort Collins will host a public Pitch Night for the finalists of the Innovate Fort Collins Challenge. This community event will offer finalists the opportunity to share their innovative project ideas as a part of the judging process. Projects could focus on applications of new or existing technologies; behavior change; new business models; or new public-private partnerships capable of achieving carbon reductions in energy, transportation and waste materials.