What is the City's Commitment to Climate Action?
In March of 2015 our City Council unanimously adopted the following accelerated climate action goals for our community:
20 percent below 2005 levels by 2020
80 percent below 2005 levels by 2030
Carbon neutral by 2050
Our community plays an important role in implementing our Climate Action Plan and we are excited to collaboratively take action for the health of our community, environment and economy.
Climate Action Plan Dashboard
Tracking key sources of greenhouse gas emissions, the Fort Collins Climate Action Plan Dashboard provides a snapshot of the community's progress toward our climate action goals.
Community Stories
CAP Spotlight
Fort Collins a finalist for international award
The City of Fort Collins has been named one of 25 finalists for the 2017 C40 Cities Bloomberg Philanthropies Awards for its Climate Action Plan
---
State of Colorado Honors Three City of Fort Collins Departments with Environmental Leadership
---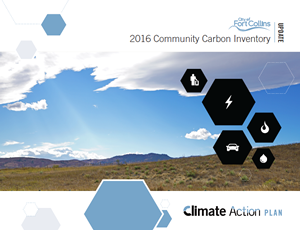 2016 Community Carbon Inventory Report
We are now more than halfway towards achieving our 2020 CAP goal and are excited to share this progress in the 2016 Community Carbon Inventory Report. Overall, we have achieved a 12% reduction in carbon emissions while our population and economy have continued to grow. Read 2016 stories and highlights about how our community's progress is part of the solution.
---