What is the City's Commitment to Climate Action?
In March of 2015 our City Council unanimously adopted the following accelerated climate action goals for our community:
20 percent below 2005 levels by 2020
80 percent below 2005 levels by 2030
Carbon neutral by 2050
Our community plays an important role in implementing our Climate Action Plan and we are excited to collaboratively take action for the health of our community, environment and economy.
Climate Action Plan Dashboard
Tracking key sources of greenhouse gas emissions, the Fort Collins Climate Action Plan Dashboard provides a snapshot of the community's progress toward our climate action goals.
Community Stories
CAP Spotlight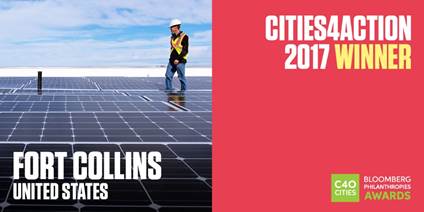 Fort Collins Honored with International Award for Climate Action
On December 5th, the C40 Cities Bloomberg Philanthropies Awards named Fort Collins and Mexico City the winners of the Cities4Action Award for their Climate Action Plans. Fort Collins was the smallest city selected by C40 and Bloomberg and the panel cited how Fort Collins has demonstrated that cities of any size can lead by example.
Read more here.
---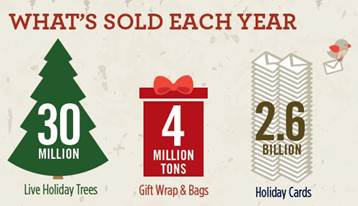 Make Recycling a Holiday Tradition
From Thanksgiving to New Year's Day, household waste increases by more than 25%, adding an additional one million tons of waste to America's landfills each week. Check out the holiday recycling guide and learn tips to reduce your holiday waste.
Visit Holiday Recycling Page
---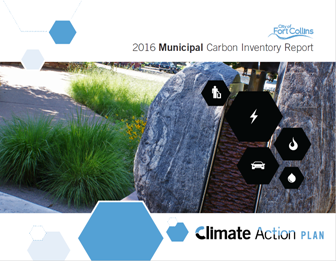 2016 Municipal Carbon Inventory Report
Our municipal government has achieved a 12% reduction in carbon emissions while adding square footage and staff.
Read the Report.
---
State, Regional, National and Global Affiliated Organizations