2018 Innovate Fort Collins Challenge Pitch Night#
Six finalists presented their funding proposals at the August 30, 2018 public Pitch Night as part of the City's Innovate Fort Collins Challenge. The teams, including nonprofit organizations, industry and educational institutions, were selected from 19 proposals totaling $788,000 in requested funding. Seven community volunteers participated by judging the competition. The winners of this year's competition included:
MISSion Innovation by Pretty Brainy
Taco 'Bout Solar by Renewablue
NoCO Tool Lending Library by Ecothrift
Solar United Neighbors by Solar United Neighbors
She's In Power 3.0 by C3E
Updates will be provided throughout 2019 so please follow these innovative projects as they progress!
Innovation Summit#
On February 12th, 2018 a group of 85 community members and City staff gathered to collaboratively design challenge statements with a focus on energy, transportation, waste materials or behavior change. These statements were used in the 2018 Innovate Fort Collins Challenge (IFCC) competition, which launched in the spring. Thank you to Dr. Roger Firestien for facilitating and all who took the time to think critically and creatively with us.
Elevate Climate Action Event#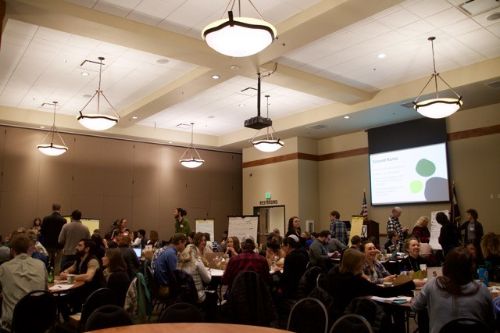 The CSU Center for Public Deliberation held an event in partnership with the City on February 8th, 2018 to consider barriers and solutions for change for a set of top climate actions community members could take. Staff took the outcomes from this community event to inform the spring action campaign. Thank you to everyone who shared valuable input!
2017 Innovative Fort Collins Challenge Pitch Night#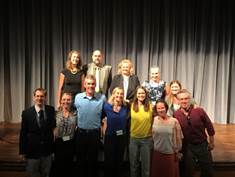 On August 3rd, 2017 finalists pitched their ideas for helping the community achieve the Fort Collins' Climate Action Plan goals at a public event at the Lincoln Center. This public pitch night was the culmination of a competition that started with 58 initial applicants and $5.5 Million in project proposals that was narrowed to six finalists. The winners of the Innovate Fort Collins Challenge were:
Colorado State University
Front Range Community College
Insecticycle, LLC
Poudre School District
Spring Back CO
If you missed the event, you can watch the full video recording here. You can also follow the progress of these projects for updates.
Innovate Fort Collins Winner Announced#
The City of Fort Collins, Colorado State University, and Innosphere, the technology incubator in Fort Collins, announced the winner of the first Innovate Fort Collins competition on September 26 at the CSU 21st Century Energy Transition Symposium. This technology competition was focused on solving electric vehicle (EV) charging challenges because as more people buy electric vehicles, the pressure on charging loads can affect the reliability of the electric grid.
How
to

Measure Climate Action#
The Performance Measurement work group held a panel discussion that highlighted three important tools to measure our success in reducing emissions.
An Evening with Bill Ritter#
About 300 people attended a public forum with former Gov. Bill Ritter, Mayor Wade Troxell and City Manager Darin Atteberry August 24 at the Lincoln Center to discuss Ritter's new book about America's energy future and how it relates to the City's Road to 2020. The discussion was followed by an open house aimed at obtaining public feedback on initiatives that could help the community reach its 2020 carbon emissions reduction goals.
Public Open House#
The City held a public open house on the Climate Action Plan attended by more than 150 people on December 14, 2015 in collaboration with Professors Diana Wall and Brian Dunbar of CSU's School of Global Environmental Sustainability.
Other Past Events#
March 10 – City Council Work Session
March 3 – Energy Board
March 1 – Foothills Rotary Club
February 25 – first meeting of the Community Advisory Committee
February 24 (tentative) – North Fort Collins Business Association
February 4 – Energy Board
January 21 – Colorado Clean Energy Cluster
December 18 – Chamber Local Legislative Affairs Committee
ClimateWise business outreach – October 22, November 19, and December 3
December 14 – Public Open House
December 2 – CSU Class in the Human Dimensions of Natural Resources Department
November 12 – Community for Sustainable Energy and Fort Collins Sustainability Group
November 10 – Board of Realtors Governmental Affairs Committee
November 4 – Utilities Key Accounts Fall Meeting