Mikes Corner: Pilot Energy Program with Ice Energy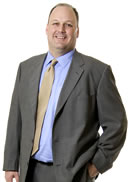 Ice Energy is a leading Northern Colorado clean energy company based in Windsor. The company is also a member of the Northern Colorado Clean Energy Cluster. Ice Energys flagship product, the Ice Bear, stores energy in the form of ice during off-peak energy use times, when electricity generation is cleaner, more efficient and more abundant, and delivers it back during peak hours, when it is needed most-- usually during the heat of a summer day when building air conditioners are working hard to keep the building cool.
The City of Fort Collins and Fort Collins Utilities is currently implementing a pilot program with Ice Energy to deploy the Ice Bear in three locations. The Ice Bear technology allows the building owner to shift its peak energy use, resulting in lower overall building peaking and therefore lower costs. This partnership is another example of the City working collaboratively with local business to test and deploy equipment as well as our Utilities ongoing commitment to helping customers create energy efficiency and lower cost of doing business.
Thanks for subscribing to the e-newsletter. If know of someone who would like to subscribe, please pass it on!

Mike Freeman
Chief Financial Officer
City of Fort Collins
bWZyZWVtYW5AZmNnb3YuY29t
970.416.2259