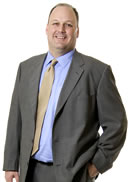 Mike's Corner
Innovation Infrastructure in Fort Collins
The Northern Colorado region is rich with innovative people, ideas, businesses, university research and entrepreneurs. Research shows that areas that are rich with innovation outpace other regions. Long-term, Fort Collins economic success will hinge in part on continuing to foster innovation, entrepreneurship, and retaining and growing high quality jobs.
Fort Collins was recently named the #2 Best Place for Business and Careers in the March issue of Forbes.com. This rating is not coincidental. Many community members are working diligently to foster the growing innovation economy here. In fact, the Fort Collins City Councils economic strategy very much supports the innovation economy through the ongoing financial and in-kind support for the Rocky Mountain Innovation Initiative, the Clean Energy Cluster, the Biosciences Cluster, the GIS Alley software initiative, and Uniquely Fort Collins.
This month, the enewsletter covers a few of the many innovative organizations and efforts that are trying to make our community resilient in tough times. For up-to-date business success stories and articles on the business climate in Fort Collins visit fcgov.com/business.
Thanks for subscribing to the newsletter. Feel free to pass it around to others who might be interested,
Mike Freeman
Chief Financial Officer
City of Fort Collins
(970) 416-2259