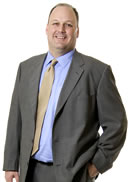 Mike's Corner
Were in a tough national economy. It seems like everyday theres a new cause for concern. Yet some sectors of our local economy are faring quite well. In fact, CSUs regional economist released Targeted Industry data this summer that shows from 2004-2007 our chip design/harware, software, and bioscience cluster companies all had growth in establishments and wages. Bioscience and software companies have also added employees. Another encouraging sign in our local economy is that the Rocky Mountain Innovation Initiative (RMI) is planning a new consolidated facility. RMI has a successful track record of incubating promising high-tech start-ups.
What started out as the Fort Collins Technology Incubator with just a few companies and no brick and mortar more than ten years ago, RMI now has nine companies and occupies 10,000 square feet of office space. The properties RMI currently leases are unused City buildings. However, due to changes in real estate needs within the City, a new dedicated facility for RMI is needed now and for the future. The new building, which is still in the design and planning stage, will be developed in Old Town, on Vine Dr., within the North College Urban Renewal Authority. Office space will more than double, there will be a common conference room, reception area, and possibly, wet lab space. Updates on the project will be posted on the Citys and RMIs websites.
Congratulations RMI, your growth and expansion is a great sign that entrepreneurs are doing well in Fort Collins.
Mike Freeman
Chief Financial Officer
City of Fort Collins
(970) 416-2259