It's a place unlike any other. Here, the river, industry, art and history come together to create a new community in Fort Collins. Art galleries, music venues and theaters compliment recreation on the river and preserved natural areas. Long-time industrial businesses work in partnership with new entrepreneurs. Modern housing, restaurants, shops and office buildings reflect the District's historic past and celebrate its future. The River District is not your run-of-the-mill downtown neighborhood. Actually, come to think of it, that's what makes it the perfect fit for Fort Collins!
Hot Topics
Jefferson Street Alternatives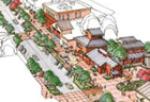 The City of Fort Collins, Downtown Development Authority and Colorado Department of Transportation are taking a deeper look at options to improve Jefferson Street. This project will ultimately advance into engineering and design.
Learn more and get involved >
Willow Street Improvements Project
The City of Fort Collins and the Downtown Development Authority recently completed a Conceptual Design Report for the section of Willow Street between the Union Pacific Railroad and the Linden Street Intersection. This project will be advanced into final engineering and construction, funded through the Community Capital Improvement Program (CCIP).
Learn more about the Conceptual Design Report for Willow Street.