Jefferson Street Alternative Analysis Project
What's New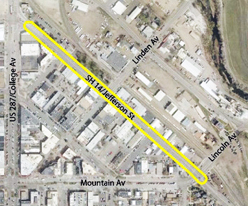 City staff continues to receive feedback from the community and our agency partners regarding the proposed corridor and intersection alternatives under consideration as part of the Jefferson Street Alternatives Analysis Study. To be responsive to this input, we are not recommending the roundabout as the preferred alternative for the Jefferson Street/Mountain Avenue intersection.

Instead, the revised City staff recommendation is for improvements to the existing signalized intersection which will include amenities to address urban design and entry way features in support of the quality Downtown experience. Staff continues to recommend the 3-lane corridor alternative for Jefferson Street from North College to Mountain Avenue. This corridor alternative includes three travel lanes, raised landscaped medians, on-street parking along the 'Old Town" side of the street, and pedestrian streetscape improvements to enhance the urban design and visual character of the corridor. The alternative is agreeable to the City, CDOT, Downtown Development Authority, and Larimer County as well as strong support from the community.

Transforming this corridor from the existing 4-lane highway configuration to a more urban, pedestrian-oriented, context sensitive design solution will be a major enhancement for our Downtown environment and support the City Plan and Transportation Master Plan goals for the future of the heart of our community.
Next Steps
City Council Meeting - June 5
City Council consideration of the Jefferson Street Alternatives Analysis Study, including the recommended preferred alternatives for the corridor and intersections.


Background
The City of Fort Collins, in partnership with the Colorado Department of Transportation (CDOT) and Downtown Development Authority (DDA), are in the process of evaluating alternatives for the Jefferson Street Corridor. The corridor begins at College Avenue and extends along Jefferson Street and includes the Mountain Avenue/Riverside Avenue/Lincoln Street, and Linden Street intersections. The Jefferson Street Alternatives Analysis project's purpose is to find the most suitable alternative to improve the air quality, livability, and urban character of the Jefferson Street corridor while enhancing the experience for pedestrians, bikes, and transit and maintaining mobility of autos and trucks. The project seeks to balance interests from different agencies and organizations including the City, CDOT, DDA, local business/property owners, and the general public.

Purpose and Project Goals
The participating agencies have agreed to the following purpose statement and project goals: The purpose of the Jefferson Street Alternatives Analysis project is to improve the air quality, livability, and urban character of the Jefferson Street Corridor while enhancing the experience for pedestrians, bikes, and transit and maintaining mobility of autos and trucks.

Goal 1 - Maintain or improve safe and efficient travel along Jefferson Street.
Goal 2 - Enhance the corridor's urban character and vitality, creating an inviting place for pedestrians and revitalization.
Goal 3 - Improve Jefferson Street in a manner that is consistent with environmental and social values.
Evaluation of Alternatives
The project purpose and goals, previous studies, and SWOT analysis (Strengths, Weakness, Opportunities, and Threats Summary) were all used to identify the full range of alternatives and to develop screening criteria to evaluate alternatives. A three-level alternatives evaluation process is being used for the Jefferson Street Project.

Under level one, the full range of alternatives are evaluated. The level one evaluation filters out alternatives that obviously do not meet project goals and objectives. Alternatives are eliminated if they contain a "fatal flaw" that would make them implausible.

The second level of analysis evaluated the alternatives that were not eliminated during level one screening. The evaluation was conducted using a qualitative approach to decide which elements were more effective at meeting the purpose and goals of the project. Alternatives were compared to one another and to the future, no-action condition.

In level three evaluation, factors considered during level two evaluation are further defined as evaluation criteria using a quantitative (measure-based) analysis to identify the strengths of the various alternatives. This detailed screening analysis will result in recommendations to refine or eliminate several alternatives and several of the alignment options when compared to more realistic alternative components or alignment options.

Project schedule & Milestones
May-Fall 2010 (Completed)
• Organized project start-up, team formation, project initiation tasks
• Conducted Multi-agency Strength, Weaknesses, Opportunities, and Threats (SWOT) analysis
• Developed Purpose Statement, Goals, Objectives, Strategies, and initial Evaluation Criteria
• Developed Existing Conditions Report

2011 (Partially Complete and In-Progress)
• Reviewed and refined evaluation criteria
• Gained consensus on future traffic projections methodology
• Conducted No-Action Alternative operational analysis
• Began development of conceptual alternatives
• Conducted Alternative development and analysis workshops
• Commenced Alternative screening process
• Held two public open houses (June and October)

2012
• Complete alternatives evaluation and recommendations to City Boards, Council, and community (January - March)
• Develop draft implementation plan and finance strategy (January - March)
• Conduct Public Open House event (January)
• Present Project Update to the Downtown Development Authority (January)
• Provide update at City Council Worksession scheduled for January 31, 2012. Purpose of the Worksession is to present project status update, draft alternatives, findings from alternatives analysis process, share concepts and staff recommendations for implementation phasing plan and potential financing strategies, and share feedback received to-date from project partners and the community.
• Once the project team has completed the draft Jefferson Street Study report and incorporated feedback received from project partners and community stakeholders, including City Council and Boards and Commissions, staff will schedule this item for a regular City Council meeting to request approval of the Jefferson Street Study report, including the recommended preferred alternative, implementation/phasing plan, and finance strategy.

Ongoing
• Public outreach via website, e-newsletters, small group meetings, public open house events, and presentations to City Council, Transportation Board, Planning & Zoning Board, and Downtown Development Authority.
• Continued meeting of the Project Management Team, Technical Advisory Committee, and Executive Oversight Committee.