Local Business News
The City of Fort Collins Economic Health Office is now accepting applications for grants that assist the City's industry cluster strategic objectives.
Partners must share the City vision to advance programs and projects with a positive community impact. In 2006, the City of Fort Collins identified promising target industries to enhance the economic vitality of the community and foster "clustering" activities in the community. Economic clustering occurs from the geographic concentrations of interconnected companies, specialized suppliers, service providers, and associated institutions that enhance productivity through collaboration.
See more about targeted industry clusters or the press release.
Christopher Conway had his "aha" moment about homelessness in 2006.
In his former career as a custom home builder in Boulder, he was seeking greater fulfillment and signed up to volunteer at the Denver Rescue Mission. He realized he could be integral in helping members of the disenfranchised community get back on their feet.
A friend had told him about a pilot program that was being launched in Nashville that connected men in transition with work opportunities through mattress recycling. He was intrigued and made a visit to the program and found "the men were productive, they were engaged in something of value, they had purpose and they were liberated through an earned income."
Conway brought this back to Colorado where he started a business that was founded on the triple bottom line model and created Spring Back Colorado mattress recycling, which has now expanded to Fort Collins.
Read more about Spring Back.
On August 30, 2017, the City of Fort Collins hosted a panel discussion with the community updating progress on the Foothills mall redevelopment.
The new format was an opportunity for members of the public to ask questions about the mall on a variety of topics from retailers to financing.
Participating in the event were:
Josh Birks, director of the City's Economic Health Office
John Gaffney, mall general manager for Alberta Development Partners
Tom Leeson, director, Community Development and Neighborhood Services, City of Fort Collins
Eric Keselburg, compliance supervisor, City of Fort Collins
Keith Meyer, owner/president, Ditesco
Watch a video of the event.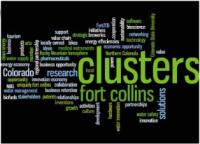 The City of Fort Collins Economic Health Office this spring awarded $184,100 in grants supporting a variety of programs that assist the City's industry cluster strategic objectives.
The City received more than $424,285 in funding requests. Award winners will use the grants to obtain additional grants or to sponsor events and programs.
The Economic Health Office collects mid-year and end of year reports from each organization to monitor the progress of each of these grant recipients. City staffers work directly with clusters to support their initiatives and foster collaboration among cluster organizations.
As part of its Strategic Plan, the City's Economic Health Office works to support innovation and assist with the retention and expansion of businesses in the community.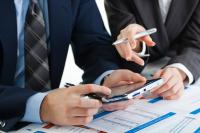 The City of Fort Collins has joined with ACCION Colorado - the largest non-profit, small business lending network in the nation - to bring ACCION to Fort Collins this summer to assist small businesses that may not meet traditional lending requirements.
ACCION's Denver-based bilingual staff specialize in lending to start-ups, low-to-moderate entrepreneurs and other potentially disadvantaged borrowers who may not "fit in the box" for conventional small business lenders. ACCION has partnered with the City and FVC MESH to provide in-person lending services from 9 a.m. to 4 p.m. on June 7 and 21, July 5 and 19 and August 2 and 16 at FVC MESH, 242 Linden St. Read more.
Meet the Economic Health Team!
Who are the people in the City's Economic Health Office? Meet them!
From L to R: Shannon Hein, Business Specialist; SeonAh Kendall, Economic Health Manager; Patrick Rowe, Redevelopment Coordinator; Sean Carpenter, Climate Economy Advisor; Emily Wilmsen, Public Relations Coordinator; Rebecca Hicklin, Administrative Assistant; Josh Birks, Economic Health and Redevelopment Director; Victoria Shaw, Senior Financial Analyst; and Katie Ricketts, Economic Health Analyst. Not pictured: Wendy Bricher, Financial Coordinator.
The City's Economic Health Office supports targeted industry clusters in the community. Clusters include Bioscience, Clean Energy, Water Innovation and Technology and Uniquely Fort Colllins. Additionally, target sectors include manufacturing, health and creative industries. See the most recent report.
In 2014, the City evaluated current workforce and future needs as an essential part of a healthy economy. That effort has grown to a regional level: In 2017, the City will participate in a Talent 2.0 Regional Action Plan to address access, alignment and barriers to developing the first regional workforce action plan. Talent development is a team sport that requires public, private and educational institutions to work collaboratively to be successful. See the presentation from the February 2017 rollout.
City Council on June 2 adopted an upated Economic Health Strategic Plan, which emphasizes more connections to the Social Sustainability and Environmental Services departments and addresses five key themes:
Community Prosperity: Employment opportunities exist across income and education/skill spectrums
Grown Our Own: The economic ecosystem fosters the development of new and creative industry
Place Matters: A balanced built and natural environment
The Climate Economy: Businesses adapt to climate change by staying in our community and leverage community carbon reduction goals to develop new products and services
Think Regionally: A region that partners to address economic issues that extend beyond municipal boundaries