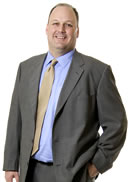 Mikes corner: Fiscal Responsibility in Uncertain Times
We are living through an international and national economic downturn of significant proportion. It seems that everywhere we turn, there is bad news. The City Fort Collins is faring better than many other cities across the nation and in Colorado in this downturn due to stable employers such as Colorado State University, a diverse group of state and federal agencies, our diversity of high-technology employers, and conservative budgeting by the City Council.
This past summer staff projected that by the end of 2009 the City would have approximately $5 million to allocate in the budget process for 2010 and 2011 along with nominal revenue growth. The Citys goal is to have enough resources as the budget process begins to maintain existing service levels.
Were in the process of revising revenue forecasts for 2009, and it appears the number will more likely be in the $4 million range by the end of 2009. Subsequently, as we look to the 2010/2011 budget process, we are looking for ways to fill a projected budget gap of approximately $1 million. Staff are taking immediate steps to limit the filling of vacant positions and reducing spending. Overall, the City is in a strong financial condition to weather the downturn and will take prudent steps to make further adjustments as needed.
Mike Freeman
Mike Freeman
Chief Financial Officer
City of Fort Collins
(970) 416-2259