Contact Information
Program Mgr: Cassie Archuleta
PO Box 580, Fort Collins, CO 80522-0580
Clear the Air with a Zero Interest Air Quality Loan
What is Radon?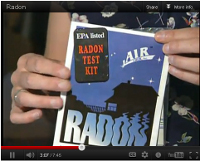 Radon is an invisible, odorless, radioactive gas created during the natural decay of uranium in the soil. Radon is everywhere, and Colorado has higher concentrations than other regions. Radon gas is drawn into homes and other buildings through cracks and openings in basements, crawl spaces and slabs. Radon levels vary from house to house and have nothing to do with age, quality or upkeep of the home.
Why is Radon a Concern?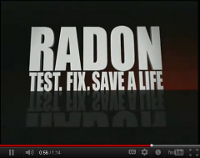 Radon gas has been shown to cause lung cancer in people who are exposed to elevated levels over a long period of time. The US Environmental Protection Agency (US EPA) recommends radon reduction if your home level exceeds 4 picocuries per liter of air (pCi/L). If you smoke and your home has an elevated radon level, your risk for lung cancer is especially high. Test for radon in your home! Radon is easy to test and easy to fix.
What are radon levels in Fort Collins?
Thousands of Fort Collins homes have been tested for radon by individual homeowners and private radon testers. Test results indicate that three out of four Fort Collins homes have radon levels of 4 pCi/L or above. But don't let these numbers scare you away from Colorado! Radon is a problem that can be fixed.
When buying a home in Fort Collins, take time to test radon levels. If your dream home has high radon levels, does this mean you should walk away? Absolutely not! There are ways to effectively reduce radon levels in your future home. Of all the problems that a house can have, radon is one of the most easy to identify and fix. Radon can be reduced, either before you buy a home, or after you buy it and move in.

Appendix F of the Fort Collins Building Code requires radon-resistant new construction. All single-family homes and duplexes must be equipped with a passive radon-reduction system during construction. For further information, see the background and resources related to City Council's adoption of the RRNC ordinance.

Radon information is required at point-of-sale in residential real estate transactions.

70% of Fort Collins Homes Have Radon Levels above EPA Acceptable Levels! The good news is, you can test your home for radon levels and fix any problems you find.

Test it yourself. The City of Fort Collins sells low-cost short and long-term readon test kits. You can buy them at the following locations:

Fort Collins Senior Center (1200 Raintree Drive)
Fort Collins Development Review Center (281 N. College Avenue)

Hire a professional professional. The Colorado Deparment of Public Health and Environment maintains a list of local certified radon measurement contractors.
Have a Healthy Homes Assessment. These free assessments provide a comprehensive look at factors in your home related to indoor air quality, health and safety. Each assessment includes a free short-term radon test. Visit Healthy Homes to learn more or schedule an assessment.

No, although City code does not require radon testing or mitigation, we urge everyone to test their home for radon. Fort Collins City Code requires that sellers provide a copy of the City's informational brochure to all buyers of residential property at point of sale (prior to the execution of a contract on a home). The "seller" may be a realtor, home-owner, attorney or any other person acting on behalf of the seller. Refer to the section "What should homebuyers and sellers know about radon?"

If you use a well for your drinking water supply, radon can also enter your home through well water. If your home has a high radon level in the air (4 pCi/L or more) and you have a well, call the Safe Drinking Water Hotline at 1-800-426-4791 or the Colorado Department of Public Health and Environment at (303) 692-3090.

Don't be discouraged if you find elevated radon concentrations in your home! Radon problems can be prevented by installing a radon mitigation system. A plastic pipe is connected to the soil beneath a slab, basement or crawl space floor and then extended to the outside of the home, where radon gas is harmlessly exhausted into outside air. A continuously-operating fan ensures the system's effectiveness. The Colorado Department of Health and Environment provides an updated list of mitigators that have been certified by the National Environmental Health Association or the National Radon Safety Board. You can also find radon professionals in the phone book under Radon Testing or Radon Mitigation.

Yes, after January 1, 2005, all new single-family and duplex housing in Fort Collins must be equipped with a radon reduction system during construction. The system frequently relies on passive ventilation, thus avoiding the need for a fan, and can be concealed within the internal skeleton of the home. Testing has shown the passive system reduces radon by half, on average. However, 35% of new homes still exceed 4 pCi/L with the required system installed. Homeowners should test for radon and, if further reduction is needed, have an in-line fan installed in the space provided. To learn more, call Fort Collins Building and Zoning at (970) 221-6760 FREE.
For more information:
Physical Address: 222 Laporte Ave, Fort Collins, CO 80524
Mailing Address: PO Box 580, Fort Collins, CO 80522-0580
Phone: (970) 221-6600
Fax: (970) 224-6177
Normal Business Hours: 8 a.m.-5 p.m. M-F