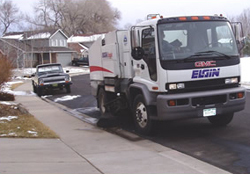 Collector and residential streets and bike lanes are swept four times per year.
Street Sweeping
Program Mission
This program's mission is to clean city streets and bike lanes as required to provide safe conditions for all modes of transportation. Clean streets support good air quality standards and stormwater quality services to the residents of Fort Collins.
Where and when we sweep?
Collector and residential streets and bike lanes are swept four times per year.
The Downtown area is swept twice a week.
Major arterial streets and bike lanes are swept every two weeks.
Sweeping is based on favorable conditions; variances may occur due to weather. If resources allow, we will pick-up sweeping streets missed due to inclement weather.
What you can do to maximize a clean sweep
Citizens can help the street sweepers do their job on scheduled street sweeping days by removing vehicles, trash cans, basketball hoops and other obstructions from the street. It is also helpful if citizens keep tree branches and bushes trimmed back so sweepers can sweep up to the curb line. Residents, business owners and landscape companies can also help out by not blowing grass clippings or disposing yard waste, leaves and branches into the street for a sweeper to clean up.
Give us your Feedback
The staff at Streets strives to improve customer response and control expenses through sweeping scheduling and planned sweeper replacement. We welcome any feedback and reporting. You can report pothole/street hazards online or you can call 970-221-6615.
When is Operation Clean Sweep coming to your neighborhood?
Locate your zone using the map below or search for your address on FCMaps. Once you know your zone, you can reference the schedule to see what week and which days we sweep your streets. If you have any trouble, please give us a call at 970-221-6615 and we'll be happy to help.
Sign up for an email reminder and know when we're sweeping in your zone:
*The schedule is subject to change due to weather conditions.