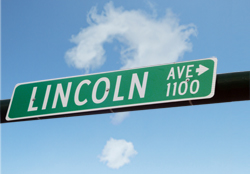 The purpose of the Lincoln Corridor Plan is to develop a compelling vision and to identify and prioritize improvements to the street and surrounding area.
Downloads
Lincoln Corridor Design Segments Map
Map and Table of Neighborhood Projects
Lincoln Corridor Plan
Lincoln Corridor Plan Appendices
Plan Executive Summary
Lincoln Corridor Plan Overview
January 2015 Open House Boards
Lincoln Corridor Plan
Designing a Great Street for a Great Neighborhood
Latest News
Lincoln Avenue Improvements:
At the January 20 City Council meeting, the Capital Improvement Program sales tax renewal was amended such that the $5.3M allocated for Lincoln Avenue would go towards reconstruction of the Lincoln bridge over the Poudre River (West segment) instead of towards the Central and East segments. The Capital Improvement Program sales tax renewal will be on the April 7, 2015 municipal election ballot.
At the City Council meeting, Council approved on Second Reading, Ordinance No. 028, 2015 to appropriate partial funding for design, right of way acquisition and construction of the Lincoln Avenue improvements from 1st Street to Lemay Avenue (Central and East).
Neighborhood Projects:
Six short-/mid-term neighborhood improvements projects identified in the Lincoln Corridor Plan have been funded in the 2015-16 budgets.
City Council adopted on 2nd Reading Ordinance No. 016, 2015 appropriating money to fund the four remaining short-/mid-term Neighborhood Projects and with direction for the City Manager to form a citizen advisory committee to assist in the implementation of the Neighborhood Projects.
Thanks to those neighbors who applied for the new Neighborhood Advisory Committee (NAC). Those of you selected to participate will be notified by early April.
---
Implementation of the Lincoln Corridor Plan (Lincoln Avenue improvements and Neighborhood Projects) will be on-going as project funding and work plans are in place to initiate specific projects over the next few years.
For more information about the Lincoln Corridor Plan, please contact at 416-2040 or at 221-6754
For more information on the Capital Improvement Program sales tax renewal, please see fcgov.com/bob or contact Ginny Sawyer at 224-6094 or
Si necesita ayuda con traducciòn o interpretaciòn en Español sobre el Plan Lincoln ("Lincoln Plan"), por favor llame a Claudia Quezeda al 416-2329.
---
NEIGHBORHOOD ADVISORY COMMITTEE (NAC) APPLICATION
Over the course of the next two years, the City of Fort Collins will be implementing ten Neighborhood Projects identified and supported during the Lincoln Corridor Plan. We are asking neighborhood residents to apply for participation in the Neighborhood Advisory Committee (NAC). Three residents of each neighborhood will be selected to serve. Final selection will be made by the City Manager. If you are interested in serving, please complete the application and return it to Lori Bichler at by March 15.
Project Overview
The Lincoln Corridor is unique. The corridor is growing and already reflects an eclectic mix of existing uses-historic neighborhoods, retail, industrial, and natural areas-as well as a developing technology campus. In addition, this portion of Lincoln Avenue lacks basic infrastructure in many places and needs to be brought up to current City standards. Years ago Lincoln Avenue was a main entrance to downtown, and over the years it has declined in prominence.
City Plan (2011) identified the Lincoln Corridor as an important project and a gateway for the downtown and East Mulberry corridor area. In addition, City Plan recognized the potential for Lincoln to become a "Great Green Street" by developing a new road design to address context-sensitive solutions to connect with Downtown and surrounding areas. The Lincoln corridor is also recognized as a priority gateway in the Downtown Plan (1989) and the adopted Streetscape Standards which indicate where a standard arterial streetscape approach should apply and where other corridor segments and gateway intersections warrant their own tailored and more enhanced approach to streetscape design and management.
Based on this guidance, the new design for Lincoln Avenue in the Lincoln Corridor Plan ("the Plan") seeks to provide an enhanced level of amenities and a design that restores its importance as a primary entry to the heart of the City as well as providing an important connection from Downtown to the east and northeast.
The public process to develop the Plan was comprehensive. The Plan represents an attempt to balance the competing interests of various users as well as meet the intent of the City's Transportation Master Plan and other standards. The planning process was initiated in March 2013 and was led by a team of FC Moves and Planning staff, with support from a multi-departmental Technical Advisory Committee and consultants.
The Lincoln Corridor Plan also identifies a priority list of related neighborhood improvements that address existing deficiencies and that celebrate and enhance the surrounding neighborhoods. The Plan provides a guiding framework for the area and is flexible to meet changing conditions and circumstances. Initial project costs and potential phasing and funding have been identified in this framework plan and will be further refined during the future Final Design process.
The Plan is divided into three phases:
Phase I - Vision (April - July 2013)
Phase II - Corridor Design Alternatives (August - October 2013)
Phase III - Preferred Alternative/Implementation Planning (November 2013 - May 2014)
View Photos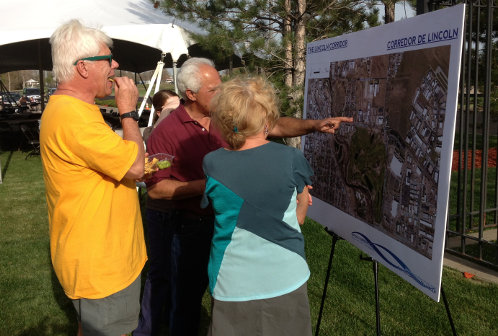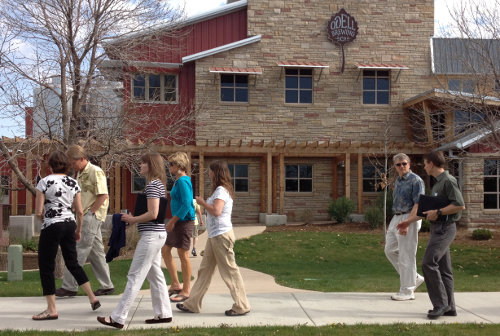 CONTACT INFO
Amy Lewin, PE, Transportation Planner
970-416-2040

Pete Wray, AICP, Senior City Planner
970-221-6754