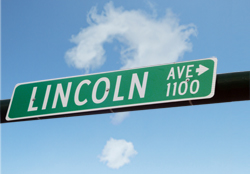 The purpose of the Lincoln Corridor Plan is to develop a compelling vision and to identify and prioritize improvements to the street and surrounding area.
Downloads
Lincoln Avenue Conceptual Design (Preferred Plan, 5/20/14)
Map and Table of Neighborhood Projects (5/20/14)
Neighborhood Advisory Committee (NAC) Meeting #1 Summary (5/27/15)
Lincoln Corridor Plan (5/20/14)
Lincoln Corridor Plan – Appendices (5/20/14)
Lincoln Corridor Plan – Executive Summary (5/20/14)
Lincoln Corridor Plan
Lincoln Avenue Improvements:
The Lincoln Corridor Plan included a conceptual design for Lincoln Avenue between Jefferson/Riverside and Lemay. Funding has been secured to proceed with a more detailed design ("Final Design"), as well as construction of the segment between the bridge and Lemay.
Final Design will begin in 2015, and construction of the segment just west of the bridge and Lemay will likely begin May 2016 or later. The replacement of the Lincoln bridge over the Poudre River will likely occur within the next 5-10 years.
Neighborhood Projects:
Here are some great historical resources for inspiration:
Call for Art Summary:
Eligibility – Artists are required to reside in the City of Fort Collins City Limits or Growth Management Area. Open to artists of all ages. We also encourage families to create a drawing together. Each individual/family group may submit only one drawing each.
Theme – The art should celebrate the history of the Buckingham, Andersonville, and Alta Vista neighborhoods (e.g., the Hispanic, German-Russian heritage, sugar beet industry, etc.). See the resources above.
Honorarium – Artists whose designs have been selected by the committee will be awarded a $50 honorarium per selected design. Up to 10 designs will be selected.
---
Si necesita ayuda con traducciòn o interpretaciòn en Español sobre el Plan Lincoln ("Lincoln Plan"), por favor llame a Claudia Quezeda al 416-2329.
---
CONTACT INFO
Amy Lewin, PE, Senior Transportation Planner
970-416-2040

Pete Wray, AICP, Senior City Planner
970-221-6754