Natural Areas Activities and Recreation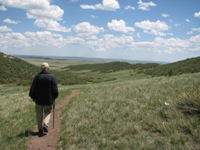 Your natural areas offer many recreation opportunities!
Activities
Hike, Watch Wildlife and Relax
The most popular recreation activities on natural areas are hiking or walking, wildlife watching and relaxing. A great benefit of being in a natural area is the stress relief one experiences, which is brought on by the warmth of the sun, fresh air, birds, grass blowing in the wind, and the sights, sounds and smells of nature. Relax by journaling! Journaling has become increasingly popular among natural area visitors. In addition to individual journals, the City offers an opportunity to share your experiences through the on-line Community Natural Areas Journal. Read what others have written and to share your own natural areas experiences.
Tips
When trails are muddy, hike through the mud, not around it. This is reduces trail widening that results from hiking around muddy sections of trail.
For trail safety and etiquette, hikers yield to equestrians.
Please keep an appropriate distance from wildlife to avoid causing undue stress on them. If wildlife changes its behavior, you are too close.
Photography and Artwork
Nature photography and painting in natural areas is popular. Artists and photographers must stay on the designated trails when visiting on-trail-only sites. To find sites where off trail use is allowed, use the natural areas finder.
Walking Your Dog
Natural areas are wonderful places to walk your dog and offer a chance to enjoy all nature has to offer with the companionship of your dog. Use the natural areas finder to check which sites allow dogs. Dogs are not allowed at Coyote Ridge, Running Deer, Bobcat Ridge, Cottonwood Hollow, Fossil Creek Reservoir or Soapstone Prairie, due to the sensitive natural resources found on these sites.
Dog walkers must keep their dogs on leash at all times and pick up after their dogs. Pet pickup bags are offered at most trail heads. Natural Areas and Trails Rangers patrol often and strictly enforce the City's leash law.
Why do I have to keep my dog on a leash?

Public Safety - Dogs off-leash cause injuries each year. Dogs bite people, fight with other dogs, and run up to people or cross trails causing accidents to bikers, roller bladers, and pedestrians. The City receives several complaints each year from people, especially children, who are afraid of dogs. Loose dogs ruin the trail experience for many people, even fellow dog walkers.
Resource Protection - Dogs off-leash can cause disturbance to wildlife by preventing them from hunting, foraging, resting, traveling, or other activity necessary for their survival. Dogs also disturb sensitive vegetation by trampling plants and spreading weed seeds. Please keep yourself and your dog on designated trails. Playing fetch or allowing dogs to roam can decrease the opportunities to observe wildlife for you and others. It also makes picking up and removing your dog's waste more difficult.
Protect Your Dog - Your dog could be in harms way. The City's natural areas are home to wildlife that could kill or injure your dog, such as black bears, mountain lions, coyotes and rattlesnakes. Also, wild rodents can harbor fleas, which carry plague. Your dog's contact with wild rodents, such as prairie dogs, could pose a health threat to your dog and your family. Keeping the dog on a leash and on trail will minimize this danger. Never allow dogs to enter prairie dog towns, where fleas may be more abundant, or approach dead, injured or sick wildlife.

Are there natural areas where dogs are not allowed?
Yes, because of resource sensitivity, dogs are not allowed at Coyote Ridge, Running Deer, Bobcat Ridge, Cottonwood Hollow, Fossil Creek Reservoir or Soapstone Prairie natural areas. Use the natural areas finder to check which sites allow dogs.
Are there places where I can take my dog off leash?
Yes, learn about the City's dog parks.
Why do I have to pick up my dog's waste?
Dog waste in the natural areas and on the trails is objectionable to many natural area visitors and trail users. Waste not removed may spread harmful parasites and bacteria into water sources that feed the city's groundwater and waterways. Preservatives commonly found in dog food, coupled with dry climate, retard decay, which prolongs these problems.
Remove your dog's waste to minimize the spread of disease and as a courtesy to other visitors. Biodegradable bag for waste pickup are provided at the most popular trailheads. To protect the environment, and avoid a ticket, please carry them back to the trashcan at the trail head. We ask that you strive to leave no trace!
What do I do if I get a ticket from a ranger?
If you are cited by a ranger, follow the instructions on the back of your ticket at the bottom. Contact the court if you have any questions. If your ticket is pink, you will contact Municipal Court. If your ticket is blue, you will contact Larimer County Court. The phone number for the court is printed on the back of the ticket. Be ready to provide your case number, which is written at top, right-hand corner of your ticket. If you have lost your copy of the ticket, the appropriate court will have a copy on file. You will have to wait 7-10 days after the ticket is issued before the court can pull your case number from the system.
How much is the fine for an unleashed dog ticket?
If you received a ticket for having your dog unleashed, called "animal at large," contact Municipal Court at (970) 221-6800 for fine information. Rangers do not have the fine schedule and therefore cannot give you that information.
What other regulations regarding dogs should I be aware of?
See Regulations...>>
Riding your Bike
Check the natural areas finder to see which areas allow cycling. The Foothills Trail, Coyote Ridge and Bobcat Ridge are the most popular destinations for mountain bikers.
Cyclists can count on sharing the trail with other users in all natural areas. Be aware of trail etiquette yield the right-of-way to other trail users. Please dismount your bike until other trail users have passed. And please remember that during your ride, bikes need to stay on trail.
The International Mountain Bike Association (IMBA) has established Rules of the Trail for mountain bikers. The code promotes biking that is environmentally sound and socially responsible. Please help keep trails open to biking by following these simple guidelines. Are you not sure where to ride, or wondering if the Timber Trail at Pineridge Natural Area is closed due to muddy conditions? Trail conditions are posted here..
Riding your Horse
Check the natural areas finder to see which natural areas have horse trailer parking and allow horses. Equestrians are required to stay on (or within 10 feet of) designated trails. Equestrians are discouraged from riding on paved trails and crusher fines (compacted gravel) trails.
Where to go
There are some natural areas that provide a better trail experience for you and your horse due to property size, length of trails and availability of trailer parking.
Sharing the trail
Equestrians using natural areas must share the trails with other users. True, equestrians have the right-of-way on trails, which means bikers, hikers, etc. must yield. But don't forget that equestrians have important safety responsibilities.
Helpful tips:
Make sure your horse is under your physical control at all times.
Don't ride your horse in a manner that is likely to cause harm to another visitor, wildlife or the natural environment.
Pony a "green" horse with a seasoned horse/rider combination, or ride your green horse with other experienced equestrians.
When riding in areas in which you may encounter numerous mountain bikers, be sure your horse is comfortable with this setting beforehand.
Research trail and topography before you head out.
Don't assume others know to yield the trail. Make eye-to-eye contact with approaching trail users. Will that child holding a balloon spook your horse? Verbally communicate information to others so everyone stays safe. Let the mountain biker approaching you from behind know when it is safe to pass and how much room your horse needs.
Your attitude makes a difference. Be polite and considerate to others.
When parking lots are full, capacity has been reached. Have an alternate destination in mind and and try again another day.
Wondering about trail conditions? Trail conditions are updated regularly on the trail conditions website, and posted on twitter
Hunting
Hunting is only allowed at Soapstone Prairie Natural Area where a limited pronghorn doe hunt will happen in December 2016. The hunt is in cooperation with Larimer County and Red Mountain Open Space. Learn more here >>>
Can I carry a gun in a natural area?
No, unless you have a valid conceal carry permit. If you do have a valid permit, it must remain concealed at all times during your visit. A hunting license is not a valid permit. EXCEPTION: see Gateway Natural Area regulations
Can I bow fish in a natural area?
No, bows are considered a weapon. City of Fort Collins municipal code prohibits the possession or discharge in a natural area any gun, pistol, crossbow, bow and arrow, slingshot or other firearm or weapon whatsoever, including BB guns, pellet or paintball guns, except as permitted by a City-issued or other lawfully issued permit.
Are weapons allowed in natural areas?
No. City of Fort Collins municipal code prohibits the possession or discharge in a natural area any gun, pistol, crossbow, bow and arrow, slingshot or other firearm or weapon whatsoever, including BB guns, pellet or paintball guns, except as permitted by a City-issued or other lawfully issued permit.
Boating, Swimming, Ice Skating
Boating is allowed on the ponds that are open to fishing. Check the natural areas finder to see which sites allow boating. You can use non-motorized boats, boats with an electric trolling motor, canoes, and kayaks. Please note that all Colorado State and U.S. Coast Guard rules apply.
Swimming and ice-skating are not allowed in any natural areas, with one exception. Ice-skating is allowed on the southwest corner of Merganser Pond in the Prospect Ponds Natural Area.
Accessible Trails and Facilities
The City of Fort Collins Natural Areas Department desires to make reasonable Accommodations for access to City services, programs and activities and will make special communication arrangements for persons with disabilities. Call 970-416-2815 for assistance. To learn which natural areas are easily accessible, use the natural areas finder and click on the wheelchair symbol to sort the list.
What is the Natural Areas Department's policy on "Other Power Driven Mobility Devices"?
Our policy on other power-driven mobility devices is posted here. The Natural Areas Department also performed a trail and facility assessment and produced a trail accessibility map.
Wildlife Safety
If I see a rattlesnake at a natural area, what should I do?
Remain calm. Rattlesnakes are not aggressive. Step away from the snake, keeping children and pets close to you, and wait for the snake to move away. Be patient. It doesn't know that you want to pass, and it may be unable to move quickly if it is cold. Learn more from our Be Snake Awake! bookmark.
Does the City remove rattlesnakes from natural areas?
No, rattlesnakes and other snakes are important and valuable wildlife in natural ecosystems. It is your responsibility to avoid encounters with snakes and other wildlife.
What if I see a mountain lion, a coyote or a bear at a natural area?
First follow the wildlife encounter tips below from Colorado Parks and Wildlife. When you are safe, contact a ranger and let them know where and when you saw the animal.
Personal Safety
Safety is an important part of any day spent outside. You are responsible for your own safety within natural areas, when volunteering and when participating in outdoor recreation. Outdoor activities include the potential for serious injury, death, and property loss. Please choose activities that match your abilities and be prepared for site and weather conditions.
Learn more on our Outdoor Safety webpage >>>
Fishing
Where can I fish in natural areas?
New! Fishing brochure. There are fifteen City of Fort Collins Natural Areas where you can fish. Use the Natural Areas Finder and click on the fishing symbol to sort the list. You can also find details about fishing here. If you are not sure about fishing regulations, please contact a ranger, 970-416-2147. Fishing is regulated by the Colorado Division of Wildlife (CDOW). You must have a valid fishing license. You can check fishing regulations at http://wildlife.state.co.us/fishing. Please note that ice fishing is not allowed in any natural area.
Skiing/Snowshoeing
Where can I ski or snowshoe?
On the rare occasions when there is enough snow, visitors are welcome to cross-country ski or snowshoe on any trails open for hiking. No natural area trails are groomed and motorized use is not permitted. Regulations regarding on-trail/off-trail use apply. At natural areas with paved trails that are plowed, visitors on skis/snowshoes must stay within 10 feet of the paved trail. Sites at higher elevation such as Bobcat Ridge may hold snow longer than lower elevation areas.
Camping
Camping is not allowed in City natural areas due to their close proximity to residential and commercial areas.
Smoking & Marijuana
Can I smoke in a natural area?
No, The City of Fort Collins prohibits smoking on all City trails, natural areas, parks and city facilities. Smoke free in FC has more information.
Can I smoke marijuana in a natural area?
No, the City of Fort COllins prohibits any consumption of marijuana that is conducted openly and publicly; the City of Fort Collins prohibits the transfer and display of marijuana including at office buildings, public parks, trails, natural areas, city streets and sidewalks.
Can I smoke marijuana in a natural area if I have my medical card with me?
No, the City of Fort Collins prohibits the consumption, transfer and display of all marijuana on all city owned properties.
Drones
Can I fly a drone in a natural area?
No, unmanned drones are considered aircraft which are not allowed to land or launch in a natural area or fly lower than five hundred feet above a natural area, except within takeoff or landing airways of a commercial airport or in an emergency situation.