Bobcat Ridge Natural Area
Find a Natural Area | View All Natural Areas
Trail Status:
The Northern portion of the Valley Loop Trail is closed to all activities due to flooding.
Description
Discover Bobcat Ridge Natural Area! Youll find a grassy valley, foothills, ponderosa pines, stunning red rock cliffs and more. Bobcat Ridge is home to elk, wild turkey, mountain lions and other wildlife. Several historic homestead sites dot the landscape.
Note: This is one of the few Fort Collins natural areas on which dogs are not allowed.
Photos
Learning to use binos at Bobcat Ridge
Valley Loop hikers
Child using mounted binos at Bobcat Ridge
Family hikes at Bobcat Ridge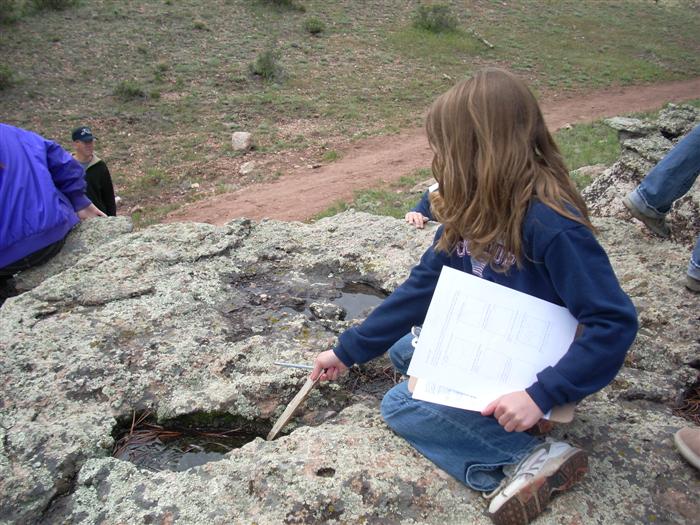 Student at Bobcat Ridge
Bear tracks at Bobcat Ridge
Horseback Riders by Crystal Strouse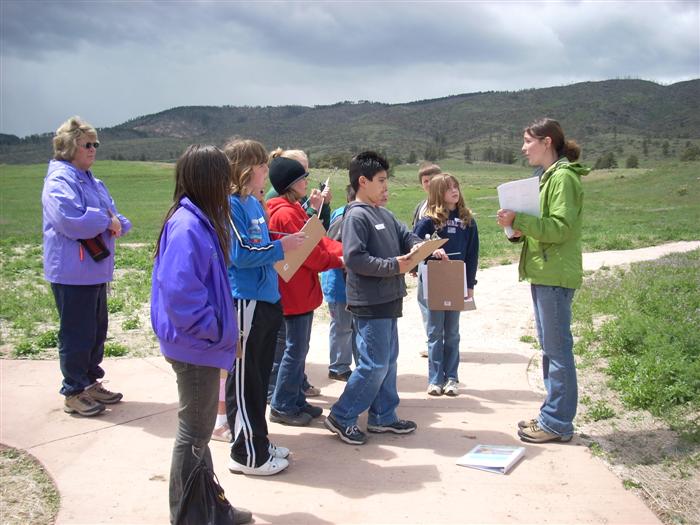 CSU Pulliam Scholar teaches at Bobcat Ridge
Trails
Trails include the Valley Loop (4 mile loop), Ginny Trail (5.4 miles, climbs 1,500 feet, open for hiking and mountain biking, closed to horses), D.R. Trail (3.4 miles long, climbs 1,100 feet, open to equestrians and hikers, closed to cyclists), Powerline Road (1.5 miles long, climbs steeply with loose rocks so not recommended for horses, uphill only for cyclists), Eden Valley Spur (an out and back route, 1.3 miles along the valley bottom). Trail conditions and closures are posted here.
Hours
Bobcat Ridge is open daily from dawn to dusk.
Directions
Bobcat Ridge's address is 10184 West County Road 32C, Loveland. From Fort Collins, take Harmony Road west, it turns into CR 38 E. Follow CR 38 E to Masonville. Go left (south) at the Masonville Mercantile onto CR 27. Follow CR 27 about 1 mile to CR 32 C, head west about 1 mile to the Bobcat Ridge parking lot.
From Loveland, go west on Highway 34 about 4.5 miles west of Wilson Avenue. Turn north on CR 27 by Big Thompson Elementary and drive 4.5 miles. Turn left on CR 32C and go 1 mile west to the Bobcat Ridge parking lot.
Note: Horse trailer parking is limited to 8 spots, if the parking lot is full, please come back another time.
Events and Activities
Related Information