Bicycle Master Plan
The City is developing a comprehensive Bicycle Master Plan to shape the future of bicycling in Fort Collins. This plan will build upon all of the great things about biking in Fort Collins and will establish a blueprint for realizing a world-class city for cycling, where people of all ages and abilities can safely and comfortably ride a bicycle. To stay informed and get the latest news, please subscribe to Momentum, our e-newsletter about biking in Fort Collins.
HELP SHAPE THE BICYCLE MASTER PLAN!
Thanks for attending our open house on March 12 and providing your input on our online WikiMap tool. We are incorporating your feedback on where you ride, problem areas, recommended locations for bike parking and bike share stations into our plans.
As we continue with the planning process, we will provide you with additional involvement opportunities. Please check this website or subscribe to Momentum, our e-newsletter about biking in Fort Collins to stay informed.
Project Overview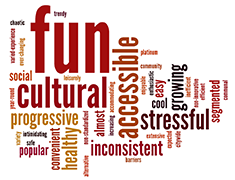 click to enlarge
Over the course of 2014, the City of Fort Collins will work with the community to develop a new Bicycle Master Plan for the city. Our recent designation as a Platinum Bicycle Friendly Community by the League of American Bicyclists, presents a unique opportunity for the community to help shape a vision and recommendations for growing bicycling and improving safety across the city.
Through data-driven analysis and a comprehensive and inclusive public outreach strategy, the Fort Collins Bicycle Master Plan will integrate existing city plans, best practices and innovative thinking and will revise the City's proposed bicycle network, wayfinding strategies, bicycle facility design recommendations and guidelines, as well as policy and programmatic recommendations. In addition, a Bike Share Business Plan will be developed through this process (more information available here).
The goals of the Bicycle Master Plan are:
To improve our bicycle infrastructure to increase comfort, safety, and ridership
To make data-driven and action-oriented recommendations and to establish a baseline for measurement moving forward
To create an integrated network of various modes of travel: bicycle, pedestrian, and transit
To create an integrated, low stress bicycle network that connects to the regional system
To improve safety for all modes of travel
To foster community through collaboration
Project Schedule
The Bicycle Master Plan will be developed over the course of 2014 with anticipated City Council adoption in late 2014. Public outreach will occur throughout the planning period.
Past Events & Outreach
In late-2013, the City conducted community bicycle rides (FC Rides!) to learn from residents about perceptions and barriers around bicycling. In addition, an online survey soliciting over 1,000 responses provided extensive input about bicycling in Fort Collins. Summaries of the online survey findings and the community bikes rides will be available in February 2014.
Contact
Tessa Greegor | FC Bikes Program Manager | 970-416-2471 |