Bicycle Master Plan
The Bicycle Master Plan envisions Fort Collins as a world-class city for bicycling. It is a city where people of all ages and abilities have access to a comfortable, safe, and connected network of bicycle facilities, and where bicycling is an integral part of daily life and the local cultural experience.
The City is developing a comprehensive Bicycle Master Plan to shape the future of bicycling in Fort Collins. This plan will build upon all of the great things about biking in Fort Collins and will establish a blueprint for achieving the City's vision. To stay informed and get the latest news, please subscribe to Momentum, our e-newsletter about biking in Fort Collins.
HELP SHAPE THE BICYCLE MASTER PLAN!
Bicycle Master Plan Open House
Join us at the Lincoln Center on Wednesday, July 30, between 4 and 7 p.m. to:
Learn about the draft Bicycle Plan recommendations.
See a citywide map of proposed bicycle improvements and future connections.
Review recommendations in the draft plan including education programs and wayfinding strategies.
Provide input on all of the above and more!
Please check this website and subscribe to Momentum to stay informed of open house plans and project details.
The Bicycle Plan team will also be at the summer Open Streets event on July 20. Please stop by our booth at these events to learn about our recommendations!
Project Overview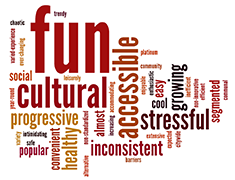 click to enlarge
Over the course of 2014, the City of Fort Collins will work with the community to develop a new Bicycle Master Plan for the city. Our recent designation as a Platinum Bicycle Friendly Community by the League of American Bicyclists, presents a unique opportunity for the community to help shape a vision and recommendations for growing bicycling and improving safety across the city.
Through data-driven analysis and a comprehensive and inclusive public outreach strategy, the Fort Collins Bicycle Master Plan will integrate existing city plans, best practices and innovative thinking and will revise the City's proposed bicycle network, wayfinding strategies, bicycle facility design recommendations and guidelines, as well as policy and programmatic recommendations. In addition, a Bike Share Business Plan was developed through this process (more information available here).
The Bicycle Master Plan will seek to achieve:
Connectivity
Safety
Comfort
Ridership
Community
Health
Equity
Project Schedule
The Bicycle Master Plan will be developed over the course of 2014 with anticipated City Council adoption in late 2014. Public outreach will occur throughout the planning period.
Past Events & Outreach
In late-2013, the City conducted community bicycle rides (FC Rides!) to learn from residents about perceptions and barriers around bicycling, and an online survey soliciting over 1,000 responses provided extensive input about bicycling in Fort Collins. In 2014, the City has gathered input from the community through:
The online WikiMap
The February 20 citywide transportation open house
The March 12 project open house
A visioning workshop with advocates, City departments, and the business community
Coordination with the Bicycle Advisory Committee and the City Council
The Bicycle Plan booth at the Lesher Middle School Bike Carnival
Summaries of the project outreach and its findings will be available soon.
Contact
Tessa Greegor | FC Bikes Program Manager | 970-416-2471 |