Southridge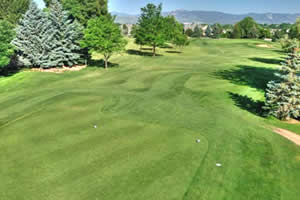 Southridge Golf Course is an 18 hole golf course situated on 128 acres in southeast Fort Collins. Offering scenic views and challenging tee shots from multiple tee boxes, Southridge is ideal for players of all levels and ages.

5750 South Lemay Avenue, Fort Collins, CO 80525
Phone (Tee Times): 970.416.2828
Course info: Fees/Rates | Premier/Gift Cards | Scorecard | Practice Facilities | Photo Gallery
Clubhouse: General Info | Instruction | PGA Professional | Assistants | Superintendent | Maintenance Staff
Green Fees
Prime Time
Non-Prime Time
Twilight
9 holes
$21.00
$19.00
$16.00
9 holes (ages 17 &amp under)
$21.00
$14.00
$16.00
9 holes (ages 60+)
$21.00
$17.00
$16.00
18 holes
$38.00
$35.00
-
18 holes (ages 17 &amp under)
$38.00
$26.00
-
18 holes (ages 60+)
$38.00
$30.00
-
Golf Club Rental
Prime Time
Non-Prime Time
Twilight
9 holes
$ 12.00
$ 12.00
$ 12.00
18 holes
$ 18.00
$ 18.00
$ 18.00
3 Wheel Push Cart Rental
Prime Time
Non-Prime Time
Twilight
9 holes
$ 3.00
$ 3.00
$ 3.00
18 holes
$ 6.00
$ 6.00
$ 6.00
Golf Cart Rental
Prime Time
9 holes single rider
$10.00
18 holes single rider
$16.00
Prime Time (April 1st to Labor Day)
Monday-Friday
After 2:30 p.m.
Saturday
Until 2:00 p.m.
Sunday
Until 2:00 p.m.
Memorial Day
All Day
Independence Day
All Day
Labor Day
All Day
Non-Prime Time (Day after Labor day until March 31st)
All other times are considered prime time.
Twilight - Carts are not available and tee times are not reserved (first come, first served)
March through October
1 1/2 hours before published sunset
November thru February
2 hours before published sunset
Hole
1
2
3
4
5
6
7
8
9
Out
BLACK TEES
329
340
167
366
573
337
401
228
350
3091
BLUE TEES (Shoot 82 or less)
329
340
167
356
542
337
401
212
345
3029
WHITE TEES (Shoot 99 or less)
308
331
149
336
490
325
374
162
333
2808

Par

4
4
3
4
5
4
4
3
4
35
HANDICAP
15
13
11
9
5
17
1
3
7
WHITE TEES (Ladies)
RED TEES
287
251
124
270
418
301
317
128
282
2378
Hole
10
11
12
13
14
15
16
17
18
In
Total
HCP
Net
ADJ
Black
390
438
391
543
205
431
560
408
233
3599
6690
BLACK
71.6
131
Blue
367
415
370
489
140
403
528
408
206
3326
6355
BLUE
70.0
125
White
345
389
344
461
126
382
501
314
167
3029
5837
WHITE
67.8
122
4
4
4
5
3
4
5
4
3
36
71
10
12
14
8
18
4
6
16
2
WHITE
73.2
138
279
363
324
408
86
328
430
277
108
2603
4981
RED
68.7
122
SouthRidge Golf Course offers practice facilities for players of all abilitie, including a driving range, a chipping green and a putting green.
Bucket of Balls
| Size | Price |
| --- | --- |
| Small | $4.00 |
| Medium | $7.50 |
| Large | $11.00 |
SouthRidge Golf Course is open throughout the year (weather permitting); metal spikes and fivesomes are not allowed Payment is accepted in cash, credit card, or debit card (VISA, MasterCard, American Express and Discover Card). Personal checks are not accepted.
Need to book a tee time? Call 970.416.2828 -or- book your tee time online
A professional golf lesson is a great way to tune up your game. Individuals new to the game of golf would greatly benefit from professional instruction to learn the proper fundamentals. Professional golf instruction can also be a unique gift for someone looking to advance their game.
For a complete list of classes and prices, please
click here to be redirected to the SouthRidge Lesson page.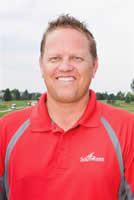 Dave is from Fort Collins and attended Poudre High school and worked at City Park Nine as a range kid and shop assistant growing up. Dave walking on the golf team at the University of Wyoming in 1992 and became the first all-American golfer from the University. Dave was inducted into the University of Wyoming Athletics Hall of Fame in 2007.
After a year of playing golf professionally, Dave spent 10 years as an assistant professional at Boomerang Links in Greeley, Colorado. Dave became the head professional at City Park Nine in Fort Collins in 2004 and stayed there until 2009 when he became the head professional at SouthRidge.
The game of golf runs deep in Randy's family, with his dad a PGA tour pro, his brother a superintendent in Kansas City and his son a superintendent in Alabama. Randy started working at a golf course at the age of 12, eventually working his way up to assistant at the Wolf Creek Golf Course in Kansas City. Randy later focused on golf course construction, helping to build courses in Kansas, California and Arizona. Course construction brought Randy to Fort Collins, teaming with Frank Hummel to build Southridge Golf Course in 1983. Randy stayed on after construction, and has been the superintendent of the course ever since.
Maintenance Staff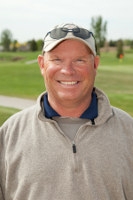 Ken Smith,
Assistant Superintendent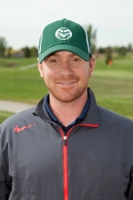 Josh Evans,
Parks and Grounds Technician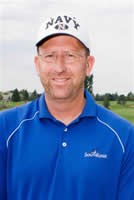 Steve Wallace,
Parks and Grounds Technician
Mackenzie's Pub & Grill (970.223.0630)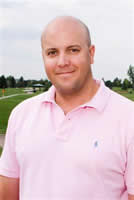 Rob Dahl, Owner
Serving golfers since 1995. Mackenzie's Pub & Grill takes great pride in serving golfers unique needs with friendly service, high quality products, and a relaxed atmosphere. Owned and operated by Rob Dahl since 2002. Contact us for off-season events, holiday parties, and BBQ catering.