Bud Bredehoft, Fort Collins Park Ranger
Bud Bredehoft likes to joke that he has dog waste to thank for his job as Fort Collins first Park Ranger. However, spend just a few hours with the City of Fort Collins' Senior Park Ranger and it's clear he does a little bit of everything patrolling the City's parks day in and out.
Bredehoft spent 25 years serving with Fort Collins Police Services, has a degree in law enforcement and, with limited resources, is a proponent of community policing. About five years ago he found himself in a surprise interview being recruited as the role of the City's new Park Ranger.
Interested in the opportunity, he made the switch from police to parks and has found the new role suites him well. He works with neighbors, not against them, to keep Fort Collins' parks clean and safe for all to use.
"I hold the community responsible for their own care a (crime) prevention," he said, one morning before climbing into his truck to start his daily patrol. "I like that they (the community) takes ownership in the parks."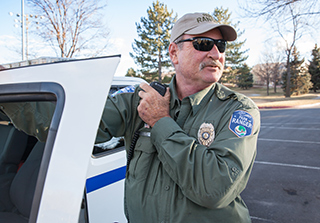 Rolling through the streets, Bredehoft maneuvers between parks with ease checking on vacant cars and bikes left leaning against trees. He punches the keyboard on his laptop logging information, occasionally tagging car antennas with orange tags, a sign it's time to move on.
Responsible for 50 parks across the City, initially Bredehoft's focus was on ensuring dog owners keep their dogs on leashes and clean up after them. However, throughout the years the primary problem he faces is people loitering in parks.
Those residing in the public space these days can range from high school kids to transients, and when interacting with this population his policing background can come in handy. Bredehoft works closely with law enforcement, who can back him up at a moment's notice.
The cooperation between FCPD and residents enables Bredehoft to extend his reach when he can't physically cover all the terrain in his jurisdiction. Recently, he has been able to add two additional Park Rangers, a sign of the value Council and the City sees in the role.
Bredehoft built the Fort Collins Park Ranger program from the ground up, and it's clear by his jovial stories that he enjoys the role. IT may not be the fast-paced life of a cop, but at the stage of his career he's just fine with that.
While Bredehoft may be writing the final chapters of his 30-year career with the City, he couldn't imagine a better ending.
"I'm having a ball in the twilight of my career," he said. "I couldn't find a better group of people to work with."