Jean Bosch, Old Town Library Manager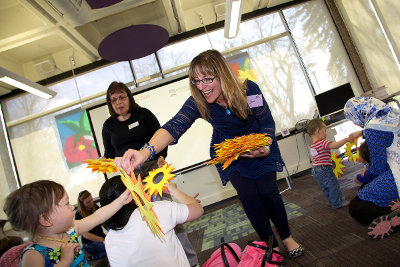 For Jean Bosch, manager of Old Town Library, her duties go well beyond leading a team of about 23 people to help ensure the Poudre River Public Library District is operating effectively.
Bosch, 45, is in her eighth year with the Library District, which is part of an intergovernmental agreement with the City of Fort Collins and Larimer County, and is in her fifth year of holding the managerial position, a role that has a lot of variety.
Whether it's working with organizations that serve the homeless or nurturing a partnership to offer creative learning opportunities, Bosch's work allows Old Town Library to provide something for everybody.
On one April morning, Bosch led an activity that's specifically geared toward younger children: story time.
"What we're really trying to do is to hook the children at an early age so that they'll grow up to love books and love libraries and to be readers because being readers is the most important thing," Bosch said.
This particular story time session, called "Peek-a-Boo Time," was for children under age two and drew eight youngsters and their caregivers. According to Bosch, the story time programs try to implement the early literacy concepts of reading, talking, singing, playing and writing.
With only 20 minutes to offer a dynamic program, Bosch launched into a hello song to create a lively atmosphere, something that was facilitated by the use of technology.
"We're starting to incorporate [the] use of a screen and projector to enhance our story times by being able to better share song lyrics, pictures [and] short videos," Bosch said.
Reading was introduced when Bosch broke out David Ellwand's "Big Book of Beautiful Babies." The children were able to add their own beautiful faces to the story as Bosch went around the room with the book opened to a page containing a mirror.
"We do a lot of fun, very interactive story sharing," said Bosch, whose own favorite book as a child was "Charlotte's Web."
The story time session included a variety of other activities before Bosch ended with a goodbye song and transitioned into a 20-minute segment of playtime where she brought out educational toys and gave attendees a chance to socialize.
For Bosch, it's knowing that positive connections are being formed that makes the story times enjoyable. With her job as a whole, however, a different aspect is rewarding.
"Now that I've moved into a leadership role, it seems like it's more helping my staff and Old Town Library provide a safe and welcoming environment for everyone and providing the information or entertainment that they need," Bosch said.