8 a.m. to 5 p.m. (M-F, except for holidays)
Human Relations Commission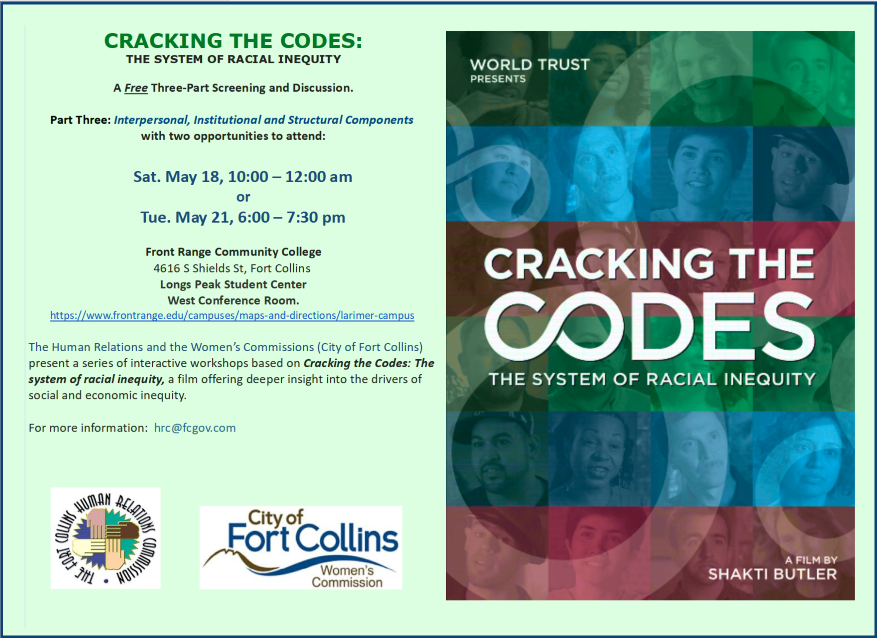 Downloads
---
Meeting Location
300 LaPorte Avenue, City Hall, Council Information Center (CIC) main level
---
Current Members
December 31, 2019 - Colleen Conway and Eva Amason
December 31, 2020 - Cynthia Davis, Phil Walker, and Sean Dellenbach
December 31, 2021 - Victor Smith, Jean Runyon, and Wendy True
December 31, 2022 - Julia Mackewich
---
Council Liaison
Susan Gutowsky
---
Duties
The Human Relations Commission was established by City Council to enhance the acceptance and respect for diversity through educational programs and activities, and to embrace inclusion of individuals reflective of characteristics such as race, ethnicity, gender identity and expression, physical abilities/qualities, sex, sexual /affectional orientation, age, culture, different ideas and perspectives, familial status, immigration status, geopgraphic background, marital status, national origin, religious and spiritual beliefs, socioeconomic status, and veteran status. The Commission often coordinates these efforts with other City boards and commissions, community groups and organizations. The Commission also oversees the Citizen Liaison Program, and presents the annual Human Relations Award to recognize those citizens who have advanced the cause of human rights through their volunteer efforts.
---
Recommended Qualifications
No special skills required; interest and desire to promote goals outlined above desirable.
---
Time Commitment
6-8 hours/month
---
---