Human Relations Award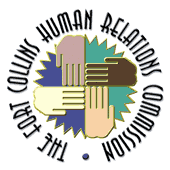 Sponsored by: The Fort Collins Human Relations Commission
Every year the Human Relations Award recognizes those in our community who promote acceptance and respect for diversity in the City of Fort Collins. Nominations are taken in the five different categories outlined below.
Criteria:
The award process considers the length of service and commitment to the community. Anyone who has not previously won the Award is eligible for consideration. There are no Fort Collins residency requirements.
2017 Human Relations Awards
Recipients were chosen for their promotion of acceptance and diversity in Fort Collins, and are listed below. You can also view photos of the event and watch the HRC Awards Ceremony video.
The recipients, honored in five categories on Tuesday, December 5, 2017:
Youth – Herman Chavez, a Rocky Mountain High School senior, who serves as a peer counselor, an officer in the school's LGBT club and a leader of presentations on sexual assault.
Adult – Dr. Janina Farinas, a practicing family therapist and founder of La Cocina, which offers no-cost therapeutic services to Latinx individuals and families in community-based and at-home settings.
Senior – Sue Ferguson, former Executive Director of Women's Center and United Way of Fort Collins, who has worked as a leader and organizer of the Sanctuary Church designation for Foothills Unitarian Church.
Organization – ChildSafe, Northern Colorado's only comprehensive outpatient treatment program for child and adult victims of childhood abuse, particularly child sexual abuse, and their non-offending family members.
Police and Emergency Services – Lt. Jeremy Yonce, who was instrumental in the creation of Campus West Connections and Outreach Fort Collins, a program focused on the safety and vibrancy of downtown Fort Collins and connecting vulnerable populations to supportive services.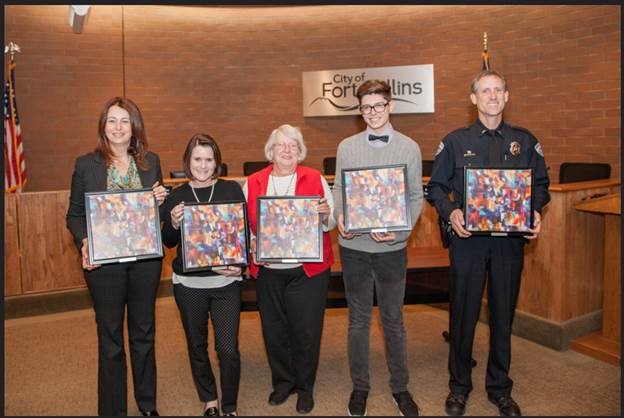 Left to right: Dr. Janina Farinas; Lisa Poppaw, ChildSafe Executive Director; Sue Ferguson; Herman Chavez; Lt. Jeremy Yonce