Fort Collins Bike Share
Your New Community Bike Library
Latest News
In just over four months, Fort Collins Bike Share has served more than 3,000 local bike trips and is reaching more people every week! If you haven't yet, take a ride on a Bike Share bike for an easy, convenient way of getting around town that is pure fun. If you'd like to help sponsor new bike share stations, contact us today (YWxld2luQGZjZ292LmNvbQ== or dGdyZWVnb3JAZmNnb3YuY29t).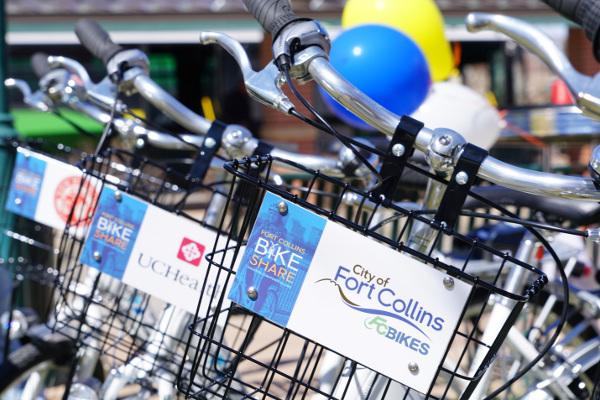 Stay Informed
To learn more about station locations and how to use the system, visit zagster.com/fortcollins. To stay informed about bike share and more, please subscribe to Momentum, our e-newsletter about biking in Fort Collins.
What is Bike Sharing?
Bike share is an innovative public transportation program offering a network of bicycles for short-term use. Through automated, self-service bike check-out stations, bike share combines the flexibility and freedom of a bicycle with the accessibility of public transportation. Bike share systems enhance mobility within a city, promote tourism and economic development, and offer a fun and healthy way of getting around town. Extending the reach of public transit, bike share systems create connections - connecting people to where they live, work and play, and to other modes of transportation. A great way to stay up-to-date on the bike share world is at bikeshare.com.
Previous Efforts
The Bike Share Business Plan (2014) lays out the vision for a phased future system, as well as an assessment of demand, costs, and steps towards implementation.
EPA Technical Assistance (2013): included a workshop with bike sharing experts and summary memo with options for implementing bike sharing.
The Fort Collins Bike Library Alternatives Analysis (2012), which analyzed long-term sustainable options for bike sharing.
Demos of select bike sharing technologies (2012).
Contact
Amy Lewin, PE, PTP, Senior Transportation Planner | 970-416-2040 | PGFjbGFzcz0=">YWxld2luQGZjZ292LmNvbQ==
Tessa Greegor, FC Bikes Program Manager | 970-416-2471 | PGFjbGFzcz0=">dGdyZWVnb3JAZmNnb3YuY29t