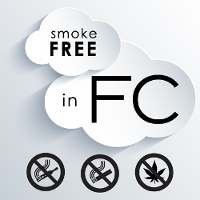 On January 1, 2016 a portion of Downtown Fort Collins became a smoke-free zone. The zone is roughly bordered by Mason, Jefferson, Mathews and Olive streets. It includes outdoor areas such as Old Town Square and all sidewalks, streets and alleyways within the zone.
The Downtown Smoke-Free Zone is the second phase of the expanded smoking restrictions adopted by City Coucil this past year. Phase 1 began September 1, 2015 and established all City buildings and grounds, parks, trails and natural areas as smoke free.
In the smoke-free zone, please keep in mind:
The smoking restrictions apply to conventional cigarettes and electronic cigarettes/vaping devices. Public use of marijuana is already prohibited by Amendment 64.
There are no designated smoking areas within the Downtown zone.
Alleyways within the Downtown zone are smoke-free.
Anyone wishing to smoke must leave the Downtown zone, and be considerate of residents and businesses outside the zone.
The Downtown Smoke-Free Zone demonstrates our community's commitment to clean air and public health. For more information please visit fcgov.com/smokefree.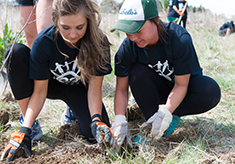 CSUnity is a program hosted in the Student Leadership Involvement and Community Engagement Office at Colorado State University. Each year during this program thousands of students dedicate a Saturday in April to serving in their communities by helping local residents with yard work and community agencies with various projects around Fort Collins and Larimer County. The Spring of 2015 was an amazing success with 2,400 students serving nearly 200 residents and 65 agencies with projects ranging from landscaping, wild lands restoration, painting, and more!
This year the event will place on Saturday, April 16th. If you are interested in having a group of students help at your residence or community agency next Spring, please call the Student Leadership Community Engagement office at 970-491-1682. Registration required. Deadline March 4.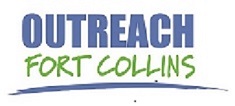 The City of Fort Collins and area non-profit organizations are collaborating to create a new outreach program for Downtown Fort Collins to help connect people to services they need. Modeled on a 15-year program in Burlington, Vermont, the Fort Collins Outreach program is intended to help the community address some ongoing disruptive behaviors that can interfere with safe, enjoyable Downtown experiences. Partners in the pilot program include the Downtown Development Authority, Fort Collins Police Services, Homeward 2020, Homeless Gear, the City's Social Sustainability department, and SummitStone Health Partners, among others.
The City has considered potential pilot strategies to address concerns raised by community members about disruptive behaviors Downtown. In 2015, City Council and staff began exploring a program that would employ a team of full-time specialists to build relationships with Downtown visitors, residents and businesses and connect people to services. those specialists could, for example, connect someone with housing or mental health assistance, or merely help address general conflicts occurring Downtown that don't require a police response.
More information will be available at fcgov.com/socialsustainability as the program is being developed. Information is also available in the September episode of Full Circle.
Sign up to receive services and products to improve your home's efficiency at no cost to you through Fort Collins Utilities' partnership with the Larimer County Conservation Corps. this limited-time offer is available until April for Fort Collins Utilities customers.
During this free home effiency asessment Larimer County Conservation Corps will:
Conduct a basic inspection of your home's insulation, appliances, windows, toilets and heating/cooling system.
Install appropriate efficiency measures based on your home's needs. These products may include: water conserving showerheads and aerators, smoke/carbon monoxide detectors, clotheslines, LED and CFL bulbs, programmable thermostats and a high-efficiency toilet.
Educate you about water and energy efficiency practices and services designed to help achieve even deeper savings.
Sign up for your free home efficiency assessment at larimerworkforce.org/energy.
The Larimer County Conservation Corps assessment does not qualify as a Home Efficiency Audit that is required for certain rebates. Learn more about how you can reduce costs and increase the confort of your home at fcgov.com/home-efficiency.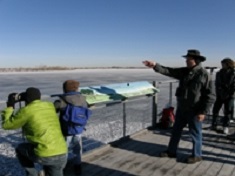 Bald eagles from the north make Fort Collins their winter home. They spend nights in communal roosts in cottonwood trees near Fossil Creek Reservoir Natural Area. Volunteer Master Naturalists from City of Fort Collins Natural Areas will be stationed at the pier to explain the eagles' natural history and help visitors view them through spotting scopes and binoculars. Dates and times for Eagle Watches will be announced at fcgov.com/naturalareas. Drop in anytime during these programs. They are free and no registration is required. If temperatures are below freezing or its windy or foggy, Eagle Watches may be canceled; check fcgov.com/naturalareas before you go.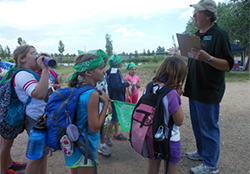 City of Fort Collins Master Naturalists are volunteers that welcome visitors to natural areas, provide activities, including school field trips and community programs, and share practical stewardship tips for these special places. Volunteers interact with professionals and others with similar interests. Master Naturalists care about natural areas and have fun sharing their enthusiasm with others. training is held once a year and it includes presentations by a varitey of experts, field trips to natrual areas and opportunities to practice techniques. All this provides naturlist trainees with the skills they need to lead fun, fact-filled, and meaningful field trips for all ages. Training is free, applications will be accepted in mid-January, email Sue Kenney, Education and Outreach Coordinator to be notified when materials are ready, , or to learn more information visit fcgov.com/naturalareas/vol-naturalists.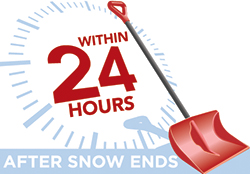 Snow is a part of living in Fort Collins, so let's be prepared. After any snowfall - even a small amount, residents need to remove the snow and ice from their sidewalks. To many folks, this concept is common sense and an expression of respect for the safety of their neighbors. Our City Code requires that sidewalks in the public right-of-way (along the street) are shoveled within 24 hours of the accumulation of snow and ice.
New residents may not be aware of this code, so if your neighbors are not clearing their sidewalks, you might want to speak with them, or leave a friendly note. If more than 24 hours have passed since the end of the snow accumulation, you can call the Nuisance Hotline at 970-416-2200 and leave a message about the hazard. Unshoveled sidewalks may be cleared by the City's contractors and their bill, along with an administrative fee, is charged to the property owner. Be forwarned that the cost is high.

Here are a few tips to help keep your sidewalk safe:
Try to get the shoveling done before pedestrians use your sidewalk and save yourself a lot of work.
Keep some Ice-Melt on hand for the stubborn or shady spots.
If water pools on your walk, then turns to ice, applying a substantial amount of sand or kitty litter can reduce the danger.
If your property is next to an alley, please shovel to the middle of the alley.
If you are on a corner, be sure to get the corner ramps cleared.
Clearing the sidewalk across the driveway is much easier before it has been packed down by a vehicle's tires.
Planning to be out of town? Please make arrangements with relatvies, friends or neighbors and perhaps offer to return the favor.
Even if the wind blows snow back onto your sidewalk after you've cleared it, you are responsible to keep the surface clear and safe.
If City plows cover your sidewalk with snow, please call the Streets Department at 221-6615 for assistance.
Sometimes snow can create problems for members of our community, in particular the elderly and disabled. If someone you know may need help shoveling this winter, check with them and offer your services or put them in touch with the City's Adopt-a-Neighbor Program or contact Melanie Clark, Administrative Assistant at 970-416-2351 or .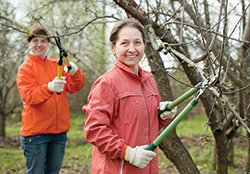 Have your walks or bike rides ever turned into an obstacle course as you dodge tree branches in your face and bushes crowding the sidewalk?
The City of Fort Collins Municipal Code (Section 27-57) requires all tree branches be maintained at a height no lower than eight feet over a public sidewalk and not less than 14 feet over the travel lanes of a street or alley. Shrubs must also be maintained so that they are even with the plane of a public sidewalk or street. Additionally, trees or shrubs should not block the view of street name signs, traffic signals or other traffic signs.
Historically, the City addressed these violations by complaint. Starting in January, though, Code Compliance will include overgrown tree and shrub violations in their proactive enforcement, as well, so that we can keep sidewalks safe and clear for everyone. Please take a look at your trees or shrubs now to make sure they are not in violation.