Free Home Efficiency Assessments
Peter Iengo | Utilities | cGllbmdvQGZjZ292LmNvbQ==
Sign up to receive services and products to improve your home's efficiency at no cost to you through Fort Collins Utilities' partnership with the Larimer County Conservation Corps. This limited-time offer is available through April for Fort Collins Utilities customers.
During this free home efficiency assessment Larimer County Conservation Corps will:
Conduct a basic inspection of your home's insulation, appliances, windows, toilets and heating/cooling system.
Install appropriate efficiency measures based on your home's needs. These products may include: water conserving showerheads and aerators, smoke/carbon monoxide detectors, clotheslines, LED and CFL bulbs, programmable thermostats and a high-efficiency toilet.
Educate you about water and energy efficiency practices and services designed to help achieve even deeper savings.
Sign up for your free home efficiency assessment at larimerworkforce.org/energy.
The Larimer County Conservation Corps assessment does not qualify as a Home Efficiency Audit that is required for certain rebates. Learn more about how you can reduce costs and increase the comfort of your home at fcgov.com/home-efficiency.
CSUnity
Emily Allen | Neighborhood Services | ZWFsbGVuQGZjZ292LmNvbQ==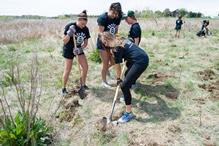 CSUnity is a program hosted in the Student Leadership Involvement and Community Engagement Office at Colorado State University. Each year during this program thousands of students dedicate a Saturday in April to serving in their communities by helping local residents with yard work and community agencies with various projects around Fort Collins and Larimer County. Last year was an amazing success with 2,400 students serving nearly 200 residents and 65 agencies with projects ranging from landscaping, wild lands restoration, painting, and more!
This year the event will take place on Saturday, April 22nd from 10:00 a.m.-2:00 p.m. If you are interested in having a group of students help at your residence or community agency next Spring, please call the Student Leadership Community and Engagement Office at 970-491-1682 or visit csunity.colostate.edu. Registration required. Deadline March 10th.
Become a Master Naturalist
Sue Kenney | Natural Areas | c2tlbm5leUBmY2dvdi5jb20=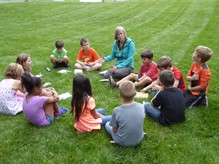 Volunteer Master Naturalists learn about local ecology and public speaking, then lead field trips on natural areas. Training is free and includes 70 hours of classroom and field trips, from March 21-April 20. See application materials for dates and times. Application deadline is March 7, 2017 Learn more by calling Sue Kenney at 970-224-6118 or c2tlbm5leUBmY2dvdi5jb20= or visit http://www.fcgov.com/naturalareas/vol-naturalists.php.
Get Garden Inspired at 13th Annual High Plains Landscape Workshop
Korrie Johnston | Gardens on Spring Creek | a2pvaG5zdG9uQGZjZ292LmNvbQ==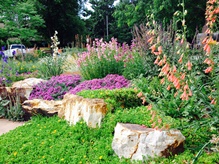 Learn how to bring sustainable, water-wise gardening practices to your home landscape from engaging horticulture experts. On Saturday, March 4 from 8:15 a.m. to 3 p.m., High Plains Landscape Workshop will inspire you to create smart home garden design that results in a beautiful landscape. This year, three keynote speakers will offer guidance including Denver Botanic Gardens' Panayoti Kelaidis and Michael Bone, along with world renowned landscape designer and author, Lauren Springer Ogden. The event will be hosted at the Drake Centre in Fort Collins. More information and tickets are available at www.fcgov.com/gardens. All proceeds benefit the Gardens on Spring Creek.
Bicycle Friendly Driver Class and Winter Wonderland Rides
Jamie Gaskill-Fox | FC Bikes| amdhc2tpbGwtZm94QGZjZ292LmNvbQ==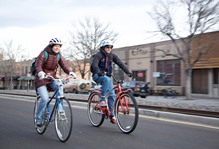 The beginning of the year is a great time to learn or try something you've never done before. Learn something new with a class offered by the FC Bikes Bicycle Ambassador Program. You can learn how to share the road safely with people on bikes in a Bicycle Friendly Driver Class (upcoming sessions January 10 and February 16) and/or learn how to pedal through the colder months in our Cycling in Winter Class (upcoming session January 18). You can also stop by our Light up the Night station before or after the Cycling in Winter Class on January 18 to grab a free bike light.
Try something new this winter and go for a spin on one of the FC Bikes Winter Wonderland Rides. These are family-friendly, relaxed rides that highlight low-stress bike routes and new infrastructure. Rides will take place January 20, February 3 and 17. While you're out riding, snap a photo to enter into the Bike Winter Photo Contest. All you have to do is share the photo on Facebook and tag it with #BikeWinterFC and you'll be entered into the contest. Winners of the contest will be featured at the Bike Winter Celebration on February 24.
For more details and for registration info, visit www.fcgov.com/bikewinter or call 970-221-6987.
FREE Articles for YOUR Newsletter
Do you need news for your newsletter? How about info on recycling, air quality and snow removal? Remember, you can always copy and paste the articles found here. If you need another format or if you have ideas for more articles, let us know. We hope this makes spreading the word easy!


We are part of Nextdoor, a free social network for neighborhoods.