Participant Survey Results
Those who participate in restorative justice conferences and RESTORE sessions overwhelming agree that the program helped them and/or their youth, that they were treated with respect, and that the process and the contract were fair. Read further to find out more about what program participants thought of their restorative justice experience and what they have say about the program.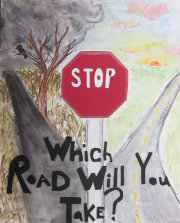 This youth shows how crucial decisions affect your path in life.
Survey Results
Fort Collins Restorative Justice Services includes two programs; the Restorative Justice Conferencing Program (RJCP) and the RESTORE Program. RJCP provides restorative justice services for young offenders (10-17) who commit offenses in Fort Collins, and for the victims of their crimes and our community. In RESTORE, similar services are provided in a group setting for shoplifting offenses only.
Instead of going through the traditional criminal justice system, the young offender participates in a community conference.
This conference is a face-to-face meeting between the offender, victims or victim representatives and community members. The conference is facilitated by trained community volunteers who guide participants through a process designed to create understanding and repair the harm done by crime.
Participants in the conference determine what reparations are appropriate for the offender to make to the victim and the affected community. With the offender's participation, an agreement is written and signed by everyone present. The agreement must be reached and upheld. If it is not, the case returns to the referring party and may then go to the courts.
Photos on this site courtesy of Lee Schindler and Francis Gonzales.
All posters on this site were created by young participants in the Restorative Justice Services programs.
Non-Discrimination
Restorative Justice does not discriminate on the basis of race, color, national origin, religion, sex, disability or age in the delivery of its services. Interpreter services and documents translated to other languages are available at no cost to Restorative Justice participants.
En la prestación de sus servicios, la Justicia Restaurativa no discrimina por razones de raza, color, origen nacional, religión, sexo, discapacidad o edad. Los servicios de intérpretes y traducción de documentos a otros idiomas están disponibles sin costo alguno para los participantes de la Justicia Restaurativa.