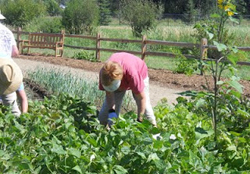 The Gardens on Spring Creek is one example of a local community garden.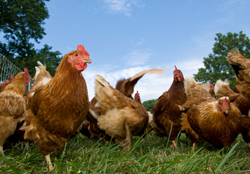 In 2008, the City permitted up to six chickens per lot within city limits.
Urban Agriculture
NEWS
The Survey Results are In!
Over 610 individuals responded to our survey on the City's urban agriculture Land Use Code change efforts. Thanks to everyone for taking the time to provide feedback. Please view the full survey results.
Upcoming Meetings, Hearings and Boards & Commissions
City staff will meet with numerous boards and commissions to discuss potential Land Use Code changes. For the most up-to-date information, please see the specific board/commission agenda. More hearings dates to be announced soon.
March 21 - Planning and Zoning Board Hearing
6 p.m., Council Chambers at 300 Laporte Avenue
For more information, please visit Planning and Zoning Board, they will only make an official recommendation on the Land Use Code changes (creating the urban agriculture licensing system, allowing farmers markets in more zone districts, and allowing urban agriculture in all zone districts) and not the Municipal Code changes that relate to animals. Planning and Zoning Hearing Information.
May 14, 2013 - Council Work Session
6 p.m., Council Information Center at 300 Laporte Avenue
Staff will present the urban agriculture code changes to Council and receive their feedback on the process and the changes themselves. While there is no public testimony during Work Sessions, please feel free to attend this meeting. We expect that a formal hearing before Council will be scheduled after the Work Session.
is it time for a Code Change?
Urban agriculture is strongly supported in City Plan ( Principle SW 3 and Policy SW 3.1), but our Land Use Code is out of date regarding today's more urban forms of agriculture. Numerous communities across the country, including Seattle, Portland, Madison, Kansas City, and Detroit, adapted their codes to permit locally produced food, or urban agriculture. In 2008, the City of Fort Collins took a large step in this direction by allowing up to six chickens within city limits. Yet additional forms of urban agriculture are arising everyday. For example, in the past decade, the nation has witnessed a rise in both the types of agriculture practiced in urban areas, e.g., community supported agriculture (or CSA), community gardens, and beekeeping, as well as the number of individuals participating in food production. Code changes may be needed to respond to this growing demand to allow more forms of food production in more areas. Our goal is to ensure our Land Use Code supports the community's desires in relation to local food production.
City staff is considering adapting the existing code to allow for urban agriculture, including, but not limited to, community-supported agriculture, community gardening, and urban farming. Currently, a proposal for urban agriculture as the main use on property would require additional processing and review in 21 of the 25 city zone districts. In addition, our Land Use Code does not define these more urban forms of agricultural activities. City staff will work with the community to explore how to modify this list of definitions and allowable uses. To ensure consistency with the community's goals, neighborhood compatibility, and subarea plans, numerous engagement opportunities will be provided as the proposed Land Use Code changes are developed.
What is Urban Agriculture?
According to the American Planning Association, urban agriculture entails the production of food for personal consumption, education, donation, or sale and includes associated physical and organizational infrastructure, policies, and programs within urban, suburban, and rural built environments.
STEPS to update the code
Identify the urban agriculture practices our community would like to implement and the current barriers in the Land Use Code.
Determine if these practices are acceptable to the community and where they are most appropriate.
Create a set of standards that ensure health, safety, and neighborhood compatibility are achieved including: operational timing, sale of food products, how waste will be handled, any concerns with smells, and more.
Work closely with residents to ensure the proposed code changes are consistent with our community goals and address neighborhood concerns.
How to Get Involved
To ensure consistency with the community's goals, neighborhood compatibility, and subarea plans, extensive public outreach will occur throughout the process. As urban agriculture is a community priority, this effort will engage our residents in a discussion that seeks to further the consistency between our Land Use Code and City Plan. Do you want to get involved? Contact us at
Past Events
January 31, 2013 - Open House
On January 31 in Community Room 1 at the Old Town Library, staff discussed the proposed Land Use Code changes and gave presentations on the code changes at 5 and 6 p.m.
Open House Presentation - Lindsay Ex Open House Boards Meeting Notes
July 24, 2012 - Stakeholders Discussion
City staff met with 10 community members to discuss their perspectives on the proposed Land Use Code update. The meeting was advertised on Facebook, Twitter, the project's website and announcements were sent to the City's Homeowners Association list, and the alumni from the CityWorks 101 program.
Presentation by Be Local Northern Colorado (Hill Grimmett) – Urban Agriculture and Economics City of Fort Collins (Lindsay Ex) – Urban Agriculture Practices and How the City Supports Urban Agriculture Meeting Notes
June 19, 2012 - Interested Citizens Kick-off
Interested citizens, farmers, and City staff (25 present) discussed the existing urban agricultural practices and what practices folks desire to implement in Fort Collins. The meeting was announced to all known farming and affiliated organizations with the local, agricultural community and were asked to share the meeting information with anyone else who might be interested in attending.
Presentation by CanDo (Kristin Kirkpatrick) Meeting Notes
What others Are Doing
Austin, Texas
Be Local Northern Colorado
Boulder, Colorado
Coalition for Activity and Nutrition to Defeat Obesity
Portland, Oregon
The Gardens on Spring Creek
Wheat Ridge, Colorado
Contact info
Lindsay Ex, Senior Environmental Planner
970-224-6143