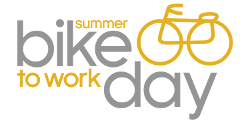 June is Bike Month!
Wednesday, June 26 - Bike To Work DaY
Pre-register for Bike to Work Day.
Pre-register for the event to see a list of the breakfast stations and their sponsors. If you have a smartphone, look for QR codes at each stations for a quick and easy sign-in process.
6:30-9:30 a.m. Breakfast Stations
Summer Bike to Work Day Station Map
4-6 p.m. Afternoon Stations
Many businesses around town have activities going on help celebrate Bike Month. Check with your employer to see what is happening at your workplace to celebrate Bike Month. Here are a few companies that offer internal events for Bike Month:
Avago Technologies
Center Partners
Health District of Northern Larimer County
HP
Thursday, June 27 - Downtown Bike Show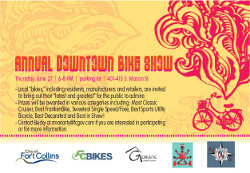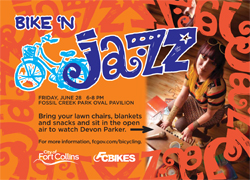 6-8 p.m.
parking lot at 401-415 S. Mason St.
Local bike enthusiasts, including residents, manufacturers and retailers, are invited to being out their "latest and greatest" for the public to admire. Prizes will be awarded in various categories including: Most Classic Cruiser, Best FrankenBike, Sweetest Single Speed/Fixie, Best Sports Utility Bicycle, Best Decorated and Best in Show! Contact Becky at if you are interested in participating or for more information.
Friday, June 28 - Bike N' Jazz
6-8 p.m.
Fossil Creek Park (5821 S. Lemay Ave.)
Bring your lawn chairs, blankets and snacks and sit in the open air to watch Devon Parker!