June is Bike Month!
Did you participate in Bike to Work Day on June 24?
Tell us about your ride, and be entered to win prizes! Take the survey by 5:00pm on July 1.
About
Every June, Colorado celebrates Bike Month and here in Fort Collins, we love anything that highlights and promotes people who ride bicycles
Each year on the fourth Wednesday of June, FC Bikes hosts its signature Bike Month event: Bike to Work Day (BTWD). Fort Collins' Bike to Work Day is a biannual event to encourage people to bicycle for transportation, experience the benefits of riding a bike, highlight Fort Collins' extensive bike routes, and demonstrate that bicycling is an easy, fun and healthy means of traveling around the city.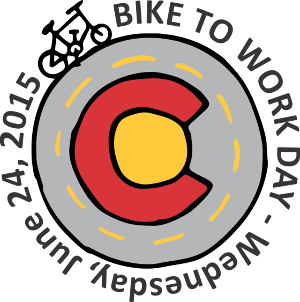 Events
Go By Bike: Everyday Cycling | Monday, June 1 at 6:00 p.m. at Raintree Athletic Club, 2555 S. Shields
Whether you are traveling to work, running errands or traveling to visit friends you can Go By Bike! In this presentation FC Bikes Bicycle Ambassadors will teach you about the benefits of using a bike for transportation and show you how to make it possible. Join us to learn what to ride, what to wear, what to carry, how to carry your stuff, route selection and safety techniques. We will also provide information about local classes, events and other cycling-related resources. To register, please call 970-490-1300.
Bike Month Proclamation | Tuesday, June 2 at 5:30 p.m. at City Hall, 300 LaPorte Ave.
Join us in celebrating biking in Fort Collins with an official proclamation as the Mayor declares June 2015 as Bike Month. Afterwards we'll head out on a leisurely celebration ride, culminating at Café Vino to enjoy some appetizers. For more information, please contact Tessa Greegor at .
Adult Learn to Ride! | Wednesday, June 3 and Wednesday, June 10 at 6:00 p.m. at 215 N. Mason St.
Regardless of your age, it's not too late to learn to ride a bicycle! In this class adults (14+) will learn to ride a bicycle through a safe, easy, and effective method. Students will learn how to balance, pedal, start, stop and steer a bike. Students also learn how to properly fit a helmet. If you do not have a bike or helmet we can provide them for use during the class. Contact or 970-221-6987 if you need a bike and/or helmet. To register, please visit webtrac.fcgov.com (page 57 of Recreator).
Open Streets | Sunday, June 7 at 10:00 a.m. at W. Elizabeth St.
Fort Collins will host its second Open Streets (car-free) event. It will take place on West Elizabeth Street (between Shields St. and Overland Trail). This is a free, fun, family-friendly event that promotes active living, community and local economy. Community members are encouraged to enjoy the open space along the 2-mile stretch by walking, biking or traveling by other human-powered means. Participants also can engage with the 40+ partners that will host activities along the route. By temporarily creating a car-free environment, community members are able to enjoy their streets and surrounding environment in a safe, fun and healthy way. Over 100 car-free initiatives are in operation around North America as innovative ways for cities to support healthy living and community. For more information, please visit fcgov.com/openstreets.
Get Outdoors Day | Saturday, June 13 at 9:00 a.m. at City Park
A fun, free, active day with a zillion things for everyone to do! National Get Outdoors Day Noco, presented by the University of Colorado Health, will be held in Fort Collins at City Park. Fish, bike, garden, climb, paint, build, paddle, learn, dance, eat, and play! Take part in interactive activities in each of Get Outdoors Day's different villages, including the FC Bikes Bicycle Village! For more information, please visit www.co.larimer.co.us/getoutdoorsnoco/.
Go By Bike: Cycling with Children | Wednesday, June 17 at 6:00 p.m. at Raintree Athletic Club, 2555 S. Shields St.
Do you want to commute, run errands or travel to school by bike with your children? In this presentation an FC Bikes Bicycle Ambassador will give you tips and tricks for how to get the whole family rolling. You will learn about the benefits of cycling with children, kid-friendly gear and clothing, safety considerations, route selection, and how to teach children the rules of the road through bicycling. To register, please call 970-490-1300.
28th Annual Bike to Work Day | Wednesday, June 24 at 6:30 a.m.
Since 1988, the City of Fort Collins has hosted an Annual Summer Bike to Work Day. In celebration of the 28th Annual event, over 40 breakfast stations will be located all over town to encourage community members to get out and ride their bikes. Participants are encouraged to take a post event survey.
Printable Map of Stations and Hosts
Digital Map of Stations and Hosts
The deadline to sign up to be a station host has past.
May-September: National Bike Challenge
Bike Month is a great time to sign up for the National Bike Challenge. Join thousands of people across the nation as they log miles on their bicycles: it is a free and easy way to challenge yourself, colleagues and the greater community to ride more. Users compete on a local, state and national level.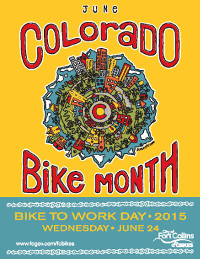 Past Event Reports
Reel of photos: https://www.flickr.com/photos/fortcollinsgov/sets/72157644959143119/
Contact Us
FC Bikes Program Manager
Tessa Greegor

970-416-2471
If you are a business interested in being a part of Bike to Work Day, please join our mailing list.