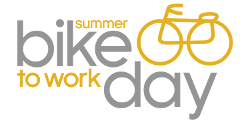 June is Bike Month!
MARK YOUR CALENDARS
SUMMER BIKE TO WORK DAY ON WEDNESDAY, JUNE 25, 2014!
Every June, Colorado celebrates Bike Month and here in Fort Collins, we love anything that highlights and promotes people who ride bicycles. Our signature event is Bike to Work Day. Fort Collins' Bike to Work Day is a biannual event to encourage people to bicycle for transportation, experience the benefits of riding a bike, highlight Fort Collins' extensive bike routes, and demonstrate that bicycling is an easy, fun and healthy means of traveling around the city.
PRE-REGISTER FOR BTWD
Pre-registering for Bike to Work Day helps you get through the breakfast line that much faster! It also helps us collect valuable data about the event. Not only will these numbers help us track participation from year to year, FC Bikes uses these numbers to apply for grants and funding that allows us to continue offering encouragement events like Bike to Work Day.
Participants should sign in at each station they visit. HAVE A SMARTPHONE? Great! Make sure you download a QR code reader then look out for QR codes at each station. Scanning the QR code will check you in, meaning you can skip the paper sign in sheet and head straight to the breakfast line!
Pre-register For Bike to Work Day
LIST OF STATIONS AND MAP
Preregister for Bike to Work Day for a list of station locations and hosts. A printable version of the map will be available June 18th.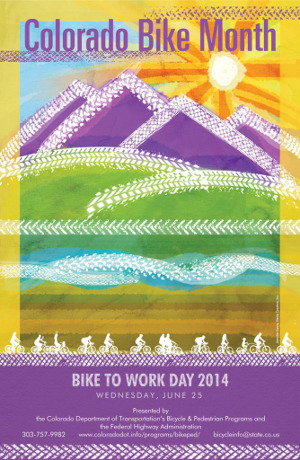 2014 BIKE MONTH ARTWORK
Each year, the Colorado Department of Transportation develops a promotional poster encouraging people to participate in Bike Month and Bike to Work Day. Communities and individuals throughout the state proudly display this poster in support of this program.
The 2014 poster, and individual aspects of it, is available here to anyone in the state wanting to promote Bike Month. You can simply download this artwork and incorporate it into your own promotional materials. Or, if you want a hard copy of this poster, please contact Becky with FC Bikes at
OTHER BIKE MONTH EVENTS
Check out the Bicycle Ambassador Program's calendar for other exciting events happening throughout Bike Month.
INTERESTED IN HOSTING A BREAKFAST STATION?
Want to know more about what we expect from station hosts? Check out the attached toolkit that includes how to get started with organizing a station, how to promote the event, fun station ideas and last year's list of stations, including the expected attendance for this year.
Thanks for your interest in hosting a breakfast station. The deadline has passed for the summer 2014 event.
Contact Us
For more information on Summer Bike Month or Summer Bike to Work Day, please contact Becky Moriarty at or 970-224-6112.