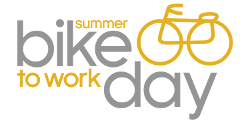 June is Bike Month!
MARK YOUR CALENDARS
SUMMER BIKE TO WORK DAY ON WEDNESDAY, JUNE 25, 2014!
Every June, Colorado celebrates Bike Month and here in Fort Collins, we love anything that highlights and promotes people who ride bicycles. Our signature event is Bike to Work Day. Fort Collins' Bike to Work Day is a biannual event to encourage people to bicycle for transportation, experience the benefits of riding a bike, highlight Fort Collins' extensive bike routes, and demonstrate that bicycling is an easy, fun and healthy means of traveling around the city.
BIKE TO WORK DAY, 2013
In 2013, the Fort Collins Summer Bike to Work Day celebrated its 26th anniversary. And, despite the 6:30 a.m. starting time, bicycle riders were out! We want to thank all of those who helped make this event a success! From the participants to the hosts, our wonderful community continues to make this event better and better each year.
Not only is Bike to Work Day a wonderful event for promoting biking in the community, it is also a chance for local businesses to network and work together. With 108 total sponsors, businesses collaborated to host stations across the city.
In 2013, 22 new businesses and 1,008 new cyclists participated! Event participants enjoyed a multitude of breakfast options: gourmet waffles, breakfast burritos, glazed donuts, and lots and lots of coffee! Not only did the riders leave with a full belly, they also positively contributed to their own health and to the health of the environment by riding a bicycle. Bike to Work Day is a tremendous opportunity to celebrate the many benefits bicycling has to offer and to encourage people to consider bicycle commuting more frequently. With so many new faces out there, we're excited to report a successful 26th Annual Summer Bike to Work Day event!
Contact Us
For more information on Summer Bike Month or Summer Bike to Work Day, please contact Becky Moriarty at or 970-224-6112.