2014 Transformer Cabinet Mural Projects
In its ninth year, the Transformer Cabinet Mural Project had 15 artists and 1 non-profit group painted bright, active murals on Fort Collins utility equipment as a graffiti abatement program. Fort Collins Art in Public Places Program and Utilities Light and Power work together on this project that has enjoyed great success in lowering maintenance costs. By employing Fort Collins artists to paint the murals, the program also keeps the investment local.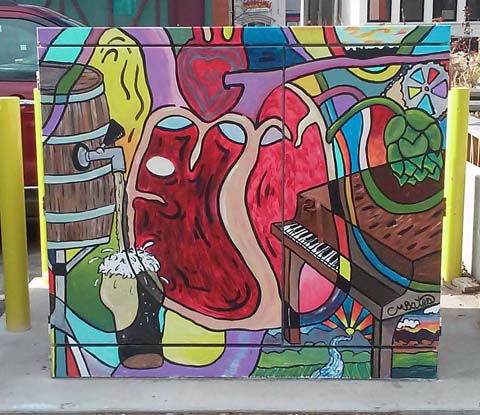 Artist: Chris Bates
Location: Behind 504 S. College Ave.
Description: According to Chris, Fort Collins might be known for Beer, Bikes, and Bands-but "Art's the Heart".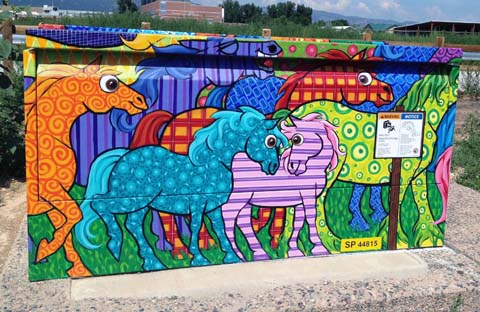 Artist: Ren Burke
Location: East of RR behind 2535 S. College Ave-south cabinet.
Description: 2014 being the Year of the Horse, Ren thought "Pony Express-ion" would be an ideal design. A herd of horses gallop around the cabinet, festooned in playful patterns and LOTS of color. "Pony Express-ion" also alludes to its location through the concept of travel with the nearby MAX line and the CSU Veterinary Teaching Hospital's Large Animal Clinic on the other side of the Mason Trail.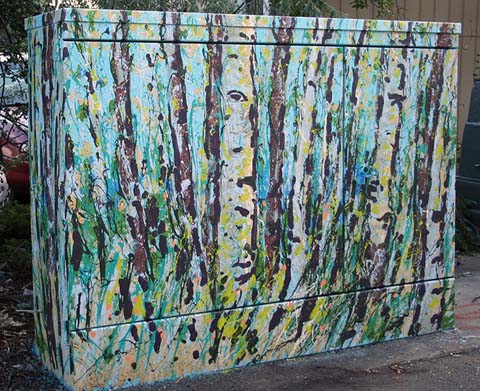 Artist: Lisa Cameron Russell
Location: Alley behind 1100 block of W. Elizabeth St.
Description: With "Asphalt Aspens" Lisa intends to create a native landscape in the asphalt parking lot.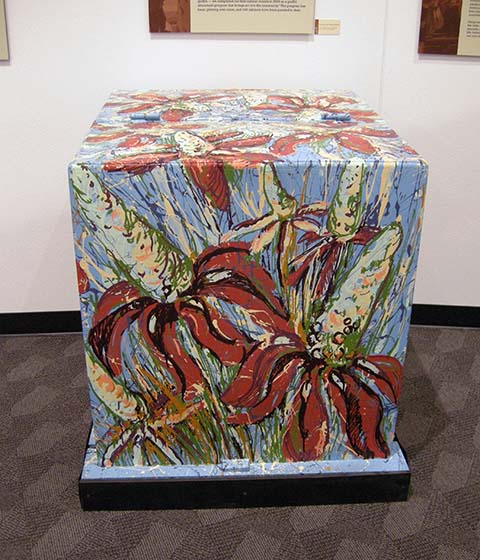 Artist: Lisa Cameron Russell
Location: Fort Collins Museum of Discovery, on exhibit as part of FC150
Description: Lisa has fun transforming manmade objects into landscapes of native gardens through painted imagery. "Prairie Coneflowers" may be found along walking trails where functional electric cabinets may be placed.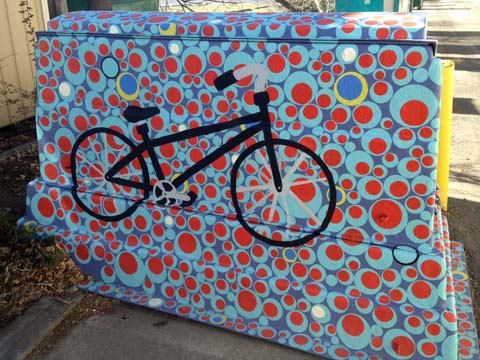 Artist: Amelia Caruso
Location: Alley behind 1100 block of W. Elizabeth St.
Description: Similar to earlier transformer cabinet murals by Amelia, "Lucy in the Sky on Bicycles" takes visual cues from Australian aboriginal dot patterns, Mandelbrot sets, fractals, satellite photos and an interest in the flow of negative space-and adds bicycles.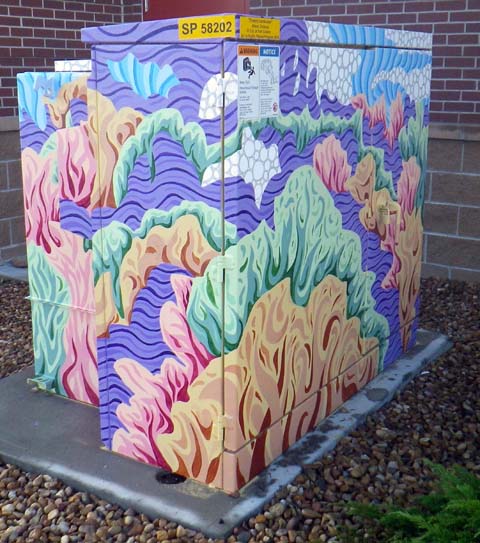 Artist: Alison Dickson
Location: North of 1864 N. College Ave.
Description: Alison likes to capture an actual landscape and have some fun with it. "Dreamy Landscape" is made of lots of patterns, shapes and colors.
Artist: Diane Findley
Location: 2505 S. College
Description: Relocated from the group of cabinets, "This Land is Your Land," at 132 Laporte Avenue. When painted in 2008 the project was described by Diane as, "Elements of the Colorado landscape roam and ramble through scenic byways under endless skyways. With a wink and a nod to Woody Guthrie, this transformer is painted for you by me."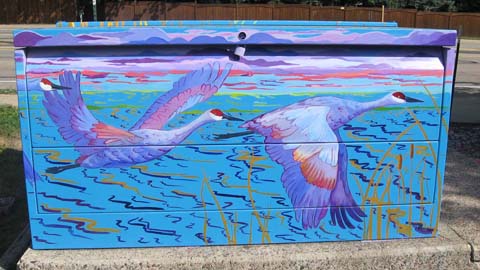 Artist: Susannah Franklin
Location: E Drake Rd., S side of Rd, 1 block E of Lemay Ave.
Description: SSusannah"s transformer cabinet mural design was inspired by a trip to view the Great Sandhill Cranes in Nebraska. As evening fell the sunset turned the cranes light purple-into "Lavender Cranes."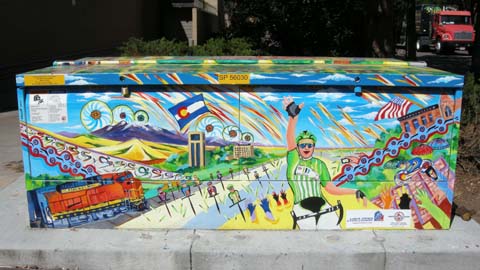 Artist: Mary Harnett
Location: SW corner Remington St. and Magnolia St.
Description: This transformer cabinet mural was painted to commemorate Northern Colorado hosting Stage 6 of the 2013 USA Pro Challenge. For the mural, Mary captured many images she observed as the stage finished in Fort Collins.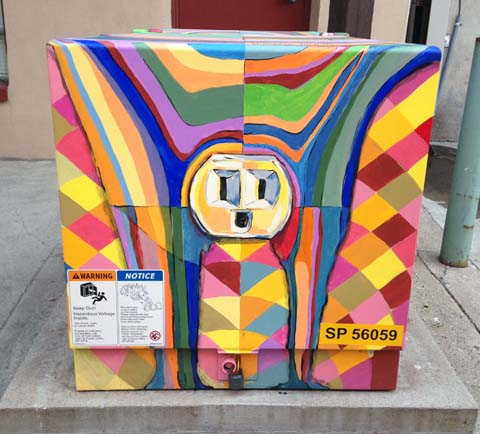 Artist: Jennifer Ivanovic
Location: 251 E. Jefferson St.-in alley on W side of building
Description: Jennifer approached "The FRIENDLY ENERGY of Fort Collins" with a nod to Fort Collins Earth Day - where she demonstrated transformer painting with this cabinet on April 19, 2014. Jennifer's personal paintings use a pouring technique. She simulated a poured transformer cabinet by painting on the vibrant drips. The transformer looks like a large, friendly electrical plug box awaiting use.
Artist: Jennifer Ivanovic
Location: East of RR behind 2535 S. College Ave.-north cabinet
Description: For "Snails are on the move in Fort Collins!," Jennifer was inspired by her eight-year-old son's recent drawings of snails. If she could choose to be any animal, it would a snail-as she would always be comfortably at home!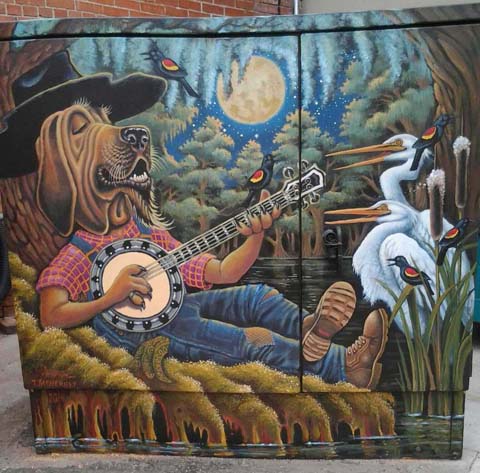 Artist: Terry McNerney
Location: Behind 300 E. Mountain Ave.
Description: Terry painted "Bayou Moonlight Delite" as a continuation of his musical-animal theme including the banjo-playing bloodhound, also seen in his 2010 transformer cabinet mural, "Critters."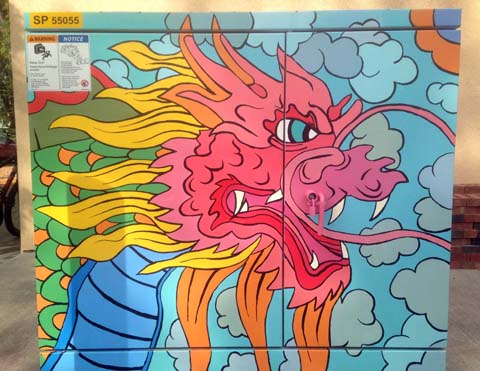 Artist: Alex Paozols
Location: Behind 914 S. College Ave.
Description: In many parts of Asia, dragons are symbols of self-confidence and courage. Clouds are considered a portent of good luck, carrying needed rains that enable the growth of abundant crops. In "Cloud Dragons," clouds are combined with auspicious dragons; it makes a perfect emblem to manifest the myriad of potential in the modern world.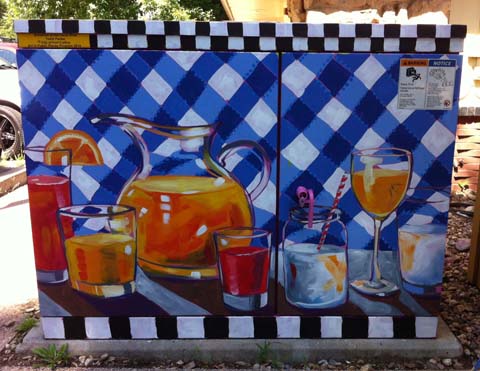 Artist: Teddi Parker
Location: In storage.
Description: Each side of "Breakfast at the Local Diner" has a different bright color scheme and pattern to it, so the viewer and the painter both enjoy the thrill of moving on to each new face.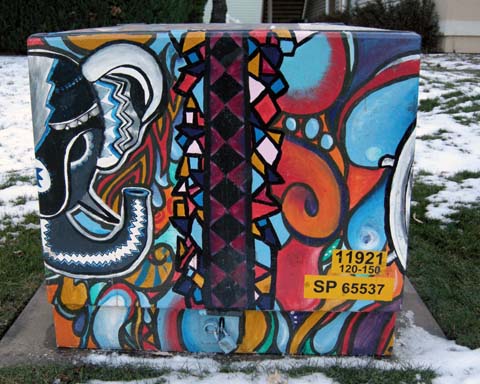 Artist: Poudre Community Academy
Location: 1513 Riverside Ave.
Description: Art can be seen as patterns on your clothes, the tattoos on your body, the doodles in your math notes, and the stained glass in a church. Art is something that can be appreciated and seen by an individual every day. "Patterns in Art" explores how art can be seen by three individuals at once. Shayla Pierson, Shelby McFarland, and Taryn Wilson combined forces to create a design in which it explores patterns in art they appreciate or see in their minds.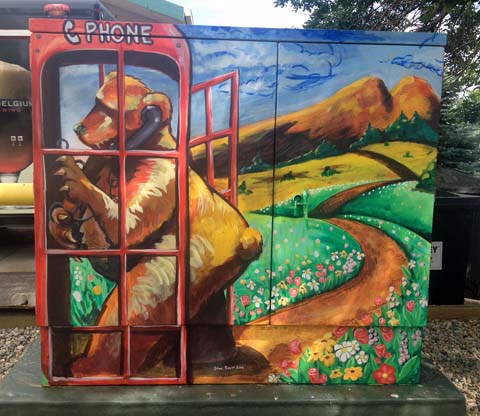 Artist: Stan Scott
Location: Behind 1213 W. Elizabeth St.
Description: "The Call of the Wild" is a depiction of a bear in a phone booth, visually representing the common phrase, "the call of the wild." This is only fitting in a town like Fort Collins, with its passion for the outdoors and pride in the foothills that make up its own backyard.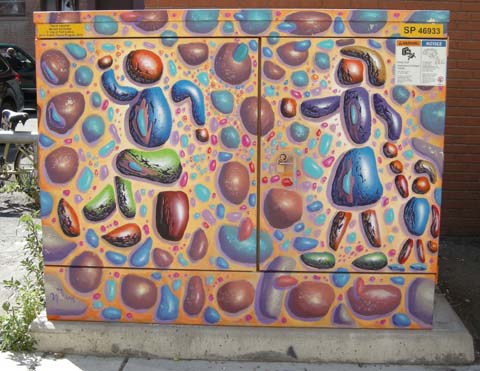 Artist: Werner Schreiber
Location: Alley E of 125 W. Mountain Ave.
Description: In "Stone Impulse" stones of many colors are in a world where the electrical transformer cabinet seems to energize them. Alive with color, they appear in some areas as figures trying to move. The stones swim on a surface of earth-sand and electrical light.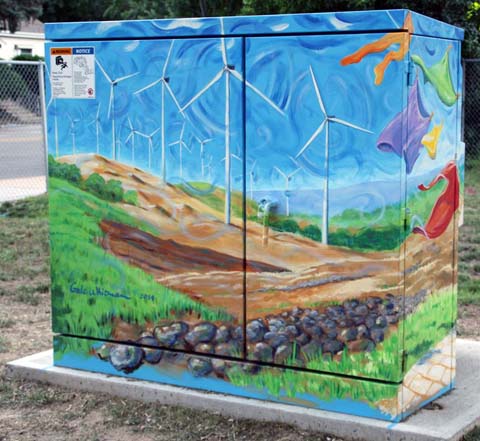 Artist: Gale Whitman
Location: 223 S. Shields St.
Description: "Wind is Our Friend" celebrates the friendly benefits of wind!